Springer inspires at his benefit for Camp SAY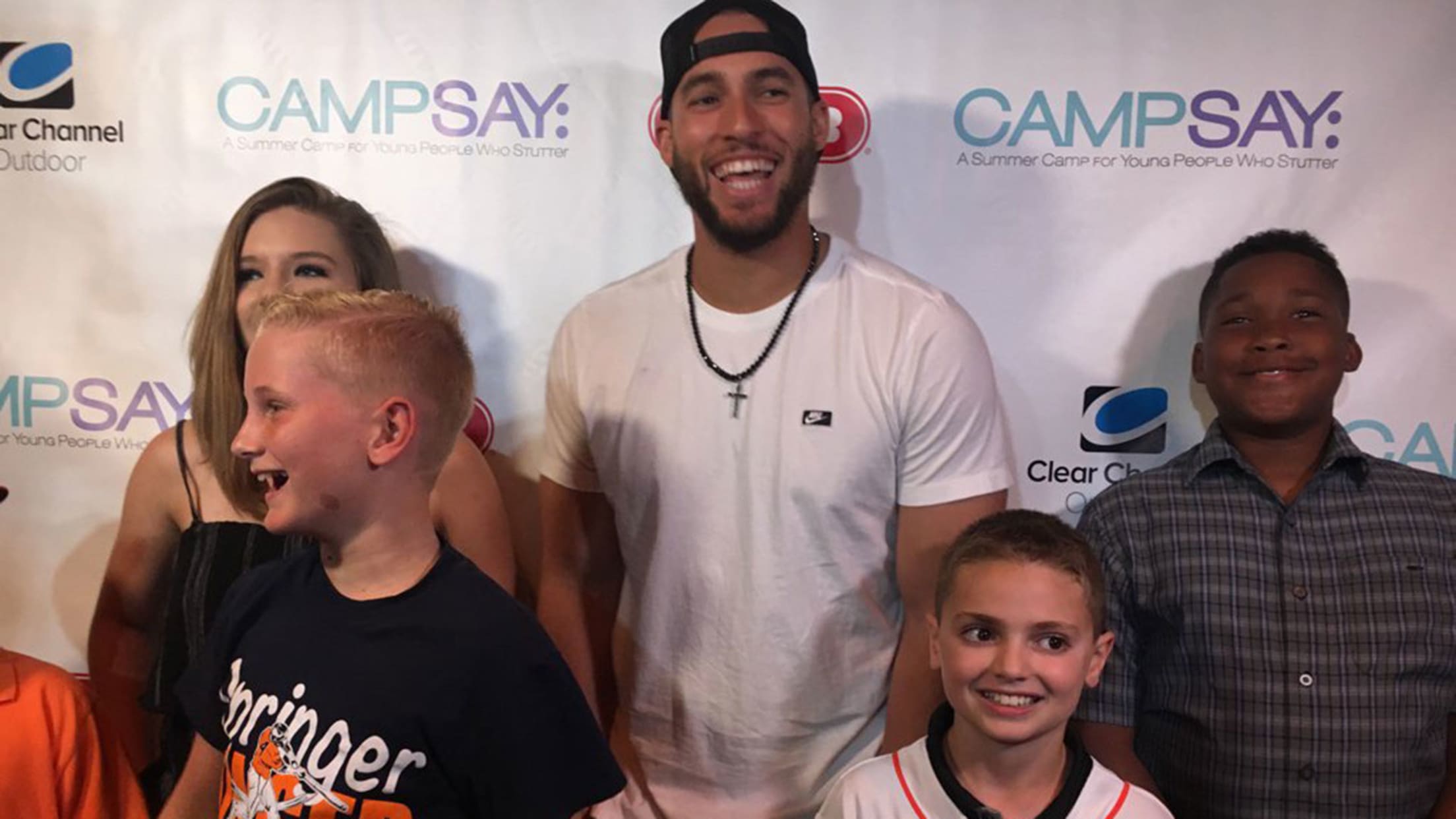 George Springer hosted his annual benefit for Camp SAY on Sunday in Houston. (Alyson Footer)
HOUSTON -- George Springer had been finished with his obligatory meeting with the Houston media at his annual benefit for Camp SAY on Sunday for maybe three minutes when 11-year-old Brogan Walters jumped in front of the cameras, asking to be interviewed."That's one of my life goals," said Walters, smiling
HOUSTON -- George Springer had been finished with his obligatory meeting with the Houston media at his annual benefit for Camp SAY on Sunday for maybe three minutes when 11-year-old Brogan Walters jumped in front of the cameras, asking to be interviewed.
"That's one of my life goals," said Walters, smiling widely. "To be on TV."
A kid wanting to ham it up in front of the cameras? That's not exactly breaking news. But, in this case, there was a special, cool twist. Walters, and the several kids who lined up behind him for their turn in front of the media backdrop, have one thing in common that most would not associate with public speaking: they stutter.
Also, they're great interviews.
"This place, I feel free of stuttering," Walters said.
Walters was referring to Camp SAY, a sleep-away camp for young people who stutter. The camp is one of the many forms of assistance offered by SAY, which stands for Stuttering Association for the Young.
Camp SAY camper Brogan Walters was the first kid to ask to be interviewed. He's awesome. On meeting George Springer: "He's like the biggest person I've ever met. And he's very nice. Probably the nicest man I've met." pic.twitter.com/fK37TvOjr0

— Alyson Footer (@alysonfooter) July 9, 2018
Springer, a lifelong stutterer, has been a primary spokesman for the non-profit organization, which through the camp, speech therapy and creative expression, empowers young people who stutter.
Springer hosted his fourth bowling benefit for Camp SAY at Bowlmor in Houston on Sunday. The event, a sellout, drew a couple hundred patrons, including many kids who attend Camp SAY and have met Springer in person.
The face-to-face impact went even further than Springer could have imagined. The kids quietly watched Springer address local reporters at the event, and, perhaps emboldened by hearing one of their sports heroes speak so confidently while also stuttering, asked if they could take their turn being interviewed, too.
This was not planned. It also turned out to be one of the evening's many highlights.
After G. Springer addressed the media at his bowling benefit for kids who stutter, several campers watching the interviews asked if they could give it it try, too. This was a first, & it was not planned. This won't get as much attention as the headline ballplayer, but it should. pic.twitter.com/U7RaYM97Zo

— Alyson Footer (@alysonfooter) July 9, 2018
The kids, most of whom had met Springer the day before at a meet-and-greet event at Minute Maid Park, spoke about how the All-Star outfielder inspired them to just be themselves.
"He said, 'Embrace your stutter,'" Walters said. "Whenever I heard that, that's what I did. I just talk freely. And I didn't have a problem with it."
Another Camp SAY camper, Finn Balin, said meeting Springer was "an amazing privilege."
"One, he's a great ballplayer, and two, he stutters," Balin said. "He's just like everyone else."
Springer didn't always believe the latter part when he was growing up. On the contrary, most of the time, he felt very much alone with his speech struggles.
That's the main reason why he feels so passionately about his work with SAY and the young people who comprise the group.
When he speaks with kids who stutter, his message is consistent: Do not let it hinder you from anything you want to do in life.
"I can't send a message if I'm not willing to put myself out there as well," Springer said. "So they help me as much as I help them."
It's a partnership that has benefitted all parties involved.
"I wish I had this as a kid," Springer said. "I thought I was the only one out there. I didn't meet someone else who stuttered until I was 17 years old. It's an isolating feeling. I know what these kids are going through. I'm glad I could be a support system."