Giants have Hall of Famer in Bochy
Manager looks to lead team to 4th World Series title since 2010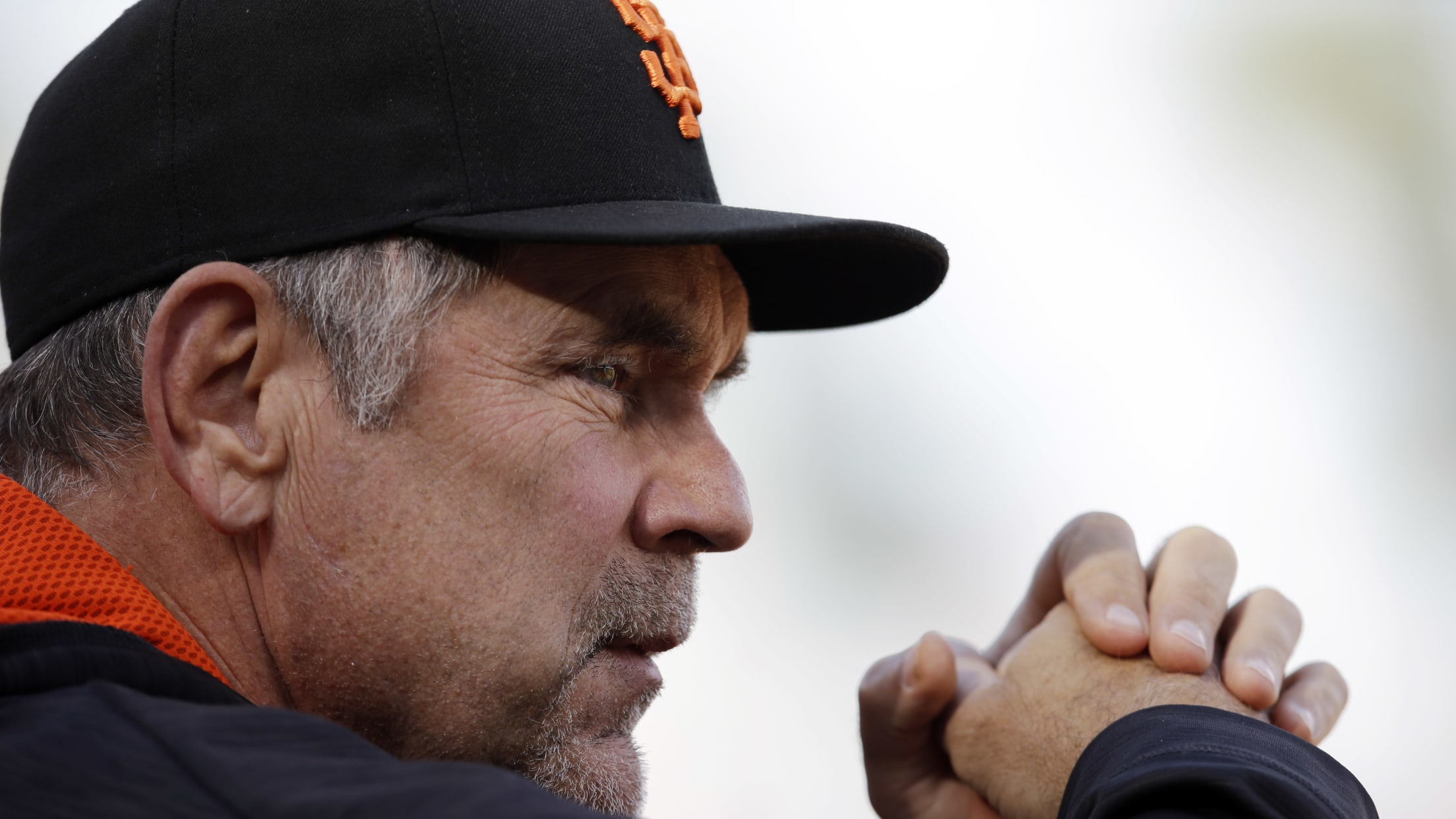 Bruce Bochy watches as the Giants face the Chicago Cubs in San Francisco. (AP)
ST. PETERSBURG -- First inning: Jake Peavy was struggling with his command, the Rays had taken a 1-0 lead against the Giants and had runners on first and third with one out.Bruce Bochy rubbed his huge hand over his face and almost yawned. Peavy quickly got two outs and the
ST. PETERSBURG -- First inning: Jake Peavy was struggling with his command, the Rays had taken a 1-0 lead against the Giants and had runners on first and third with one out.
Bruce Bochy rubbed his huge hand over his face and almost yawned. Peavy quickly got two outs and the Rays threat was over.
Second inning: Rays, still up 1-0, put runners on first and third with two out. Peavy took a deep breath, got Brad Miller to ground out, pounded his glove and marched off the mound.
Bochy smiled.
This is how the esteemed manager of the San Francisco Giants handles the scary moments in a baseball game.
Steady as you go. No panic.
Sunday was a typical game, he says, for his first-place team which was working on its eighth straight victory.
Tied 1-1 in the eighth inning, Gregor Blanco opened with a single, moved to second on a textbook bunt by Denard Span and raced home on Joe Panik's sharp single to right field -- a manufactured, hunt-and-peck run. Giants 2, Rays 1.
Three more runs scored in the inning and the Giants were off to Pittsburgh with their 27th win in their last 35 games secured. Their .771 percentage since May 11 is best in the Majors and why they lead NL West by 6 1/2 games.
Bruce Douglas Bochy.
He's the most successful active manager in Major League Baseball. He's won 1,788 games and is one of 10 skippers in MLB history to win three World Series titles.
And, oh yes. The other nine are in the Hall of Fame. Bochy's ticket has already been punched for Cooperstown. His election will be a slam-dunk when he finally calls it a career.
For now, that's a long way off for the 61-year-old former catcher.
He says there's much unfinished business, like steering this San Francisco juggernaut to the 2016 World Series.
Enormous emotion builds inside Bochy during a game, but from a distance his demeanor is almost like "Wake me when it's over."

Saying that is probably unfair because no one in the Giants dugout rides more on every pitch, every hit and every catch in a game.
Yet it's the outward calmness and untold faith in his players that have made his teams so successful.
In an era when analytics and sabermetics are so important, Bochy is a grass-roots baseball guy, who uses all the tools at his disposal, but makes the heart and human element of his players just as important.
"The best way to describe Boch is even with all the success, he still has a hunger to win and tries to get the best out of his players every day," said Buster Posey, the Giants All-Star catcher and former MVP. "He expects the best out of everybody."
Brian Sabean, Giants executive vice president of baseball operations, is the architect of these teams. Sabean, who watched Sunday's game from the Tropicana Field press box, has an uncanny knack at tweaking the roster just enough to greatly improve his teams. But no move he has made since becoming GM in late 1996 has been more important than bringing Bochy aboard.
Bruce had a year remaining on his contract in San Diego when Sabean was granted permission by the Padres to speak with him. He was hired on Oct. 27, 2006.
"There are a lot of good managers, including the ones (Joe Torre, Bobby Cox, Tony La Russa) who just went into the Hall of Fame, but he'll easily follow suit. He didn't get the credit he deserved when he was in San Diego," said Sabean. "They didn't have a consistent budget, but they seemed to find ways to win. If he's not the best, he's one of the best I've ever seen."
Ask Boch if he's comfortable having his name lumped among the game's greatest managers and he'd say, "No, not really, to be honest. I'm not."
When you sit down with Bochy, it's like spending time with a favorite uncle. With his gravelly voice and homespun approach, "Boch," as he's called, gets and keeps your attention. And the thing is, he doesn't demand it. It just comes naturally. He looks you straight in the eyes and the first thing you see is excitement, quickly followed by sincerity.
Each of his teams have had their own personalities, but he said with a chuckle, "this one is probably a little bit more normal. We still have the [Sergio] Romo's and the [Johnny] Cueto's. We want them to be who they are here; we accept who they are and their differences. It's diversity. They don't let it bother them and it works well together. These guys appreciate their record.
"This game against the Rays was somewhat typical of the way we've been playing during this nice period of winning. It's been pitching, keeping us in the game, and giving us a chance. We're not scoring a lot of runs, but we're getting the timely hits when we need them -- doing the little things right."
Said Rays manager Kevin Cash: "They had some really good at-bats against our relievers. They've [the Giants] been impressive. It seems like they get down two strikes and they turn it on -- really grind through the at-bats."
Giants outfielder Hunter Pence, currently on the disabled, told me earlier: "It takes a lot of courage to make a lot of the decisions because you're going to answer to everything you do through hindsight, which isn't always necessarily fair. As a team, playing behind Bochy, his guts, and his heart, and his determination leaks into us."
Peavy began his career under Bochy at San Diego, then pitched for the White Sox and Boston before coming to the Giants in 2014. He admittedly struggled in the first two innings Sunday, but each time when he looked into the dugout, he saw the calmness on Bochy's face. It was settling.
"We're obviously not at full strength, but we're just playing the way we play," Peavy said. "It's the identity we talked about in Spring Training -- who we are as ballplayers and who we are as a team. We just come out and play the best team game and team approach we can."
Bochy?
"I've had great, great managers, but I think Boch is the best," Peavy added. "I feel fortunate to have been raised to a certain extent by him and get to watch and learn so much at an early age. And now, to come back full circle as an older guy with experience and get to constantly converse with him is so rewarding."
With a long pause, Peavy added: "He's calm in midst of storms, but he's a competitor and that's what makes him great."
And a certain Hall of Famer.
Hal Bodley, dean of American baseball writers, is the senior correspondent for MLB.com. Follow him @halbodley on Twitter.