Giants open up 2018 vs. Dodgers in LA
San Francisco unveils '18 schedule, will play Seattle in Interleague home opener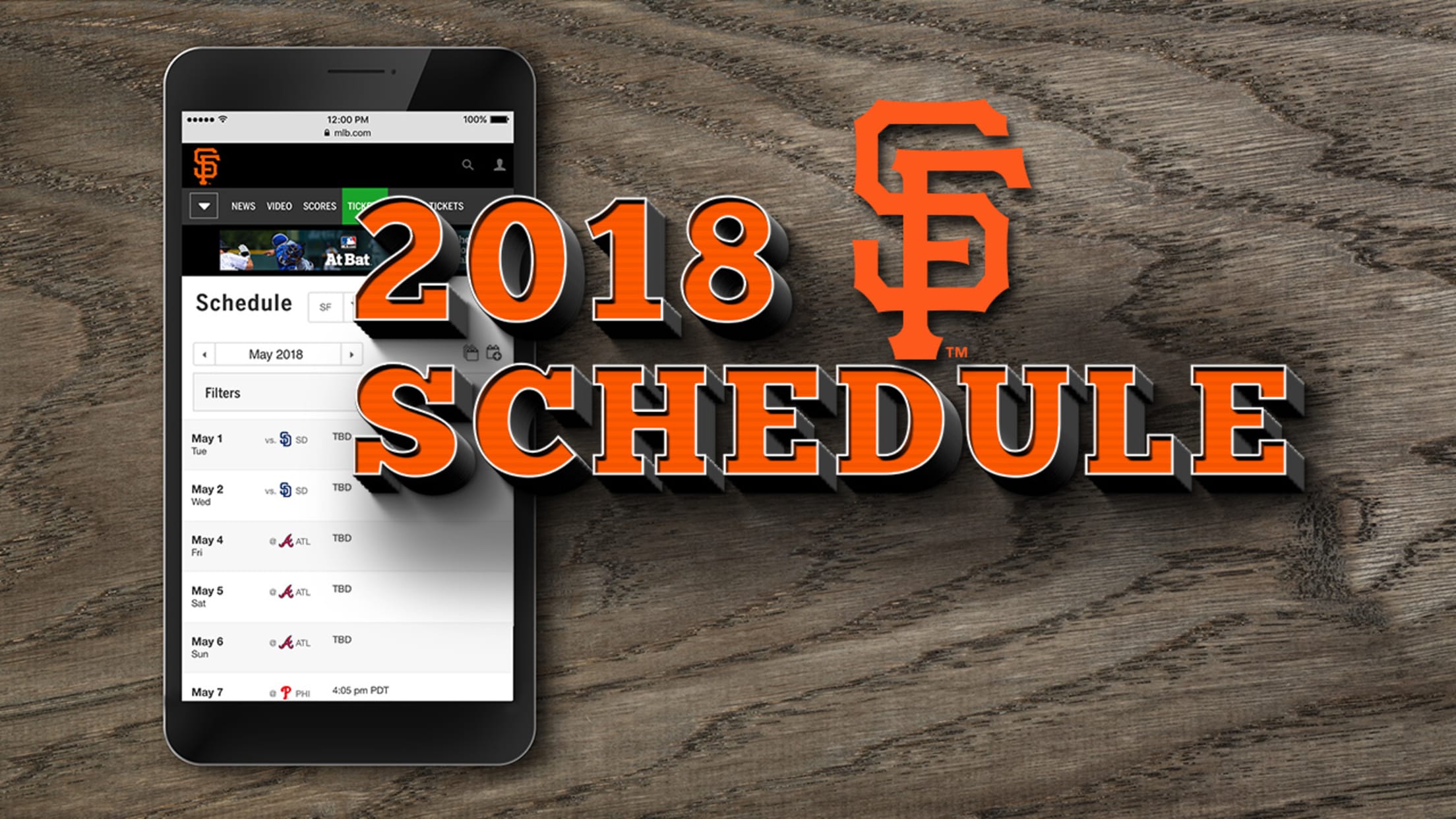 The familiar and unfamiliar stand side-by-side on the Giants' tentative 2018 regular-season schedule, which was announced Tuesday and marks the 60th anniversary of the club's inaugural season in San Francisco.• Giants' 2018 season schedule For the ninth consecutive year, the Giants will launch their 162-game, regular-season slate on the road. They'll
The familiar and unfamiliar stand side-by-side on the Giants' tentative 2018 regular-season schedule, which was announced Tuesday and marks the 60th anniversary of the club's inaugural season in San Francisco.
• Giants' 2018 season schedule
For the ninth consecutive year, the Giants will launch their 162-game, regular-season slate on the road. They'll face their traditional archrivals, the Dodgers, in a four-game series from March 29-April 1. It'll be the Giants' fourth season-opening set at Chavez Ravine in 11 seasons, dating back to 2008.
Following a scheduled off-day, the Giants will enter the AT&T Park portion of their schedule, as they play host to their first Interleague opponent in a home opener -- the Seattle Mariners -- on April 3. It'll be the 19th home opener in AT&T Park history.
It's an old-fashioned schedule, in a way, with extended homestands to road trips that, after a while, will seem interminable.
Included are a pair of season-long 10-game homestands. The Giants will entertain the Marlins, Padres and Rockies from June 18-28. From July 5-15, the Giants will welcome the Cardinals, Cubs and A's.
That will be the A's lone visit to AT&T Park. The Giants confront their cross-bay Interleague rivals in Oakland immediately following the All-Star break, from July 20-22.
A whopping five three-city trips await the Giants in 2018, though all but one of them occur during the season's first half. The list starts with April 12-22 (Padres, D-backs, Angels), continues with May 4-13 (Braves, Phillies, Pirates), May 22-30 (Astros, Cubs, Rockies), June 8-17 (Nationals, Marlins, Dodgers) and Aug. 13-23 (Dodgers-Reds-Mets).
In an unusual development, the Giants will be on the road for almost every holiday or special day on the baseball calendar: Easter (April 1, at Los Angeles), Mother's Day (May 13, at Pittsburgh), Memorial Day (May 28, at Colorado), the Fourth of July (at Colorado) and Labor Day (Sept. 3, at Colorado).
The three visits to AT&T Park by the Dodgers, the Giants' longtime nemesis, are set for April 6-8, April 27-29 and Sept. 28-30, which is a season-ending series.
Starting times for all games will be announced at a later date.