Giants reassign Righetti, Gardner, Decker
Long-time pitching coach becomes special assistant to GM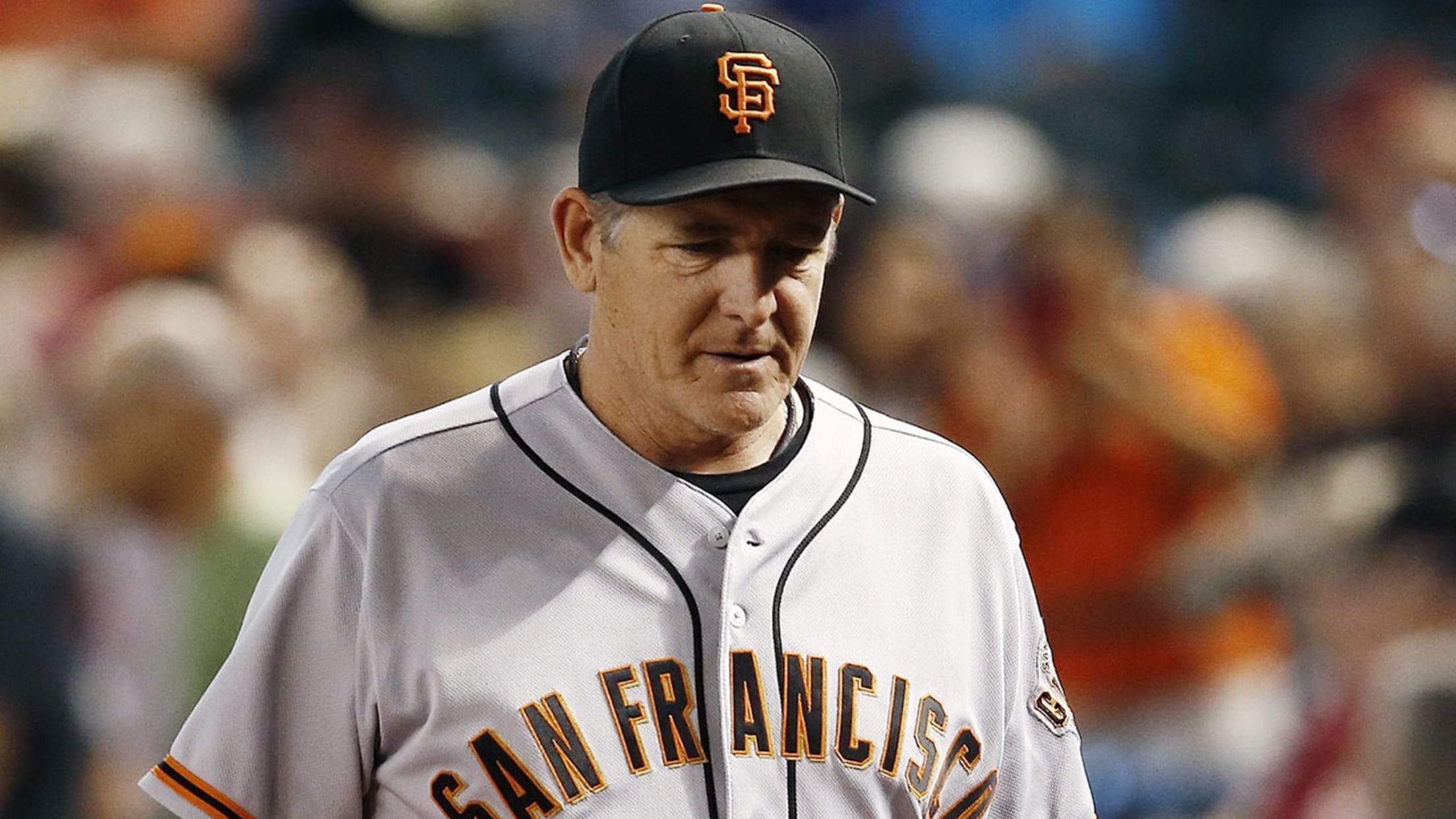 The Giants have won four NL pennants and three World Series championships with Dave Righetti as pitching coach. (AP)
SAN FRANCISCO -- Continuing to make personnel changes that they hope will prevent a repeat of their forgettable 2017 season, the Giants shuffled pitching coach Dave Righetti, bullpen coach Mark Gardner and assistant hitting coach Steve Decker into off-field roles Saturday.Righetti will become a special assistant to general manager Bobby
SAN FRANCISCO -- Continuing to make personnel changes that they hope will prevent a repeat of their forgettable 2017 season, the Giants shuffled pitching coach Dave Righetti, bullpen coach Mark Gardner and assistant hitting coach Steve Decker into off-field roles Saturday.
Righetti will become a special assistant to general manager Bobby Evans. Gardner will handle a special assignment role that focuses on pitching evaluations. Decker assumes special assistant duties in the baseball operations department.
These moves were announced one day after the Giants named David Bell as their new player personnel director. He replaced Shane Turner, who accepted a special assistant's role in pro scouting.
Asked if the flurry of moves resulted directly from the Giants' 64-98 record and last-place National League West finish this year, Evans said, "It does raise the level of attention to change when you struggle as much as we have."
• Giants deliver positive moments in tough 2017
Evans did not name successors for Righetti, Gardner and Decker, pointing out that many Major League staffs are currently in a state of flux. Since Boston, Philadelphia, Washington and the New York Mets have managerial vacancies, Evans might not officially appoint manager Bruce Bochy's 2018 staff until those openings are filled.
Giants third-base coach Phil Nevin is reportedly a candidate for the Philadelphia job, and Boston hitting coach Chili Davis is believed to have interviewed for the same position with the Giants.
"Too many unanswered questions," Evans said.
Righetti's reassignment was the most seismic shift. His 18-year tenure was the longest among all Major League pitching coaches as well as a franchise record for that position.
"He's been a tremendous leader of our pitching staff," Evans said of Righetti. "... The opportunity to work more closely with him in our front office is very much appreciated by me."
Though the fingerprints of every uniformed member of the Giants probably can be found on this year's performance, citing Righetti as a scapegoat would be unfair. The Giants were tied for fourth in the Majors with 82 quality starts.
Under Righetti's watch, the Giants ranked fifth or higher in NL ERA nine times.
Gardner spent most of his 15 years as bullpen coach literally or figuratively at Righetti's side.
Evans, who has been the Giants' general manager for three seasons, stated that the club needed "a new voice on our pitching staff" that could "enliven their focus."
Evans added, "Changes sometimes are needed as much for the sake of that new voice, if anything, and I think that was really the priority here. ... When you see all that these guys have accomplished together, it's very hard to make a change. But ultimately change can be for the good of both your staff and your players sometimes."
The pitching staff's composition reflects the inevitability of change. Left-hander Madison Bumgarner and right-hander Hunter Strickland are the only hurlers remaining from the 2014 team, the last of the Giants' three World Series winners.
Gone, among others, since the end of the 2015 season are starters Timothy Lincecum, Player Page for Matt Cain, Jacob Peavy, Tim Hudson and Ryan Vogelsong; swingman Yusmeiro Petit; the bullpen "Core Four" of Jeremy Affeldt, Santiago Casilla, Javier Lopez and Sergio Romo; and fellow reliever George Kontos.
Evans indicated that he will continue to rely on Righetti's pitching acumen: "This certainly is not going to eliminate Dave Righetti's voice in this organization. In some ways it may even enlarge his voice."
Righetti's reaction to the move is anybody's guess, though Evans said that they began discussing a transition in September. Righetti, 58, responded to a phone message left by MLB.com with a phone message in which he declined to comment.
"Dave's heartbeat is in uniform," Evans said of the two-time American League All-Star closer. "But he also loves this organization and our players -- our pitchers, particularly. ... I'm sure it's still hard to imagine, even for us, Dave not being in uniform. But at the same time, there's so much that he can offer in this new role. I'm excited about it."