Giants to show personality in Players Weekend
New event to take place during all games from Friday-Sunday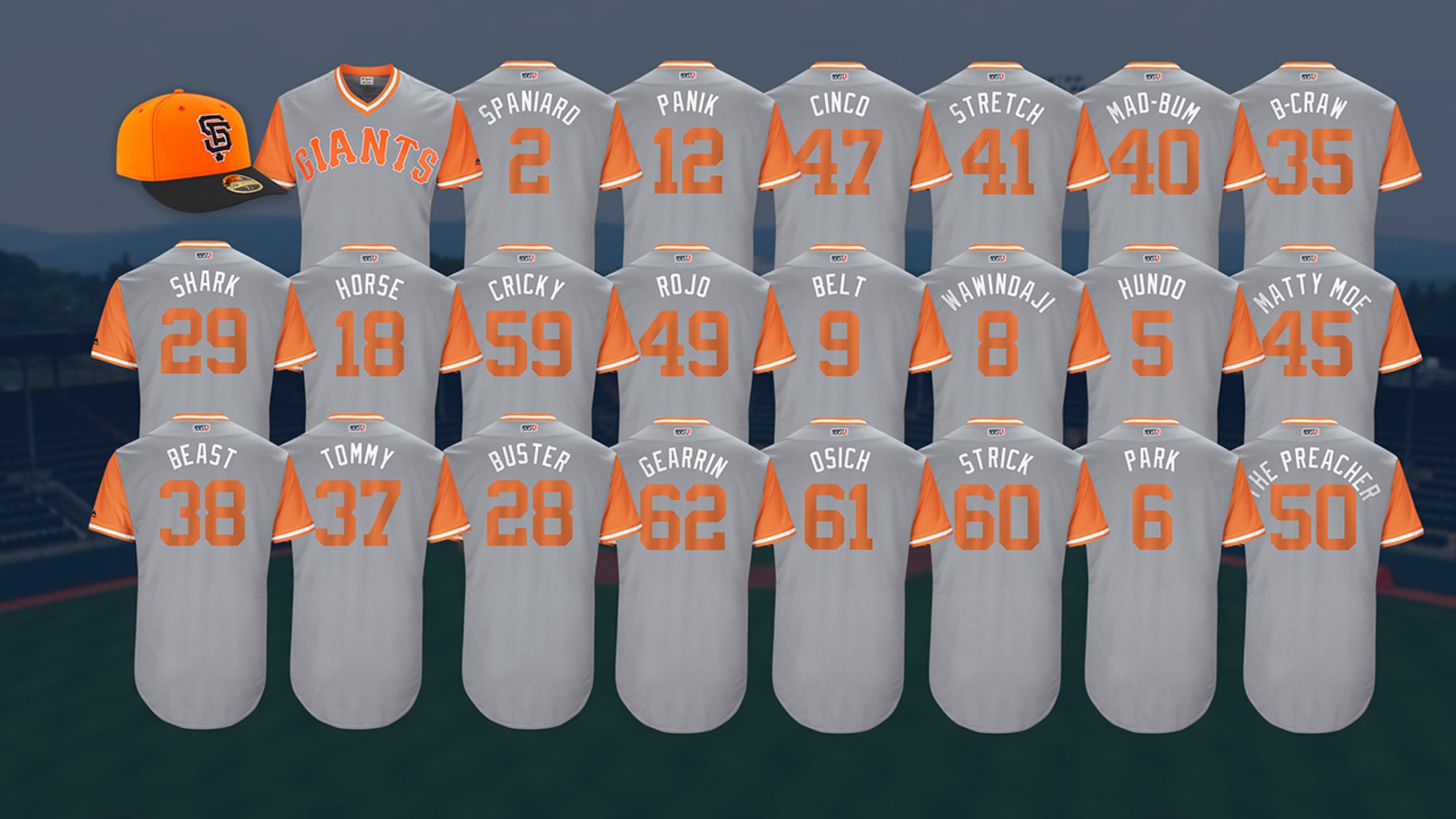 SAN FRANCISCO -- The opportunity to embrace creativity particularly excites the Giants as they consider the fun that awaits them during the inaugural Players Weekend, which is scheduled for from Friday-Sunday.• Players Weekend gear available at MLBShop.comCreated jointly by Major League Baseball and the Players Association, the event encourages players
SAN FRANCISCO -- The opportunity to embrace creativity particularly excites the Giants as they consider the fun that awaits them during the inaugural Players Weekend, which is scheduled for from Friday-Sunday.
• Players Weekend gear available at MLBShop.com
Created jointly by Major League Baseball and the Players Association, the event encourages players to don uniforms that feature alternate designs, instead of their everyday garb.
Their jerseys will be emblazoned by the nickname of their choice on their shoulders. And each player can wear a "tribute patch" on one sleeve that will bear the name of a coach or relative whom he wishes to thank for furthering his success.
MLB and the Players Association announced details of the initiative Wednesday. After the weekend, game-worn Players Weekend jerseys will be auctioned at MLB.com/auctions with 100 percent of the net proceeds donated to the MLB-MLBPA Youth Development Foundation. The initiative was established in July 2015 with a $30 million commitment to improving the caliber, effectiveness and availability of amateur baseball and softball programs in the United States and Canada.
Giants right fielder Hunter Pence hailed Players Weekend as a vehicle for "embracing creativity and color."
Wearing outlandish garb just to be different misses the point, Pence said: "I think that everyone has his own individual style, even if your style is basic and simple."
However, fans should count on seeing anything from plaid lettering to psychedelic-patterned batting gloves.
"It's always good when guys can be creative and express themselves," right-hander Cory Gearrin said. "I think fans like to connect with players in that way."
It's possible that no two players will be dressed alike.
"That's somewhat how life is," Pence said. "Everyone is different. We're working for the same cause but we can have fun while doing it and be creative. It's like art."
Many players will employ intriguing nicknames, if Pence is any indication. He said he threw the floor open for teammates to select his nickname. The winner was outfielder Jarrett Parker, who came up with "Wawindaji."
Right-hander Jeff Samardzija plans on sticking to his well-known moniker, "Shark."
"I have a sweet nickname," Samardzija said. "It's a little more fun for me than for someone who doesn't have a nickname or has one he doesn't appreciate."

One meaningful element of Players Weekend almost surely will be the tribute patch, which will have significance for each big leaguer.
Pence plans on honoring his older brother, Howard, who preceded him in his baseball development and taught him a variety of fundamentals.
"It gives us the opportunity to shine some light on someone who has helped us along our journey," Pence said. "Every one of the players here has had a tremendous amount of support from someone, somewhere -- a coach, a dad, a brother."
"That's a part of it I really appreciate," Gearrin said of the patch, though he declined to name whom he'll single out. "I had some people who really made a huge impact on my life. I wouldn't be where I am, in baseball or as a person, without them. So I'm excited for them to see that."
Said Samardzija, "It'll be good for kids to see that we weren't just born into this. A lot of people along the way have helped us get where we are."
Here's a list of nicknames that some Giants are expected to sport on the back of their jerseys on Players Weekend:
• Madison Bumgarner: "MAD-BUM"
• Brandon Crawford: "B-CRAW"
• Buster Posey: "BUSTER"
• Hunter Pence: "WAWINDAJI"
• Denard Span: "SPANIARD"
• Jeff Samardzija: "SHARK"
• Player Page for Matt Cain: "HORSE"
• Pablo Sandoval: "PANDA"
• Sam Dyson: "ROJO"
• Hunter Strickland: "STRICK"