'Dangerous' Gleyber gives Yanks a spark
Game 1 pivots on Yankees second baseman's fifth-inning at-bat
NEW YORK -- As he quickly fell behind against one of the game's toughest relievers, Gleyber Torres didn't feel a hint of panic or pressure. The Yankees' All-Star knew he had an opportunity to deliver a big hit for his team. Even after Tyler Duffey pumped in a pair of
NEW YORK -- As he quickly fell behind against one of the game's toughest relievers, Gleyber Torres didn't feel a hint of panic or pressure.
The Yankees' All-Star knew he had an opportunity to deliver a big hit for his team. Even after Tyler Duffey pumped in a pair of strikes with the bases loaded and the score tied in the fifth inning, Torres kept the same approach that has allowed him to thrive during his first two seasons in the Majors.
"I just feel relaxed," Torres said.
Torres laid off of a dirty slider, then took a 95-mph fastball. Torres spit on another nasty breaking ball, working the count full on a pitch Duffey believed had been strike three.
"I thought it was pretty damn good," Duffey said. "Taking the close ones makes it tough."
Duffey came back with another slider, which Torres fouled off to stay alive.
"Just waiting for a fastball," Torres said.
Duffey delivered that heater, a 95-mph fastball that Torres laced down the third-base line for a two-run double. The Yankees grabbed a lead they would never relinquish, cruising to a 10-4 victory over the Twins in Game 1 of the American League Division Series.
"I know he's got really good stuff," Torres said. "I know I've got really good guys behind me. So that is a moment I just feel comfortable, just be myself, try to, in the few moments, try to be easy and just try to do my job."
Torres has been doing his job since the day he put on the pinstripes, showing the poise and approach of a 10-year veteran. Teammates often marvel at his skills, forcing them to remind themselves that he's still just a kid.
"He's been doing that all year," said DJ LeMahieu, who homered and drove in four runs. "He's 22, and no situation is too big for him. He's an impressive player."
That Torres was able to slow the game down against Duffey made the at-bat all the more impressive. The Twins' right-hander emerged this season as one of Minnesota's biggest bullpen weapons, finding his niche after three difficult seasons as both a starter and reliever.
Prior to giving up two runs in his final appearance of the season, Duffey hadn't allowed a run in 26 consecutive outings, striking out 40 while giving up just 11 hits and five walks over 23 2/3 innings. In September, Duffey held opponents to a minuscule .167/.186/.286 slash line.
For the season, Duffey gave up only seven extra-base hits to righties in 128 plate appearances, limiting them to a .601 OPS.
The Twins put Duffey in a tough spot Friday, bringing him into the tie game after Zack Littell walked Aaron Judge, unleashed a wild pitch and then hit Brett Gardner with a pitch.
Duffey struck out Edwin Encarnacion for the first out, then walked Giancarlo Stanton to load the bases for Torres. Two quick strikes put Duffey in the driver's seat, but Torres was up for the challenge.
"A big-time at-bat against a guy that was really tough on righties," Yankees manager Aaron Boone said. "To work himself back into that count, the 3-2 pitch that he spoiled to keep surviving, and then finally got a pitch he could do something with and smoked it."
The 3-2 pitch was a slider that Torres barely got a piece of, but it was the pitch before that one, a 2-2 slider (photo below) just off the corner, that might have decided the at-bat.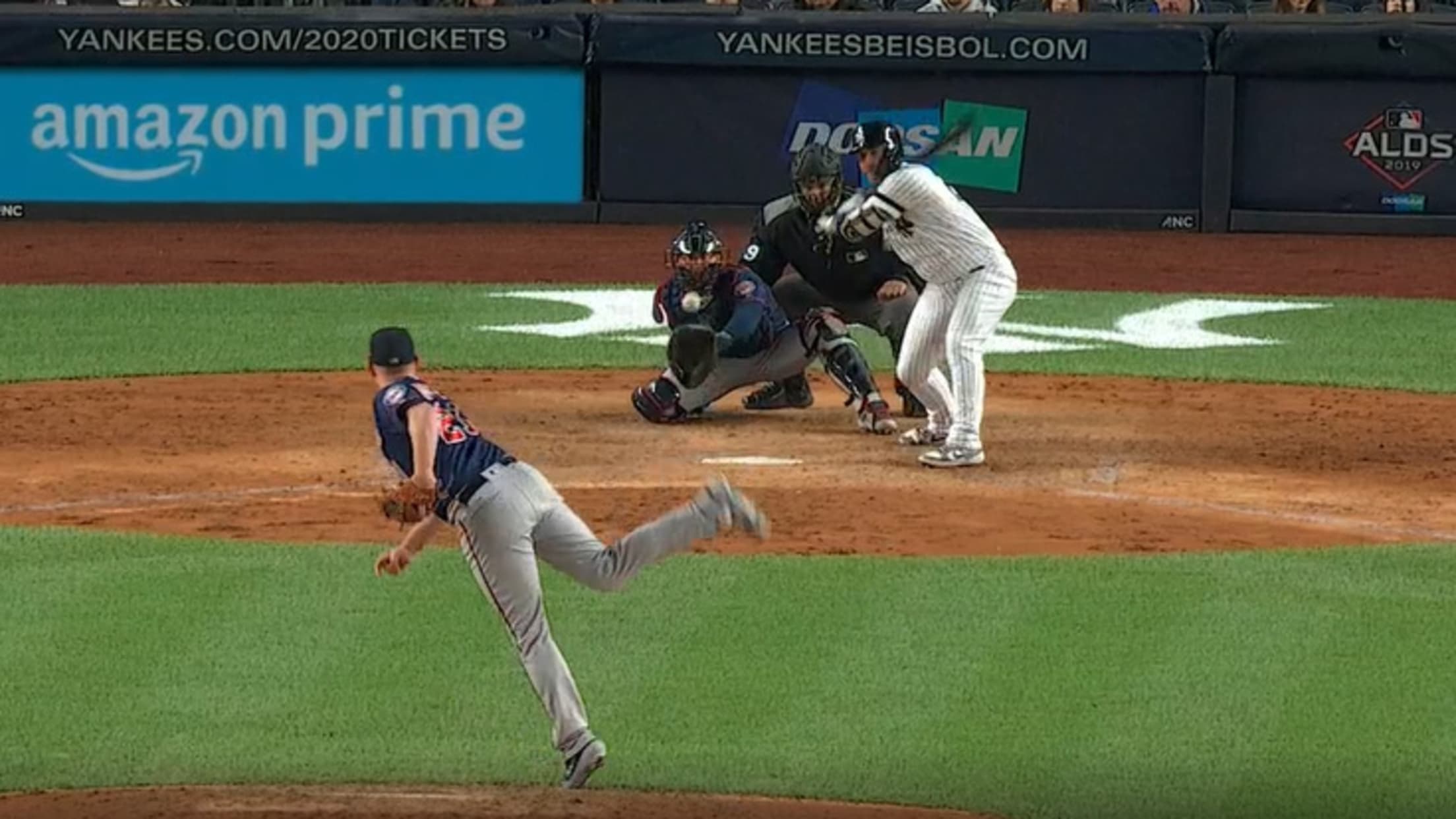 "I threw a pitch that I thought was pretty good with two strikes, and we didn't get the call," Duffey said. "Unfortunately, the next one goes down the line, and that's kind of the way it goes."
Torres shows no evidence of fear or anxiety at the plate, but that doesn't mean success always follows. He had a similar situation in the third inning, coming to bat with the bases loaded against starter Jose Berríos. He hit a grounder to third, and while the Yankees scored two runs thanks to first baseman C.J. Cron's error at the tail end of a potential double play, Torres felt he had come up short.
"It's not a really good swing to hit with bases loaded," Torres said. "That is the thing that's beautiful about baseball; baseball always gives you a second opportunity. I got that opportunity."
The memory of making the final out in last year's ALDS against the Red Sox has stuck with him for the past 12 months, so when the chance presented itself for the second-year star to give his team the boost it needed, he kept his calm and tried to stay within himself.
"I never forget that moment," Torres said. "I feel bad. I feel frustration. But I just take that moment too personal and just take advantage of that. During my offseason, I prepared really, really, really good to help my team all this season and this moment, for sure, and just believe."
"He's smart, and he's confident -- and that's a really good combination when you're talented," Boone said. "I think those are the two biggest things. He's shown an ability to make adjustments, to understand what teams and pitchers are doing to him, and he has a lot of confidence in his ability."
After two years, you would think Torres' teammates would come to expect the type of performance he delivered on Friday night. To some extent they do, but that doesn't make it any less impressive for his elders to watch.
"He's a guy that is one of the most talented players in the game, and he's only 22 years old," said Gardner, the longest-tenured Yankee. "As he continues to mature and make adjustments, as we saw tonight, there's no panic controlling the zone. He's a dangerous hitter up there at the plate."
"He just finds a way to get the job done," Judge said. "I was at third there; he smoked that one down the line, and I started running. Great at-bat by him. Great poise. At the age of 22, it's impressive."
While his teammates lauded him for his clutch hit, Torres tried to deflect the attention back in their direction. Yes, the double was the turning point Friday night, but the only thing Torres cared about was the final score. One down, 10 to go.
"It's not about me; it's not about the hit," Torres said. "It's about the win."
Mark Feinsand, an executive reporter, originally joined MLB.com as a reporter in 2001.