Graveman, Coghlan pace A's past Royals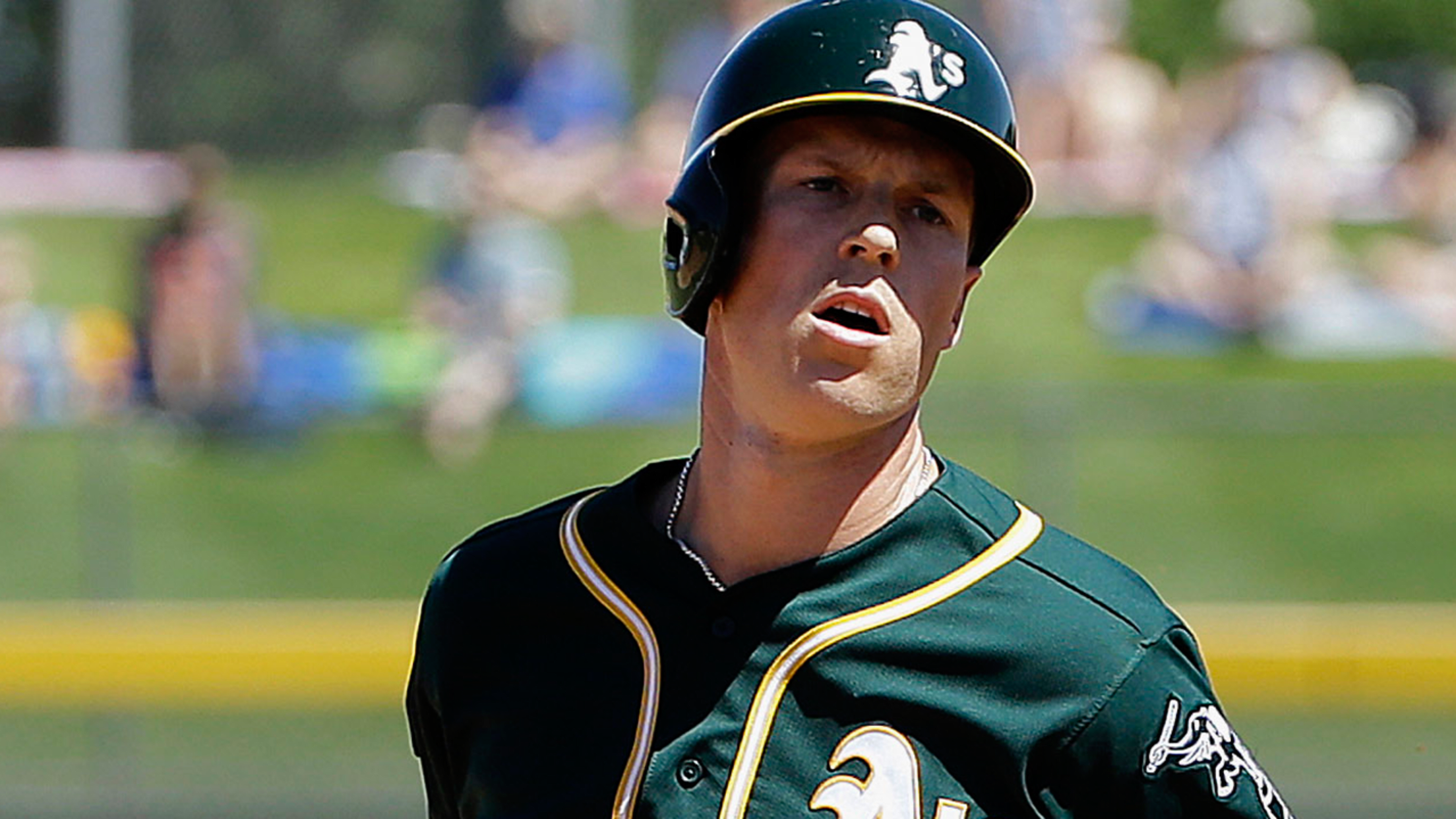 Chris Coghlan homered in Oakland's 10-1 Cactus League win over the Royals Sunday in Mesa, Ariz. (AP) (AP)
MESA, Ariz. -- Chris Coghlan and Jed Lowrie homered and right-hander Kendall Graveman put together a solid seven-inning performance to help the A's defeat the Royals, 10-1, at Hohokam Stadium on Sunday afternoon.Josh Reddick, Danny Valencia and Billy Butler chipped in with run-scoring singles for the A's, who knocked Kansas
MESA, Ariz. -- Chris Coghlan and Jed Lowrie homered and right-hander Kendall Graveman put together a solid seven-inning performance to help the A's defeat the Royals, 10-1, at Hohokam Stadium on Sunday afternoon.
Josh Reddick, Danny Valencia and Billy Butler chipped in with run-scoring singles for the A's, who knocked Kansas City starter Chris Young out of the game after just 4 1/3 innings.
Young was on the hook for eight runs -- only five were earned -- and nine hits with four strikeouts. He had given up just one earned run over his last two starts, spanning 8 1/3 innings.
"Reached my pitch count, would have liked to go a little deeper, but circumstances didn't dictate it," said Young. "Physically, to get to 90-92 pitches, I felt really good, so I'm happy with that.
"I feel like I pitched better today than my results, but not even close to well enough. No walks today. I felt like I was ahead of most hitters, not many three-ball counts."
Graveman fared much better in his sixth spring appearance. After yielding four runs and eight hits in his last start against the Angels, the right-hander limited the Royals to four hits, including a solo home run to Tony Cruz in the seventh. He walked one and fanned six.
"I think we're getting it going," said Graveman. "We hit the ball well, and I was just trying to get us off to a good start. We needed it at this time of the spring. These last couple days are big going into a season. They're about to count, and we want to start winning here leading up to that."
The Royals committed four errors, while the A's had three, bringing their spring total to a Major League-leading 41.
Up next for Royals:Edinson Volquez will take the ball for the first time since being named the Royals' Opening Day starter as the right-hander gets the start against the Padres at 3:05 p.m. CT on Monday. Meanwhile, Kris Medlen will start on the road against the Mariners at 3:10 p.m. CT as the Royals complete their final split-squads of the spring.
Up next for the A's: Right-hander Jesse Hahn, who has struggled to a 10.97 ERA this spring, will attempt to produce better results in his final start in the desert Monday, a 1:05 p.m. PT matchup against the visiting Indians at Hohokam Stadium. Closer Sean Doolittle and right-handers Ryan Madson and John Axford are also scheduled to pitch in the game for Oakland.