Greatest Comeback in Franchise History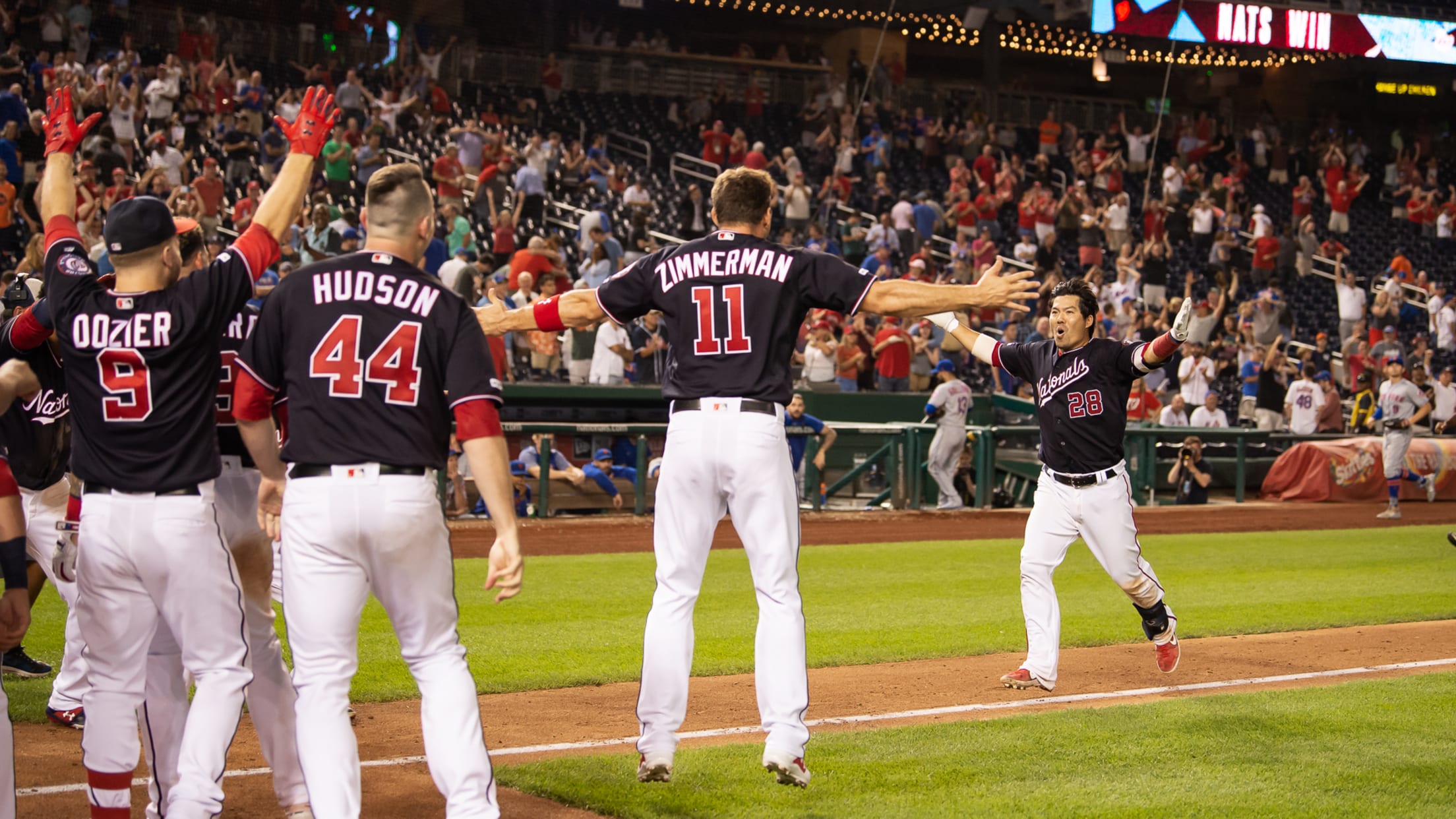 (Paul Kim)
Kurt Suzuki's Walk-Off Home Run September 3 vs. New York Mets Entering the bottom of the ninth inning against the Mets on September 3, the Nationals trailed 10-4. Through that point in the 2019 season, teams trailing by six or more runs entering the ninth inning were 0-274. FanGraphs pegged
Kurt Suzuki's Walk-Off Home Run
September 3 vs. New York Mets
Entering the bottom of the ninth inning against the Mets on September 3, the Nationals trailed 10-4. Through that point in the 2019 season, teams trailing by six or more runs entering the ninth inning were 0-274. FanGraphs pegged the Nats' win expectancy at just 0.3% at that point.
So, you're tellin' me there's a chance?!
Victor Robles singled. Trea Turner hit an RBI double. Asdrúbal Cabrera singled. Anthony Rendon hit an RBI single. Juan Soto singled. Ryan Zimmerman hit a pinch-hit, two-run double.
The Mets still led 10-8 with runners on second and third and one out. Kurt Suzuki worked the count full against Mets closer Edwin Díaz and, on the eighth pitch of the at-bat, smacked a ball over the wall in left field.
HE. JUST. GOT. ZUUUUUUUUUUUUUUUKED.
"Enjoy this one, then come back tomorrow and do it all again."

- Kurt Suzuki pic.twitter.com/qVKpySzjRu

— Washington Nationals (@Nationals) September 4, 2019
The homer sent Nats Park into pandemonium as the team celebrated the greatest comeback in franchise history. Zuk pointed towards his teammates as they poured out of the home dugout in disbelief.
When manager Dave Martinez finally entered the Nats Park press conference room to deliver his postgame analysis, a gaggle of fans in the Delta Sky360 Club stuck around to cheer him on from the other side of the glass.
Boom. pic.twitter.com/a34ukKbAJL

— Washington Nationals (@Nationals) September 4, 2019
This is what he had to say:
Boom.