Hague homers, Santiago sharp for Twins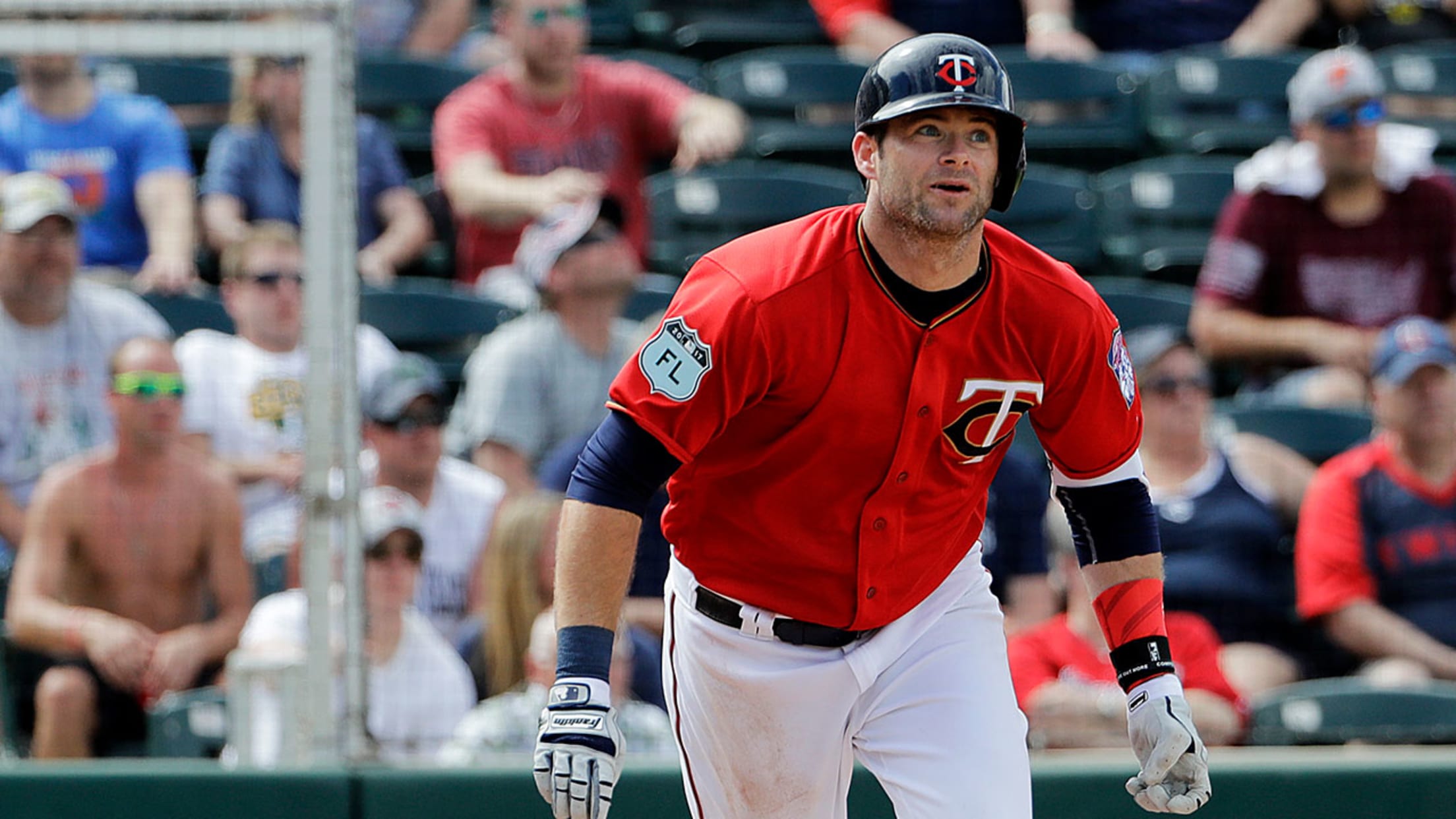 First baseman Matt Hague slugged a two-run homer to cap a three-run 8th innings for the Twins against the Nationals on Sunday. (AP)
WEST PALM BEACH, Fla. -- In what served as a final tuneup before the World Baseball Classic for both Twins left-hander Hector Santiago and Nationals right-hander Tanner Roark, the Twins used a late-inning rally to come away with a 4-2 victory Sunday at The Ballpark of the Palm Beaches.Minnesota scored
WEST PALM BEACH, Fla. -- In what served as a final tuneup before the World Baseball Classic for both Twins left-hander Hector Santiago and Nationals right-hander Tanner Roark, the Twins used a late-inning rally to come away with a 4-2 victory Sunday at The Ballpark of the Palm Beaches.
Minnesota scored three runs in the eighth inning off left-hander Sammy Solis, including a two-run home run by Matt Hague.
• Hague hits rare homer
But the Nationals saw an encouraging outing from Roark, who will pitch on Saturday for Team USA against the Dominican Republic. He gave up two hits and struck out three while needing just 57 pitches to navigate through four scoreless innings.
• Murphy: Classic 'should be a lot of fun'
"I'm excited to meet all the guys," Roark said. "I've never been a part of anything like this before, so getting the best of the best in the Major Leagues is pretty cool."
• Roark ready for bigger WBC '17 stage
Santiago rebounded nicely from his initial Grapefruit League start. The left-hander worked 2 2/3 scoreless innings, allowing just two hits while striking out five, including three of the final four batters he faced. It was a complete turnaround from his initial outing against Tampa Bay, where he gave up five runs on five hits, including two homers, in one inning of work. He will pitch in the World Baseball Classic for Puerto Rico with a start on Saturday against Mexico.
• Santiago shows improved stuff
"I'm pumped," Santiago said, about pitching in the prestigious event. "I'm kind of sad I missed that first one in 2013, especially with them going to the championship game. Hopefully we can make a nice run again."
Ben Paulsen gave the Twins a 1-0 lead in the sixth inning with an RBI double off Nats right-hander Shawn Kelley. The Nats answered with a pair of runs in the seventh on a RBI double from Michael Taylor, who would come around to score on a single by Pedro Severino.
Twins Up Next: Right-hander Kyle Gibson gets the start on Monday when the Twins take on the Cardinals at 1:05 p.m. ET at the CenturyLink Sports Complex. Also slated to take the mound for the Twins are right-hander Brandon Kintzler and lefties Taylor Rogers, Player Page for Buddy Boshers, J.T. Chargois, and Ryan O'Rourke. Watch the game live on MLB.TV.
Nationals Up Next: The Nationals have an off-day on Monday before they resume play Tuesday afternoon against the Red Sox at 1:05 p.m. ET at the Ballpark of the Palm Beaches. Joe Ross will make his second Grapefruit League start for the Nationals after tossing a pair of scoreless innings last time out. Watch the game live on MLB.TV.
Watch every out-of-market regular-season game live on MLB.TV.
Jamal Collier covers the Nationals for MLB.com. Follow him on Twitter at @jamalcollier.
Glenn Sattell is a contributor to MLB.com.