Steinbrenner: Improving bullpen a priority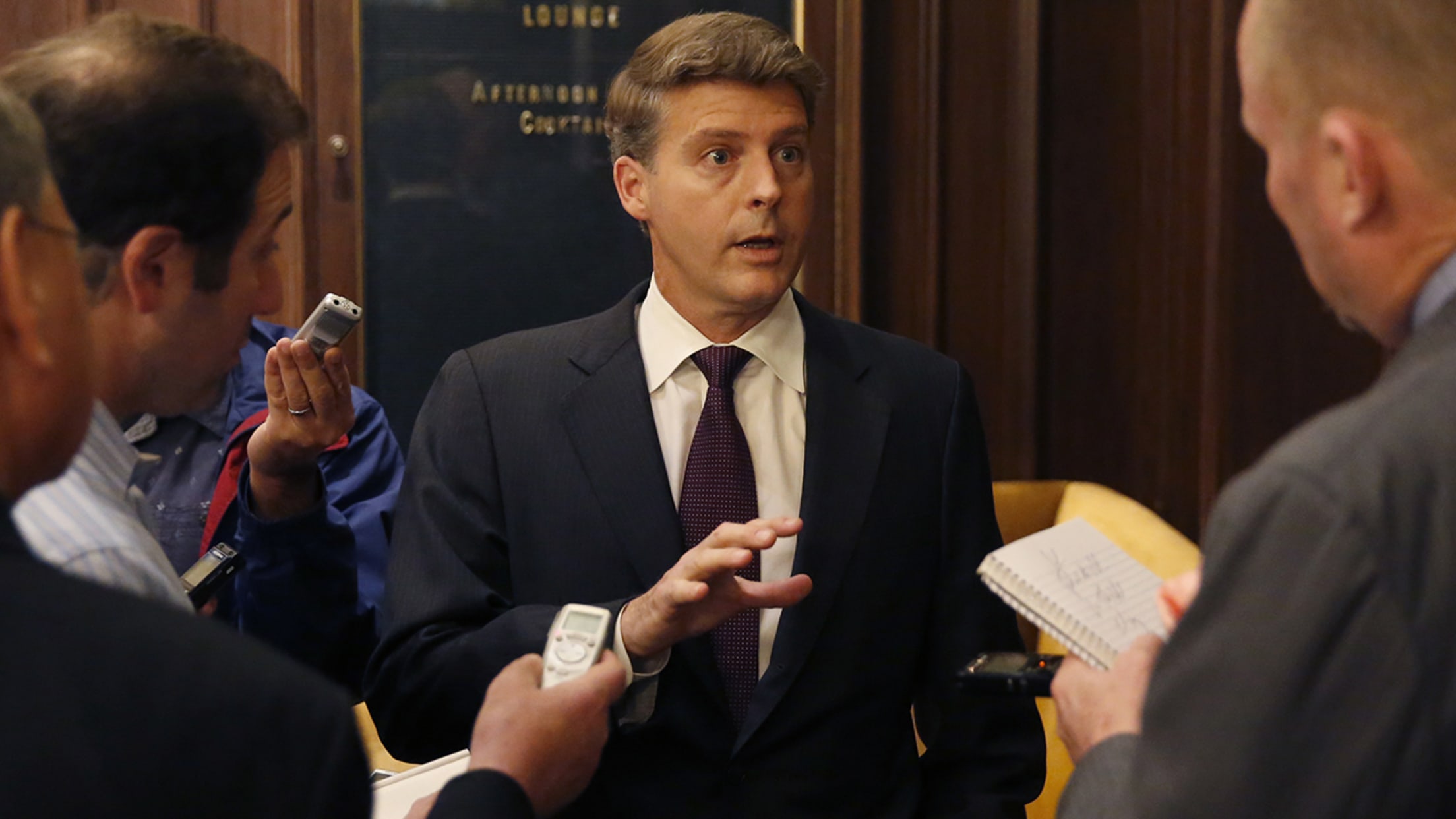 Managing general partner Hal Steinbrenner discussed the Yankees at the Owners Meetings.(AP) (Charles Rex Arbogast/AP)
CHICAGO -- Yankees managing general partner Hal Steinbrenner said Wednesday that his top offseason priority is improving the bullpen and that, with money coming off the payroll for the first time in years, a "decent portion" of his team's new financial flexibility will be used to upgrade the roster.An upbeat
CHICAGO -- Yankees managing general partner Hal Steinbrenner said Wednesday that his top offseason priority is improving the bullpen and that, with money coming off the payroll for the first time in years, a "decent portion" of his team's new financial flexibility will be used to upgrade the roster.<o:p>
An upbeat Steinbrenner spoke to a group of reporters on Wednesday shortly after arriving for the quarterly Owners Meetings.
"For me, the bullpen is a high priority, because I think we're going to have a young pitching staff, and if we can shorten the game for them by really strengthening the bullpen, I think that's going to be to our advantage," Steinbrenner said.
• Hot Stove Tracker
The Yankees dealt dominant setup reliever Andrew Miller to the Indians and closer Aroldis Chapman to the Cubs at the non-waiver Trade Deadline. Both pitchers helped his new team make it to the World Series.
Chapman is a free agent who would not require a compensatory Draft pick. Steinbrenner did not rule out the possibility of putting the Majors' hardest-throwing pitcher back in pinstripes.
"Any time you can get a guy who's already proven he can play in New York -- everybody knows as well as I do that it's a tough place to play -- that's a plus," Steinbrenner said.
Steinbrenner said that trading Miller wasn't an easy decision.
"Look, my family wouldn't talk to me for a couple weeks," Steinbrenner said with a laugh. "That was a sensitive one. That was a tough call. But when you have the ability to get four players [Clint Frazier, Justus Sheffield, Ben Heller and J.P. Feyereisen] of that caliber ... It has to be a deal that good to consider getting rid of a guy like that. There's no doubt we missed him. There's no doubt we missed Chapman. That's why it was a tough decision, right?"
Frazier is the Yankees' top prospect according to MLBPipeline.com, and Sheffield ranks sixth.
First baseman Mark Teixeira ($23.125 million) and Carlos Beltrán are gone, and the contracts of Alex Rodriguez ($21 million) and CC Sabathia ($25 million) expire at the end of next season. That, plus the fact that the Yankees have good young players like Greg Bird, Gary Sánchez and Aaron Judge starting to step up, gives the Yankees more flexibility than they've had in a while.
Still, Steinbrenner remains committed to goal of getting the Yankees' payroll under the luxury tax threshold. That's currently $189 million, although the number could change when the new Collective Bargaining Agreement is finalized. The 2016 payroll was approximately $215 million.
Steinbrenner explained the balance he hopes to strike between putting money back into the team and lowering the payroll at the same time.
"We've got money coming off the payroll for the first time in a few years, and we're going to put a decent portion of it back into the club, as we always do. How much remains to be seen, depending on what our needs are and what's available," Steinbrenner said. "There are areas we need work on like every team, so we're going to identify those areas. If we can't fill them from within, if we can't figure out a trade of some kind, then there's the free-agent market. And we've always been involved in the free-agent market and always will be. So we'll just have to see.
"That doesn't mean I still can't start to lower payroll, particularly when you think of the amount of money coming off the payroll. So that gives me some flexibility ... if I have the [younger players] to put in there, and if they perform."
Ultimately, of course, it's all about winning games and making the entire experience appealing to the fans.
"Clearly, my focus is to put a great product on the field that more and more people want to see," Steinbrenner said. "An exciting product. It's always going to be a product with key players and veterans, because we need them as mentors. It's New York. It's a marquee kind of town. And we finally have that base of good, young players. A lot of people are excited, and that's what I want. I want to bring excitement back to the Stadium."
Paul Hagen is a columnist for MLB.com.