Perez feels great after offseason wrist surgery
Counsell advises prospects to use 'eyes and ears' during big league camp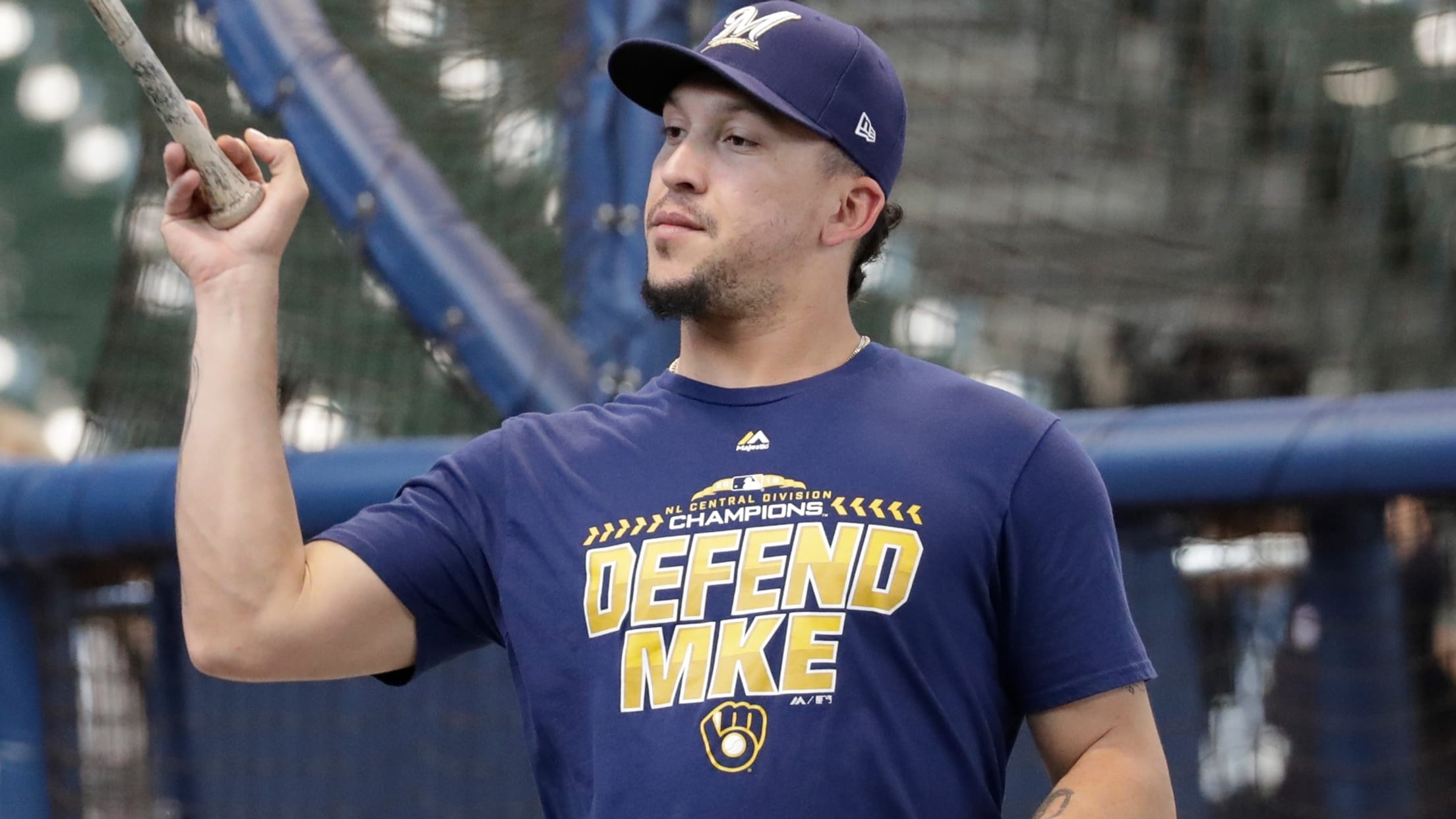 PHOENIX -- Barring an acquisition before Opening Day, the Brewers are counting on Hernán Pérez to help cover second base this season. Perez is hoping that better health helps boost his offensive production.The super utilityman revealed late last month on Instagram that he'd undergone surgery after last season to remove
PHOENIX -- Barring an acquisition before Opening Day, the Brewers are counting on Hernán Pérez to help cover second base this season. Perez is hoping that better health helps boost his offensive production.
The super utilityman revealed late last month on Instagram that he'd undergone surgery after last season to remove the pisiform bone from his left wrist, relieving pain that had dogged him since May. The procedure was on Halloween, and Perez spent the month of November rehabbing before resuming his usual routine to get ready for Spring Training.
:: Spring Training coverage presented by Camping World ::
There was one exception: no winter ball.
"Nobody knew about it," Perez said. "It really was an issue for only one day in Arizona when I didn't play because it was super hurt and I couldn't move the hand. But I was in pain all year long. It was getting worse, worse, worse."
It got so bad that team officials recommended surgery before the start of the postseason, Perez said. Instead, he stuck it out and went 3-for-16 in October, including a pair of doubles in the Brewers' National League Division Series sweep of the Rockies.
That came after Perez slashed .253/.290/.386 in 334 plate appearances during the regular season while playing all over the diamond.
"I don't want to use it as an excuse," Perez said. "I rested a lot and I feel great right now. Let's see how it works."
"He doesn't have to worry about it anymore, and that's a good thing. Hopefully there's an impact there," Brewers manager Craig Counsell said. "He does a lot of things for us. He checks a lot of secondary boxes for us and that ends up being a bigger job. When you do a lot of little jobs, it ends up being a big job. That means he's a really important and meaningful player."
Eyes and ears
Reigning Brewers Minor League Pitcher of the Year Zack Brown was among those who threw his first formal bullpen session of Spring Training on Saturday, meaning every pitcher in camp except rehabbing left-hander Brent Suter has been on the mound.
For the pitchers like Brown, who is almost certain to begin the season in the Minor Leagues, it's a heady experience. Brown said he had to tell himself not to do too much, too soon.
"Absolutely. I was doing that once I came into pro ball after I got drafted," he said. "That's just me. I'm, like, super competitive, and my urge with anything is almost to do too much. I have to maintain that energy in the right direction."
What should young pitching prospects in camp like Brown, Trey Supak, Bubba Derby, Jon Olczak and Miguel Sanchez aim to get out of the experience?
"I think the message we sent is, if you're not going to make the team, to understand that, because otherwise there's a tendency to over-compete," Counsell said. "That's the first thing we try to avoid. The second thing, as much as everything, I've found in big league camp it's about eyes and ears. You'll pick up so much by just using your ears and using your eyes. There's just a lot to learn. It's a very new environment for them. They're exposed to a lot of new things. It's just a great opportunity for those guys to learn. If you approach it in that way, they'll take more out of this camp than most guys."