Kendrick, replay key as Dodgers score in fourth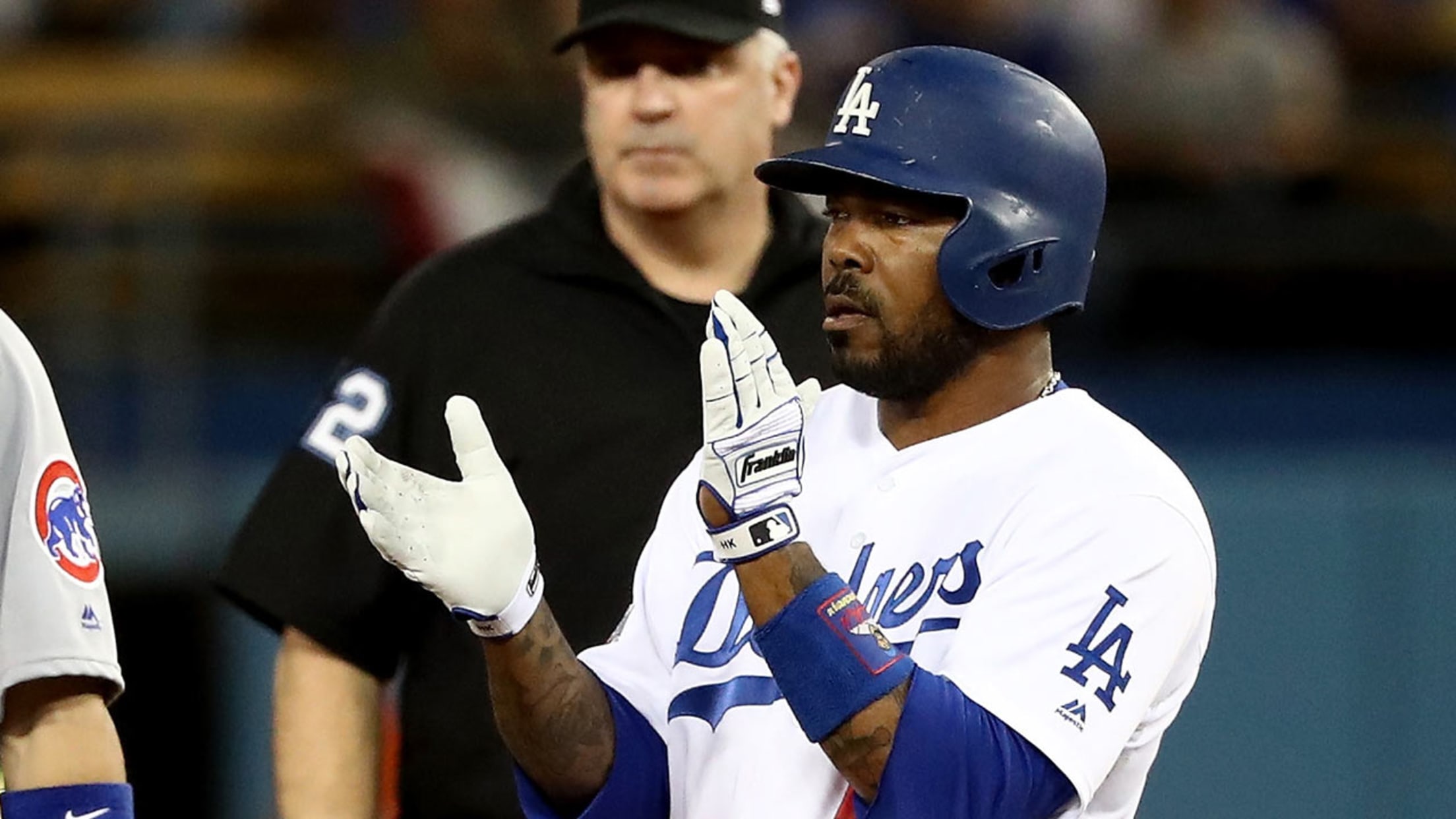 Howie Kendrick doubled, stole third and scored on a groundout in the fourth inning of Game 5. (Getty)
LOS ANGELES -- This time, replay review went the right way for Adrián González and the Dodgers.After Gonzalez voiced significant frustration about the outcome of his replayed out at home plate in Game 4 of the National League Championship Series, the system helped the Dodgers tie Game 5 in the
LOS ANGELES -- This time, replay review went the right way for Adrián González and the Dodgers.
After Gonzalez voiced significant frustration about the outcome of his replayed out at home plate in Game 4 of the National League Championship Series, the system helped the Dodgers tie Game 5 in the fourth inning Thursday. The Cubs eventually took an 8-4 victory to give them a 3-2 edge in the series.
• NLCS Game 6: Saturday at 8 p.m. ET/5 p.m. PT on FS1
Howie Kendrick doubled with one out and then was initially called out trying to steal third on Jon Lester's 1-0 pitch to Gonzalez. Dodgers manager Dave Roberts challenged, and according to MLB, the replay official definitively determined after viewing all relevant angles that the runner contacted third base prior to the fielder applying the tag. The call was overturned, Kendrick was safe, and four pitches later, he scored on Gonzalez's RBI groundout to first base to tie the game at 1.
Kendrick's steal was the Dodgers' second of the game against Lester, part of a plan to "get in his psyche a little bit," Roberts said before the game.
The RBI groundout had a bit of drama to it as well, as the Cubs had brought their infield in to help prevent the tying run from scoring. Gonzalez's grounder was slowly hit, but first baseman Anthony Rizzo had to go to his right to field it. And in an effort to quickly scoop the ball and throw, he bobbled it and had to settle for the out at first and the run crossed the plate.
One couldn't help but wonder if Rizzo would have had a play on Kendrick if he had fielded it cleanly, and thanks to Statcast™ we can make an educated guess. In terms of exit velocity, launch angle, batted ball direction and situation (infield in and runner on third), the most similar play to this one occurred on June 25 in a game between the Nationals and Brewers with Milwaukee's Chris Carter on third base.
As you can see in the video, Scooter Gennett's slow grounder was fielded cleanly by Nationals second baseman Daniel Murphy, who made a firm throw home (76.5 mph) and was still too late for the slow-footed Carter. In fact, Carter's time from third-to-home of 3.78 seconds was significantly slower than Kendrick's time (3.31) in Game 5.
Furthermore, Murphy, a right-handed thrower, had a much cleaner angle to the ball than Rizzo did. He was coming in all the way, as opposed to the left-handed Rizzo, who was going to his right and would have had to spin or open up his body in order to make the throw. Based on the evidence from that play, Rizzo's bobble may have been a blessing in disguise for Chicago as it guaranteed at least one out on a play in which they had very little chance of getting the runner at home.