Ichiro eases back into spring games
Veteran drew a walk, scored a run in first appearance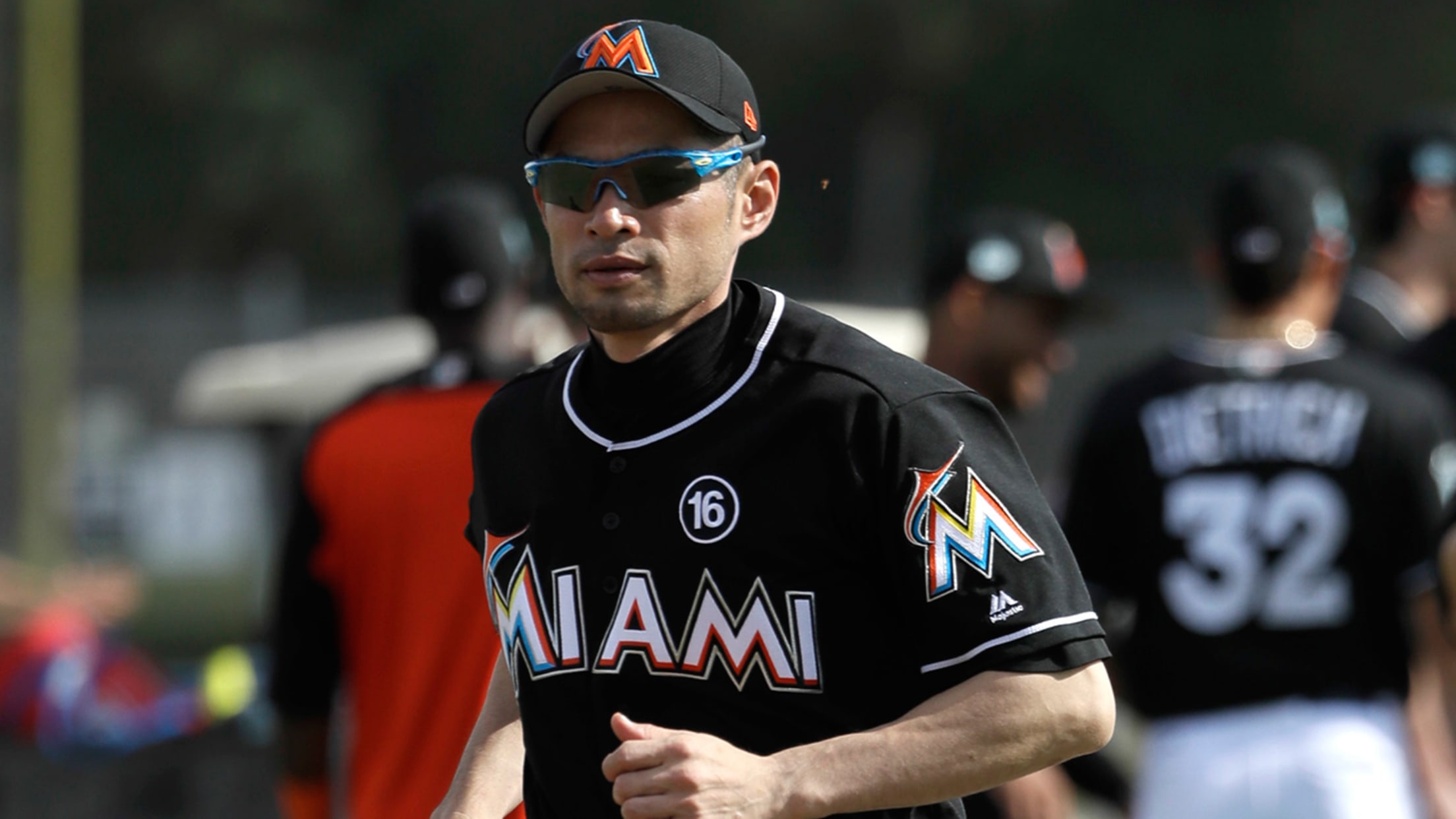 43-year-old outfielder Ichiro Suzuki made his spring debut on Sunday vs. the Astros. (AP)
JUPITER, Fla. -- Grapefruit League game No. 8 for the Marlins was also the Spring Training debut for Ichiro Suzuki. After being sidelined with a bruised right quadriceps muscle and a stiff lower back, the 43-year-old drew a walk and scored a run in Miami's 7-7 tie with the Astros
JUPITER, Fla. -- Grapefruit League game No. 8 for the Marlins was also the Spring Training debut for Ichiro Suzuki. After being sidelined with a bruised right quadriceps muscle and a stiff lower back, the 43-year-old drew a walk and scored a run in Miami's 7-7 tie with the Astros on Sunday at Roger Dean Stadium.
With Opening Day about a month away, the Marlins will ease Ichiro back into action, and the veteran outfielder is perfectly fine not to rush things.
"I'm 43 now, so it's OK if my first game is a little bit later than in the past," Ichiro said through his interpreter, Allen Turner.
• Spring:Info | Tickets | Schedule | Gear
Ichiro was initially injured on Feb. 21 during a collision with Brandon Barnes while doing outfield drills.
"His process is just starting," manager Don Mattingly said. "He's like where the rest of our players were seven, eight days ago, where you're just starting to get your at-bats. We'll get him into the groove and then start to get him ready."
Ichiro was the designated hitter on Sunday, and he went hitless in two at-bats. But his third time up, he drew a walk in the sixth inning and scored on Adeiny Hechavarria's three-run homer.
As a precaution, Ichiro will not play on Monday against the Mets, and he is expected to play the outfield on Tuesday against the Cardinals in Jupiter, Fla. He has been on the disabled list only once in his big league career -- in 2009, due to a bleeding ulcer. Receiving treatment isn't something he's used to.
"It definitely wasn't fun," Ichiro said. "But sometimes you've got to experience something to realize what it is that people go through. For me, I learned that later on in my career."
There will be plenty of innings for Ichiro to get ready for Opening Day, set for April 3 at Washington. On Tuesday, two of Miami's starting outfielders, Christian Yelich and Giancarlo Stanton, will be exiting camp to participate with Team USA in the World Baseball Classic.
"With the World Baseball Classic, and being here a week early, it gave me some time," Ichiro said. "Usually, our first game would be March 1 or Feb. 28 or something like that. Today, it's March 5. Maybe I'm a little bit behind what the normal schedule would be. We were in earlier. That kind of helped me out."