Inbox: What's behind Tribe's 'pen struggles?
Beat reporter Jordan Bastian answers questions from fans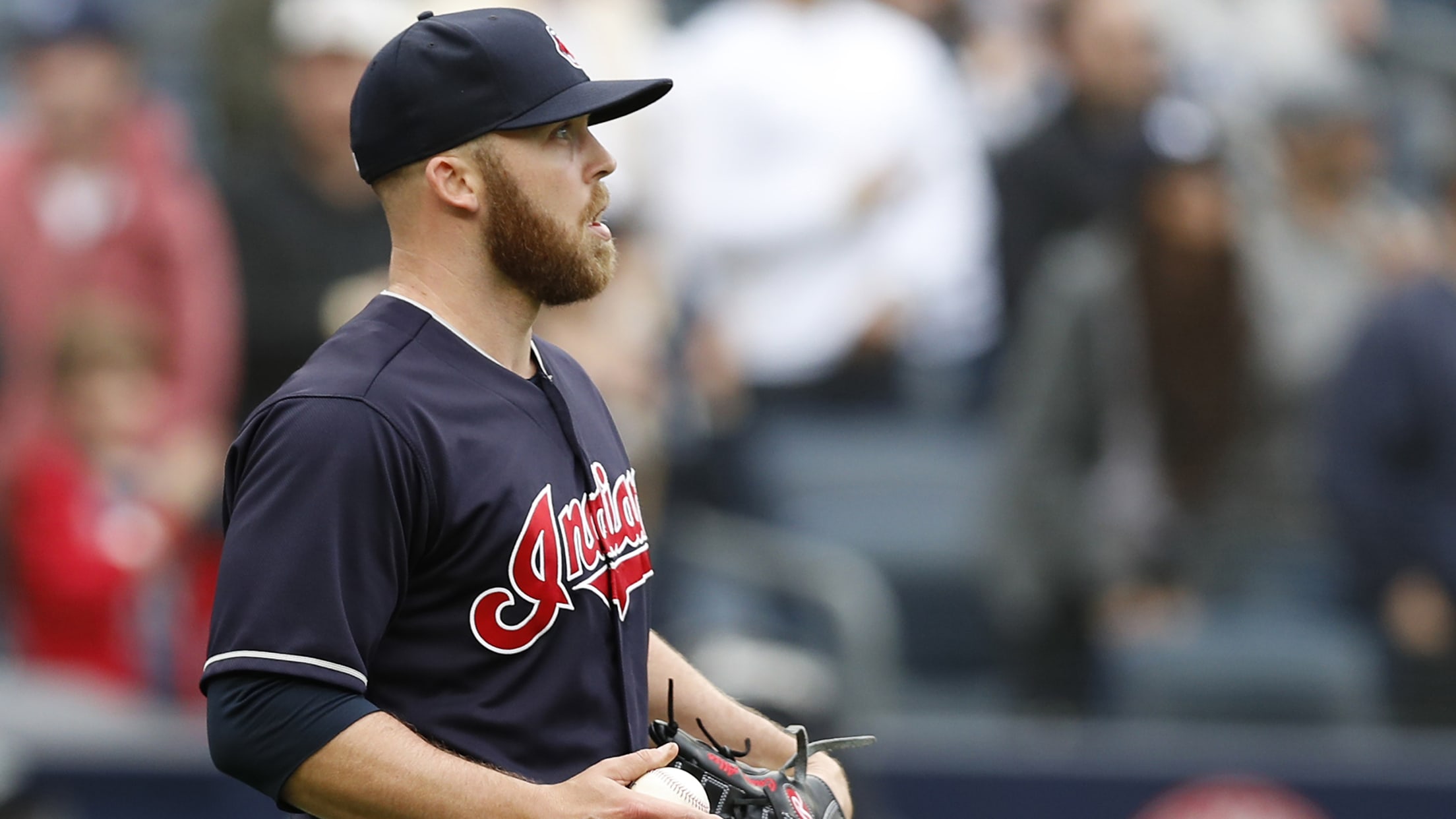 Cleveland Indians relief pitcher Cody Allen (37) looks to the outfield after New York Yankees' Aaron Judge hit a two-run double in the eighth-inning of a baseball game in New York, Sunday, May 6, 2018. Allen was the losing pitcher in the Indians 7-4 loss to the Yankees. (AP Photo/Kathy Willens) (Kathy Willens/AP)
The Indians' bullpen is on Tribe fans' minds after its recent issues, and this week's Inbox reflects that.Let's get right to the questions.
The Indians' bullpen is on Tribe fans' minds after its recent issues, and this week's Inbox reflects that.
Let's get right to the questions.
To what do you attribute the bullpen's issues? Over-use? New coach? Less use of mound visits? Just Miller being out? Everyone hitting their rough spot at the same time? #IndiansInbox

— Sara (@sarafeh5) May 7, 2018
There is never just one culprit behind a rough stretch like the one currently being endured by the Indians' bullpen. Beginning with Andrew Miller injuring his left hamstring on April 25, there have been a series of factors that have contributed to the relief corps' issues, which have been exacerbated by a lack of execution by the pitchers.
:: Submit a question to the Indians Inbox ::
The first domino has been the starting rotation. Prior to losing Miller to the disabled list, Cleveland's starters posted a 2.78 ERA over 22 games. That number has climbed to 4.91 over the past 12 games, putting a little more strain on the relievers. In the 12-game stretch sans Miller, the bullpen has averaged 56.7 pitches per game, which is slightly up from the 51.7 averaged in the first 22 games.
That may not seem like much, but consider that those first 22 games included four off-days and two rainouts. The past dozen games without Miller had zero days off and came within an 11-day span, including a doubleheader on May 3 against Toronto. So it's been an average of 61.8 pitches per day for the bullpen in this recent stretch. That's about an extra inning's worth of work each day.
There were also a pair of extra-inning games between last Tuesday and Thursday, including a grueling 11-inning loss in Game 1 of the twin bill against the Blue Jays. The bullpen threw 174 pitches in the doubleheader, following 98 pitches on May 1 and 104 pitches on April 28.
Over the past 12 games, Cody Allen (+9.1), Zach McAllister (+6.8), Tyler Olson (+4.0) and Nicholas Goody (+3.4) saw their average pitches per appearance jump from the rates they posted prior to Miller landing on the shelf as manager Terry Francona has tried to squeeze a little extra out of each of the relievers. On top of the bloated numbers, Goody injured his right elbow on May 3, joining Miller on the DL.
These are not excuses for the poor performances by Cleveland's relievers, but rather a way to show how a few small things can quickly add up to one big mess. And the Indians have tried to summon fresh arms to help. The team made a transaction related to its bullpen each day from Wednesday through Sunday. That included acquiring righty Oliver Drake, who will join the team Tuesday in Milwaukee.
Before Miller was placed on the DL, the relief corps had a 2.97 ERA across 60 2/3 innings and ranked as one of the best groups in baseball. The beleaguered bullpen has posted a 10.06 ERA in 34 innings without the lefty available. The good news is that Miller is slated to throw off a mound Tuesday, there are two off-days this week and he might be cleared for activation as soon as Friday. Cleveland is hoping some order returns with him.
Who are some realistic people the Indians could pursue via trade to bolster their bullpen? And is everyone just hitting rock bottom at the same time or are weaknesses being exposed that were hidden behind Miller and Allen? #IndiansInbox

— Clay Stanton (@clayds89) May 7, 2018
The Indians did not address their bullpen with any Major League additions over the offseason, while Bryan Shaw and Joe Smith left and found lucrative contracts in free agency. It seems clear now that targeting relief help needs to be a priority, but other chips need to fall around the league before teams start making their stud relievers available. For now, Cleveland needs to see what it might have in guys like Drake and Evan Marshall, and then use the non-waiver Trade Deadline to its advantage. Life without Miller exposed a glaring weakness.
#IndiansInbox Some people have speculated that Callaway was active in the management of the bullpen and that part of the Indians' struggles in relief this year are due to Francona missing Callaway's advice. I say Francona has always been directing bullpen moves. What say you?

— Quincy Wheeler (@DreamingBasebll) May 6, 2018
Francona is very good at creating a collaborative environment with his coaches. Everyone is involved. While it's fair to second-guess some of the usage during this rough stretch -- when the team's options have been notably limited -- I don't think you can pin this whole mess on Francona, pitching coach Carl Willis, bullpen coach Scott Atchison or Mickey Callaway now being with the Mets. Remember, Atchison was on the staff last year and was even in the Tribe's bullpen with some of these pitchers before going into coaching. He knows them as well as anyone. Again, there is never one thing to blame in a situation like this.
With Naquin hitting well and playing a decent right field, any chance he stays on the club when Melky Cabrera is ready? If so, who is the odd man out? #IndiansInbox

— Jim Sullivan (@JimSullivan92) May 6, 2018
I have loved what we've seen out of Tyler Naquin in right field since Lonnie Chisenhall's trip to the DL opened the door for him to get regular playing time. Heading into Monday, Naquin ranked second among MLB right fielders with five Defensive Runs Saved, while ranking 27th in innings (139 1/3). He has held his own at the plate with a .319 average, .356 on-base percentage and 42 percent hard-hit rate. Melky Cabrera (signed to a Minor League deal and playing at Triple-A Columbus) needs to get innings and games under his belt and will be under evaluation. It's possible he could be given a complementary role, if the Indians believe he presents an upgrade over one of Rajai Davis or Brandon Guyer.
@MLBastian what is our sac bunt success rate this year? Why is tito forward thinking enough to help revolutionize bullpens in baseball and insistant on giving away an out 2-3 times a week.

— Taylor Todd (@TaylorTodd609) May 6, 2018
The hitters are typically on their own when it comes to sacrifice bunts. Francona has said multiple times that he doesn't mind the idea, especially if one of his batters isn't feeling comfortable against a certain pitcher, or if runs are proving hard to come by in a particular game. That said, the success rate has been subpar so far. Entering Monday, Cleveland led MLB with three bunt popouts in eight plate appearances ending in a sacrifice-bunt attempt. Per Statcast™, Cleveland's 16 missed bunts or fouled bunts were tied for the third most in the American League. Jason Kipnis (the No. 2 hitter) led the way with four and Francisco Lindor (a top-five MVP Award candidate last year) was tied for second on the team with three.
@MLBastian With the news of Salazar going to the 60 day DL & Miller still on the DL. How is Merritt progressing? Thanks and have a great day!

— Todd Wright (@Toddfresh) May 7, 2018
Ryan Merritt began a Minor League rehab outing with Triple-A Columbus this past weekend. According to Francona, Merritt's velocity is not back to its usual level, meaning the lefty still needs time to build up arm strength. He can be on a Minor League rehab for a maximum of 30 days.
@MLBastian Q: yandy hasn't played in a week. What's up with yandy?

— Henry Scott (@HankManScott) May 7, 2018
Francona noted that Yandy Diaz has not played for Triple-A Columbus since April 30 due to a minor ankle injury, which he sustained while running down a fouled popup. The Indians manager indicated that the issue was not believed to be serious.