Inbox: Is Ramirez's slow start cause for concern?
Beat reporter Jordan Bastian fields Indians fans' questions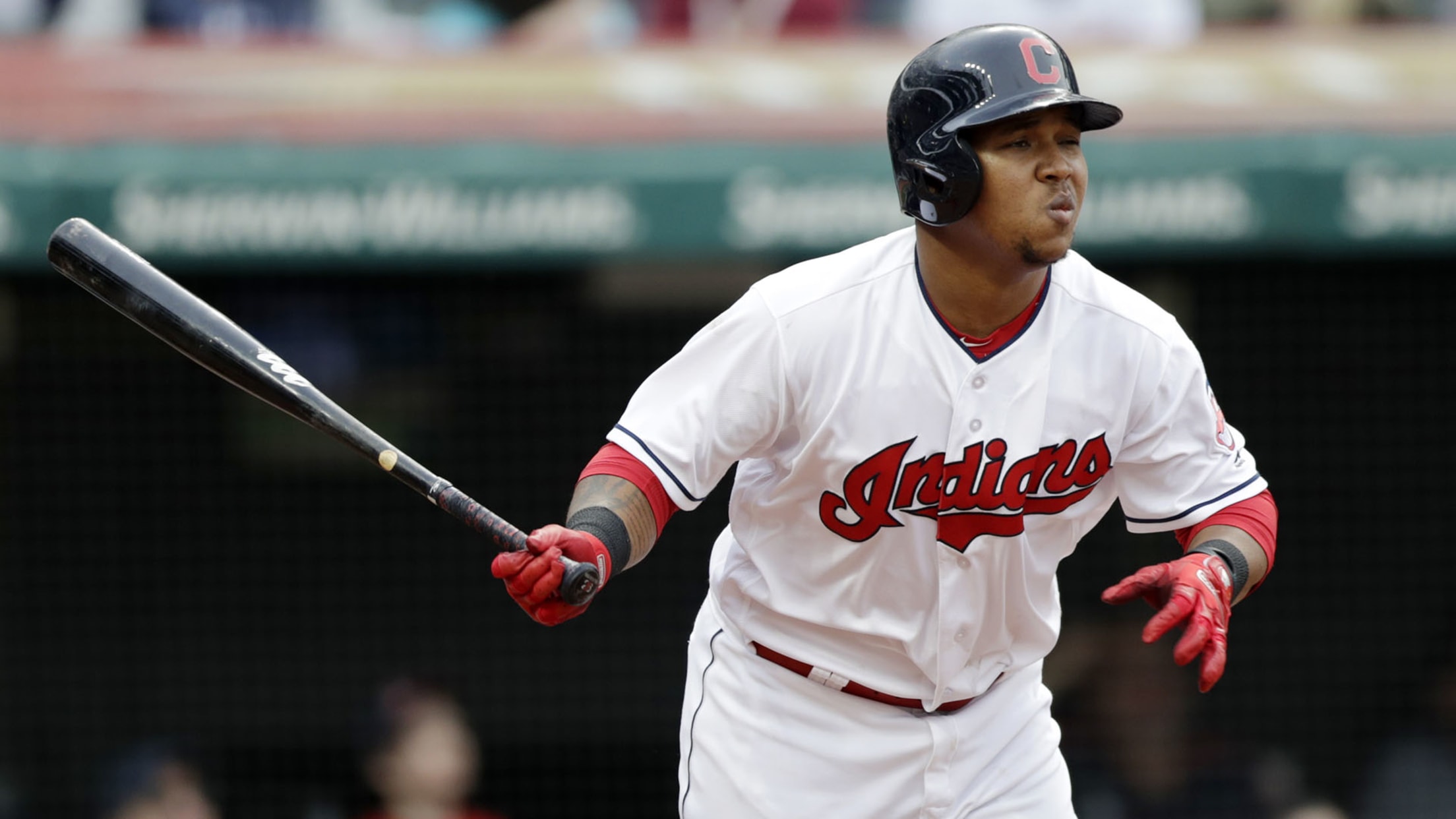 Cleveland Indians' Jose Ramirez watches his two-run home run off Detroit Tigers starting pitcher Michael Fulmer during the second inning of a baseball game Thursday, April 12, 2018, in Cleveland. (AP Photo/Tony Dejak) (Tony Dejak/AP)
The Indians are 9.9 percent of the way through their 162-game regular season schedule, so it's still too early to make any sweeping conclusions about any individuals in the lineup. I could sit here and detail all the reasons why Player X is struggling and then -- one week later
I realize any player can get off to a slow start, but it's not something we usually see from Jose, right? Any concerns there? Him coming back to earth? (not that anyone thought he was necessarily playing above his head) #IndiansInbox

— Josh Hooper (@fmjosh) April 19, 2018
The Indians are 9.9 percent of the way through their 162-game regular season schedule, so it's still too early to make any sweeping conclusions about any individuals in the lineup. I could sit here and detail all the reasons why Player X is struggling and then -- one week later -- a hot streak might make it look like he's enjoying a strong April all along.
Jose Ramirez is a great example, too. Through his first nine games, including a handful in near-freezing temperatures in Cleveland, the All-Star third baseman was sporting a .061 batting average. Ramirez then hit .357 with three home runs, more walks (five) than strikeouts (two) and a 1.133 OPS over his next seven contests for the Tribe.
Ramirez is still digging his way out of that early April slump, and I'd expect him to keep seeing his slash line regress positively. As far as Ramirez's production at the start of seasons past, there may be a little bit of recency bias here. If it feels like Ramirez usually gets off to a hot start, that could be because he hit .330 with a .982 OPS in the first month a year ago.
Over the course of Ramirez's career, however, he has been roughly league average (99 weighted runs created plus) in the season's first month. He also has an 83 wRC+ in his career in May, indicating he's hit 17 percent below average in that particular month. Ramirez has shown that, as the weather heats up, so does his bat. In his career, Ramirez has been well above average in June (130 wRC+), July (116), August (112) and September (146).
Now, while it's too premature to do a deep dive into Ramire'z 2018 statistics, it's not too early to look for what has troubled him in the batter's box to date. Through Wednesday, for example, Ramirez had turned in a .303 slugging percentage on all varieties of fastballs, per Statcast™. Last season, when the third baseman ended third in American League MVP voting, he tortured fastballs to the tune of a .648 slugging percentage.
:: Submit a question to the Indians Inbox ::
It's very early in the season, but do you think the front office will be aggressive before the trade deadline this year? Reliever (or two) and a bat for the lineup? #IndiansInbox

— Nathan Carder (@nathan_carder) April 19, 2018
The Edwin Encarnacion free-agent signing aside two winters ago, the Indians' modus operandi over the past few years has been to target specific needs ahead of both the non-waiver Trade Deadline (July 31) and waiver deadline (Aug. 31). In 2016, Cleveland added Andrew Miller and Brandon Guyer for a slew of prospects. Last year, the Tribe reeled in Jay Bruce and Joe Smith. I'd expect the Indians to take a similar approach later this summer, especially when needs for October may be more easily identified.
Indians chairman and CEO Paul Dolan addressed that topic during Spring Training.
"I would be shocked," Dolan said, "if a Bruce-like opportunity surfaced, where we had an obvious need and a high-quality player like Bruce was available, and we didn't have to surrender prospects to get him, I'd be very surprised if we didn't act on that. I have no idea whether or not we would consider a high-volume prospect [deal] -- an Andrew Miller-like deal."
Why isn't Mejia up in the majors yet? Are they Trying to get him more exposure on other positions? We can use a hitter right now!!!!

— Ryan Piscione (@RyanSito2274) April 19, 2018
Ryan, take a deep breath and dial back on the exclamation points. I get why Tribe fans are frustrated right now. The Indians have a 72 wRC+ as a team with a .214/.285/.381 slash line and have averaged 3.5 runs per game. It's been brutal and the offensive drought has been lineup-wide. All of that said, do not expect Cleveland to make any rash decisions after fewer than 20 games.
With so many players slumping, the better approach is to give this more time to allow the hitters -- guys with established track records of success over full seasons -- to get back on track. Then, when it's a little deeper into the schedule, it will be easier to take a step back and see which areas are truly in need of an upgrade.
I like the excitement and think there should be more of it from players while rounding the bases. Lindor says he's not showing anyone up and I believe him. What constitutes going over the line in your unwritten rule interpretation?

— JayG (@wizard_of_izz) April 18, 2018
Jay, if I wrote here what was "over the line," then these wouldn't be unwritten rules anymore! Kidding aside, I absolutely loved the passion that Francisco Lindor showed around the bases following his home run on Tuesday night in Puerto Rico. He may never have the chance to experience a moment like that again in front of his true home crowd. The stadium was in a frenzy and the scene was spectacular. Maybe there are times when bat flips or on-field antics feel unnecessary -- during a lopsided game with no postseason-picture consequences, perhaps -- but Lindor's jubilant jaunt was not one of those moments.
@MLBastian Any update on Mike Napoli ? he went for the MRI .. nothing on local news here .

— bruce wood (@i4tribe) April 19, 2018
Indians manager Terry Francona did not have the specifics of Mike Napoli's right knee injury as of Wednesday, except to note that it was a "significant" setback for the veteran first baseman. Napoli injured his knee while playing for Triple-A Columbus on Tuesday and it was serious enough to warrant carting him off the field. If this is the end of the road for Napoli's playing career, Francona still feels the former All-Star can make an impact in the next phase of his career.
Tribe still subscribing to drafting college bats (Zimmer/Naquin) over high school?

— Joel Mohler (@JMohler32) April 19, 2018
The Indians have not shied away from high school players in recent MLB Drafts, especially in the early rounds. Dating back to 2011, when Lindor was Cleveland's top pick out of Montverde Academy in Florida, the Indians have taken a prep star with four of their seven picks. If you look at the club's top three picks in the past seven Drafts combined, 13 out of 21 players (62 percent) were picked out of high schools. One more, Brady Aiken (2015), was rehabbing a left elbow injury post-high school when he was drafted by the Tribe. Overall, the Indians seem to take a more balanced approach deeper into the Draft -- with a slight tilt toward collegiate athletes in the middle rounds.
I know jerseys are pitcher's choice but why do all of our pitcher (except Bauer) always choose the navy jerseys? Good luck? Just like them? I want to see the road grays! #IndiansInbox

— Eric Turner (@ESTurner13) April 19, 2018
There is not much to it other than the personal preference of the starting pitchers, as you mentioned. It is worth noting that the Indians wore the navy blue tops throughout their run to the World Series in 2016 and also during the 22-game winning streak last summer. Baseball players are creatures of routine, habit and superstition, so you will often see them stick with a jersey when things are going well.