Inbox: Will Indians change rotation for 2019?
MLB.com's Anthony Castrovince answers questions from Tribe fans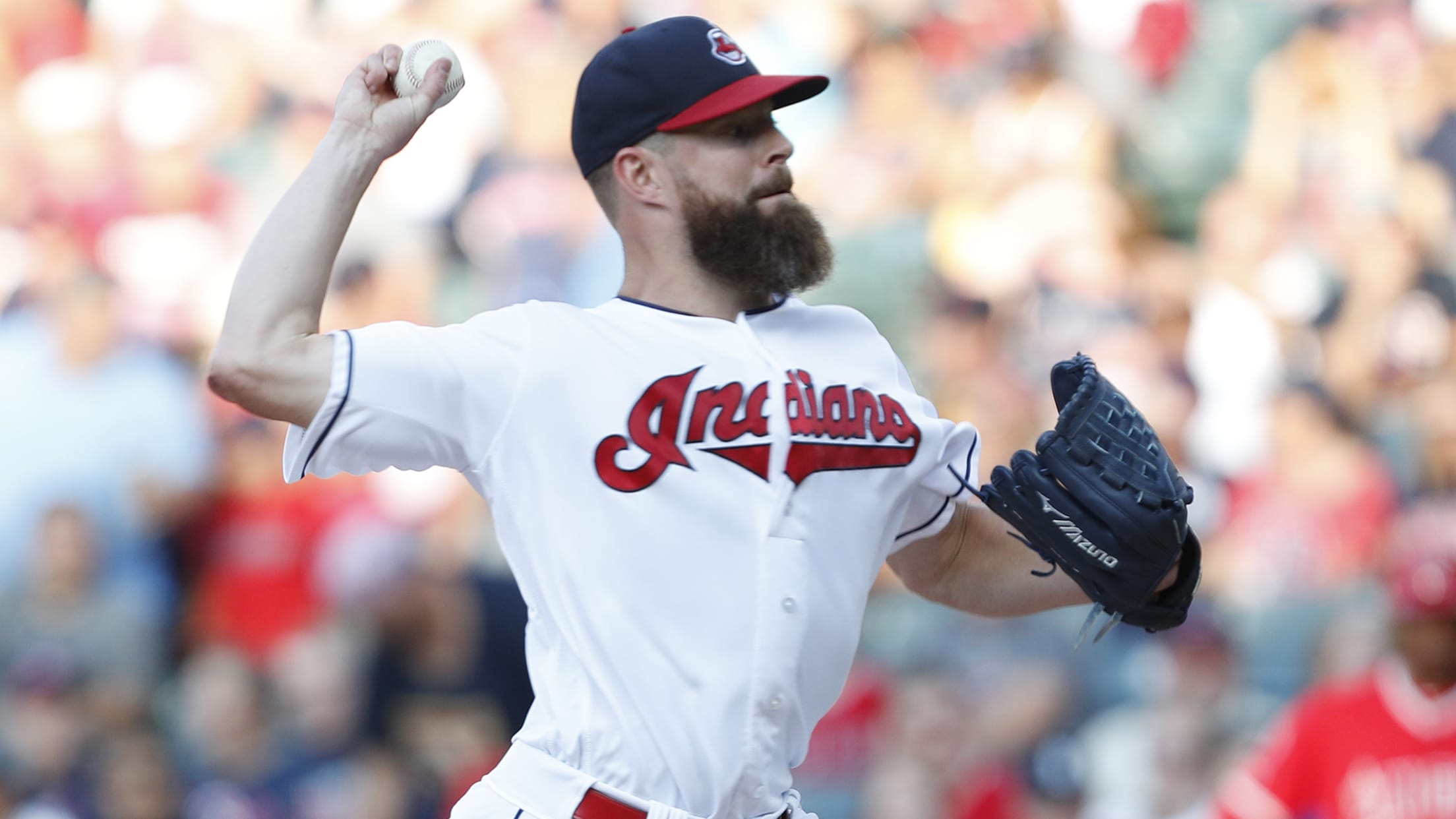 CLEVELAND, OH - AUGUST 04: Corey Kluber #28 of the Cleveland Indians pitches against the Los Angeles Angels of Anaheim during the first inning at Progressive Field on August 4, 2018 in Cleveland, Ohio. The Indians defeated the Angels 3-0. (Photo by David Maxwell/Getty Images) (David Maxwell/Getty Images)
When I left MLB.com's Indians beat for a national role after the 2010 season, I knew I wouldn't miss hustling through the roughly five-mile journey from security to the since-mothballed Concourse D at Cleveland's Hopkins Airport to catch many a regional jet. I knew I wouldn't pine for the days
When I left MLB.com's Indians beat for a national role after the 2010 season, I knew I wouldn't miss hustling through the roughly five-mile journey from security to the since-mothballed Concourse D at Cleveland's Hopkins Airport to catch many a regional jet. I knew I wouldn't pine for the days of living in Goodyear, Ariz., long enough to run for city council. I left with no love lost for the daily duty of asking Travis Hafner if his shoulder was feeling any better.
But the Indians Inbox? That was tough to give up.
Long ago, this is where we not only talked Tribe, but traded barbs and "Weekend at Bernie's II" references (you had to be there). I enjoyed checking my Indians Mailbag email address at Yahoo (that's how long ago it was) to see what you crazy Cleveland fans had come up with.
With MLB.com's task of replacing my 2011 replacement, Jordan Bastian (who recently left for the Cubs beat), not quite complete, I'm your Joel Skinner (the 2002 interim-manager version, not the '07 Kenny Lofton stop-sign version) for the time being. So what do you say we dig into the Inbox for old time's sake?
@castrovince I feel like this topic has been more than exhausted, but what do YOU think the Indians should do regarding the option of trading starting pitching to help their OF and $$ situations? I, for one, am torn.

— Devin Ruffner (@d_ruff) November 26, 2018
I am 100 percent on board with the concept of moving Corey Kluber or Carlos Carrasco (Trevor Bauer has too much affordable upside to deal) in a trade that brings back at least one bona fide, ready-to-contribute-and-fill-an-obvious-hole piece (among other pieces) and creates serious salary relief that can be employed elsewhere on the roster.
Just for fun (and the sake of discussion), in a trade proposals column last week, I pitched a three-way deal in which Mariners closer Edwin Diaz is the key to the Tribe return in a trade that sends Kluber to Philadelphia. I see four years of control of an elite reliever like Diaz (including one pre-arbitration year) as potentially having as much, or more, surplus value moving forward than three years of a mid-30s Kluber at $17 million to $19 million per year.
Many Tribe fans who read that piece didn't think it was enough and wanted to burn me at the stake. Hey, I get it. But the bottom line is that dealing an established ace for a package that isn't solely composed of prospects is unorthodox and aligning values is tricky, especially when you're trying to move a lot of salary.
Many of you asked some variation of the obvious: What are the chances the Indians actually move a starter? All I can tell you is that the Indians have a reputation in the industry for being bullish on the values they attach to their trade chips and the players they target in trades. That can lead to standstills, and the starting market is further complicated by some other interesting trade pieces, like Noah Syndergaard, Zack Greinke, Sonny Gray, et al. So I'd still have to say it's more likely than not that the Indians open 2019 with the rotation intact.
One phone call can change that, obviously.
ohio city burrito or barrio for stadium mexican grub?

— Amy Harber/Earth-1 Supergirl 👽🦄🍾🎬💄 (@AmyHarber) November 26, 2018
I frequent Barrio outside of Progressive Field. But when in the ballpark, the Ohio City Burrito stand is excellent and, more important, convenient to the elevators that run to and from the press box. So that's my pick.
If the Indians fail to deal a starter, how will the team be able to put together a balanced roster that can compete in the post season with no money available and many holes in the current roster?

— Reid Shoop (@shoopy3) November 26, 2018
The American League Central quite likely offers the opportunity to be flexible and to reevaluate needs and trade values at the July non-waiver Trade Deadline. That said, a roster that is basically no less expensive than it was in '18, but is inherently less talented (due to several prominent free-agent departures) is a problem, and maybe that compels the club to be less bullish than usual and simply take the best offer on the table for Kluber, Carrasco or Bauer.
The Indians, as constructed, aren't nearly as good on paper as the AL elite, and they don't have the financial flexibility to get much better. That's why they're investigating every possibility, and Yan Gomes is their most valuable (realistic) trade chip other than Kluber, Carrasco and Bauer. So if they don't do a starter trade, I'm going to guess they do a Gomes trade.
Are Weekend at Bernie's II references still being accepted?

— Mike Andrews (@mtandrews24) November 26, 2018
If this is my Indians.com legacy, I can live with it.
Are the #Indians looking at Jose Ramirez as a second baseman, or as a third baseman in 2019, and are they finally ready to commit to Yandy Diaz as a full time third baseman going forward?

— Jim Pete (@JimPeteEHC) November 26, 2018
Much the way his biceps cannot be contained by any standard-sized shirt, Diaz can no longer be contained to mere part-time duty and trips up and down Interstate 71. The Indians are a better team defensively with Ramirez and Francisco Lindor up the middle, and the likely outcome, barring some big shakeup, is to start Diaz at third. In a limited sample, he was a weapon against left-handed starters in 2018 (.987 OPS in 49 plate appearances). Let's see a larger sample, and whether the exit velocity translates into something tangible. Intriguing player. And cheap, too, which matters a lot right now.
Should people who didn't want baker mayfield have to eat their Trevor Crowe? I will see myself out

— Jack Powers (@jackpowers22) November 26, 2018
It's a good thing the Browns went with Baker Mayfield and not his cousin, Baker Richmond Heights.
What on earth are they going to do in the outfield? Who are the FA targets?

— Josh Harkleroad (@j_hark12) November 26, 2018
I could go really in-depth here, but my pal Mike Petriello already did it. For now, the Indians are hoping new addition Jordan Luplow can eat up some lefties for them.
Any scenario where Goldschmidt could end up in CLE this winter in the last year of his contract?

— Jeff Strowe (@JeffStrowe) November 27, 2018
Yes, but it involves mass contraction that leaves the Indians and the Joey Votto-equipped Reds as baseball's only remaining teams. I don't see it.
Hey Anthony, which Bruce song would you use to describe the @Indians offseason so far? "Death to my hometown?"

— JoeCleveland (@JoeCleveland47) November 26, 2018
That's rather extreme. Right now, it's a "Hunter of Invisible Game" scenario, because the front office is seeking that elusive perfect swap (and if they do make a trade, hopefully it will turn out better than Springsteen's "High Hopes" album).
Best guess on where Brantley lands?

— Cory (@CoryCleveland25) November 26, 2018
Cubs. They need offense. They need contact. They need to move Kyle Schwarber to the AL in a trade. And maybe they need to further frustrate Indians fans after running away with the 2016 World Series and, eventually, our buddy Bastian.
Is there anyone in the Indians' farm system that can do in 2019 what Shane Bieber did in 2018?

— Dan Walk (@WalkTalk1) November 26, 2018
Top prospect Triston McKenzie is an obvious choice, but I've also got my eye on Aaron Civale, a former third-round pick who threw 106 1/3 innings at Double-A Akron this past season. When things were at their worst in the big league bullpen in late April/early May, there were folks in the front office advocating for him to get the call, if only because he, like Bieber, is such a consistent strike-thrower. But he hit the disabled list with a shoulder injury around that time.
Penultimate. Not a question but a word I learned back when you left the beat. Thanks and welcome back (temporarily).

— Fred Gangnus (@fgangnus) November 26, 2018
Well, naturally, I had to make this our penultimate "question" this week.
@castrovince What is best and worst case scenario for the #Indians offseason?

— CLE2JAX (@JagsOutsiders) November 26, 2018
Best case: They find that perfect balance of tangible young pieces and salary relief in a trade, and then somehow land Andrew McCutchen at a deep discount.
Worst case: They make no further moves and I'm still somehow the one doing the Inbox at the start of Spring Training.