Indians balancing rest with home-field quest
Several regulars out of lineup day after clinch, and Tribe also shuffles rotation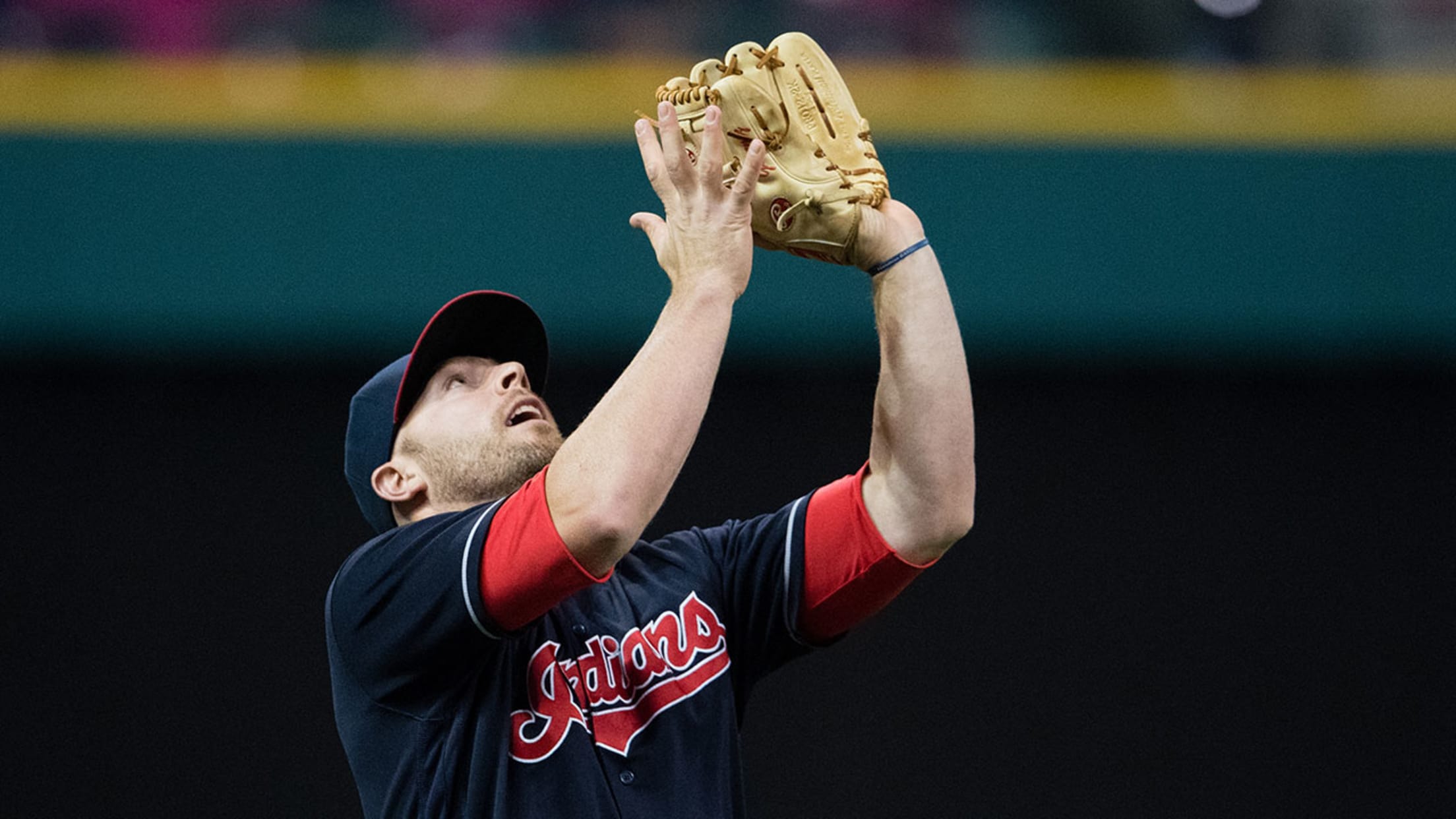 The versatile Chris Gimenez has appeared in five games at third base prior to Tuesday. (Getty)
DETROIT -- As the Indians celebrated on Monday night, bench coach Brad Mills made his way into the mob and found backup catcher Chris Gimenez. It was then, amid the champagne and post-clinch chaos, that Mills informed Gimenez he would be playing third base on Tuesday.Gimenez answered by dousing Mills
DETROIT -- As the Indians celebrated on Monday night, bench coach Brad Mills made his way into the mob and found backup catcher Chris Gimenez. It was then, amid the champagne and post-clinch chaos, that Mills informed Gimenez he would be playing third base on Tuesday.
Gimenez answered by dousing Mills in bubbly.
"I just started spraying him with champagne," Gimenez said with a laugh before Tuesday's 12-0 loss to the Tigers. "It was just one of those things where it was like, you still weren't sure if he was joking or not. So, I was just like, 'All right,' and started spraying him."
• Shop for postseason gear
One day after clinching the American League Central -- Cleveland's first division title since 2007 -- the Indians rolled out a lineup that lacked most of the Tribe's regulars. In the immediate wake of Monday's celebration, manager Terry Francona felt it was a well-earned day off for many of his players. On top of that, Cleveland is now balancing rest with fighting for home-field advantage in the postseason.
In the name of rest, Francona also announced some adjustments for the Indians' rotation. Reliever Zach McAllister will start on Wednesday and lefty Ryan Merritt (a starter for Triple-A Columbus much of this year) will start on Thursday. Righty Josh Tomlin will either start on Friday or Sunday in Kansas City. Trevor Bauer has been pushed back three days for a Saturday start against the Royals.
Part of the reason Friday and Sunday are unannounced is the status of ace Corey Kluber, who is sidelined until the AL Division Series due to a mild quadriceps strain. The Indians do not believe the issue is serious, and Kluber's timetable for return (7-10 days) supported that sentiment. With Kluber temporarily out of the rotation, rookie Adam Plutko may start on Friday or Sunday.
"There's some balls in the air. It'll be a little bit fluid," Francona said. "One of those games will most likely be Plutko starting. And this way, our objective is always to win, but we'll get to see everybody and we'll try to manage people's innings, things like that, and not sacrifice winning. But, we really need to keep our pitchers healthy so they can be productive."
Heading into Tuesday's action, the Indians were a half-game behind the Rangers and one game back of the Red Sox in the battle for home-field advantage.
The After Party 9: pic.twitter.com/PcmQRNSNwt

— Jordan Bastian (@MLBastian) September 27, 2016
While Gimenez playing third -- his first career start at the hot corner -- was the more surprising aspect of Cleveland's starting nine on Tuesday, Francona emptied his September bench to fill out the order. Two regulars, center fielder Tyler Naquin and designated hitter Carlos Santana, were inthe lineup. Michael Martinez (second base), Abraham Almonte (right field), Brandon Guyer (left field), Jesús Aguilar (first base), Adam Moore (catcher) and Erik González (shortstop) also got the nod.
"They've earned the right to [rest]," Francona said of the starters held out of the lineup. "What they accomplished, they needed a night where they can sit around and watch and enjoy. It's good for them. Then, they'll be right back in there tomorrow or maybe late in the game tonight."
It turned out that Mills was serious after all.
Gimenez joked that he would wear his chest protector under his jersey.
"A lot of the guys who have carried us to this point, they deserve to have a day off or a couple of days off," Gimenez said. "We did what we were supposed to do and took care of our business, which allowed us a little bit of time to get some guys' feet under them, and just get them healthy going into the playoffs."