Armstrong sent to Triple-A Columbus
Reliever's spring progress was slowed by lat tightness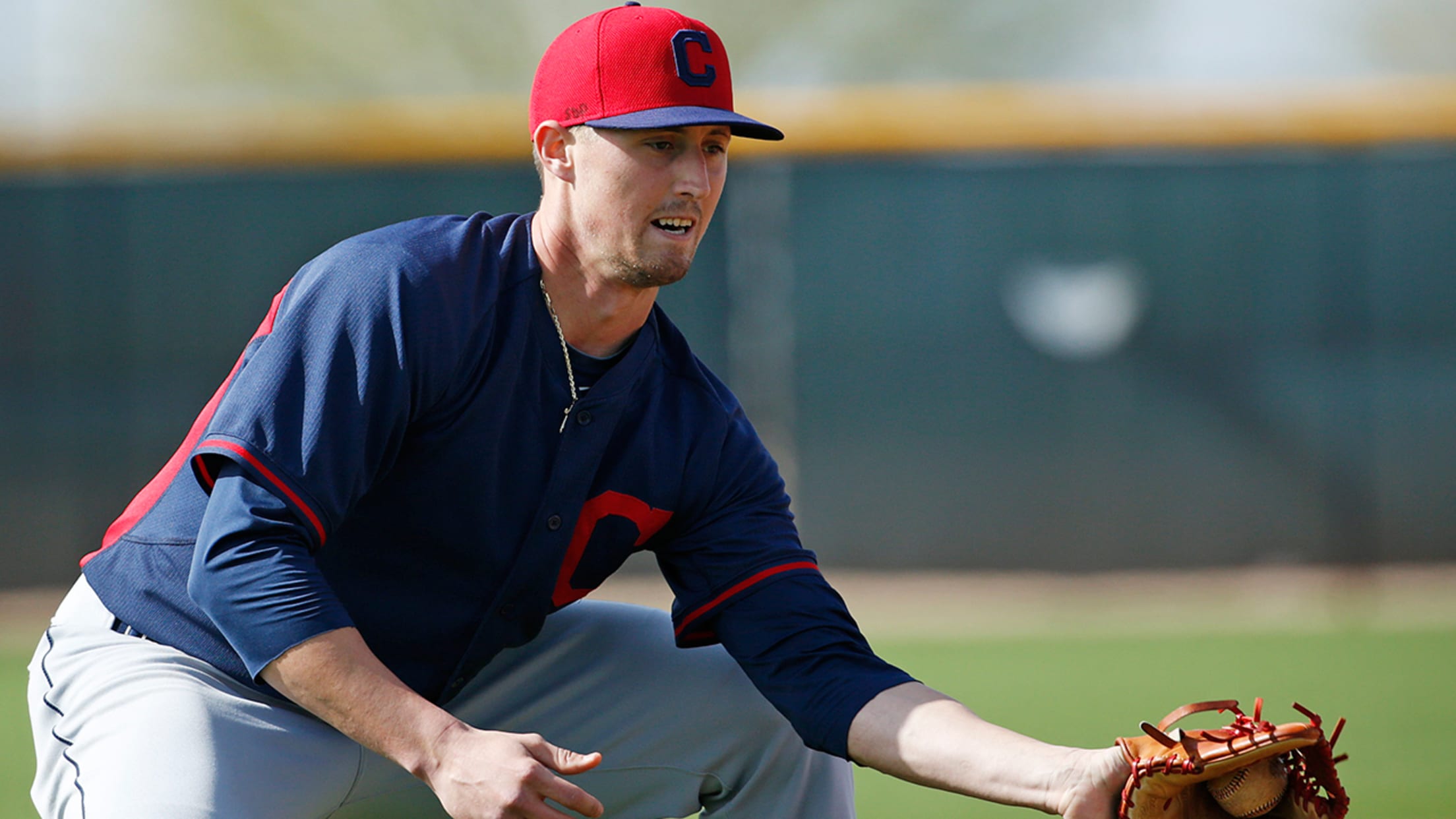 Right lat tightness limited reliever Shawn Armstrong to just two Cactus League games before his Saturday option to Triple-A. (AP)
GOODYEAR, Ariz. -- The Indians believe that hard-throwing Shawn Armstrong will play a role in their bullpen at some point this season. Cleveland just was not confident the reliever would have enough time to be at full strength by Opening Day.On Satuday, the Indians optioned Armstrong to Triple-A Columbus, following
GOODYEAR, Ariz. -- The Indians believe that hard-throwing Shawn Armstrong will play a role in their bullpen at some point this season. Cleveland just was not confident the reliever would have enough time to be at full strength by Opening Day.
On Satuday, the Indians optioned Armstrong to Triple-A Columbus, following a spring showing that was hindered by right lat tightness. Armstrong appeared in only two Cactus League games and slipped behind other bullpen candidates as Cleveland maps out its Opening Day plans.
• Indians Spring Training info
"We tried to explain that to him today, 'Try to look at the big picture,'" Indians manager Terry Francona said. "We needed to slow him down this spring and, with a young pitcher or player, sometimes when they get called up, you want them to be on a roll. He wasn't going to be able to do that in the next 10 days or two weeks."
Armstrong, 25, spent eight games with the Indians down the stretch last season, posting a 2.25 ERA with 11 strikeouts and two walks in eight innings. The righty averaged 94.5 mph on his fastball and topped out at 98.5, according to brooksbaseball.net. Between Triple-A and Cleveland, Armstrong had 91 strikeouts in 57 2/3 innings combined in '15.
"I think he will help us at some point," Francona said. "He's got a really good arm and he's kind of growing up and growing into who he is. Last year he made huge steps, and I don't see that being any different this year."
Other items of note from Saturday:
• One of the reasons the Indians targeted veteran outfielder Rajai Davis was his ability to handle a variety of roles. He can play left or center field. He has experience as a leadoff hitter and hits lefties well. And, Cleveland thinks he can be an everyday player or a role player, depending on need at any given time.
"When he doesn't [play every day], I don't think it hurts his production," Francona said. "Sometimes, that's rare. He has the ability to certainly play every day, but he also has the ability to not have to have everyday at-bats and still be a really good player."
• Indians shortstop Francisco Lindor headed into Saturday's action with a .214 average through 28 Cactus League at-bats. Francona said he is not worried one bit about the young switch-hitter's results at this point in camp.
"I don't even know what it is," Francona said of Lindor's batting average. "He's getting ready for a long season. He's in a different place than he was last year. There's other things on his plate during the day. There might be something that happens over here in the morning that [convinces me that] his day's already been productive."
• Third baseman Juan Uribe was scheduled to arrive in Arizona at some point on Sunday, barring any travel issues on his return trip from the Dominican Republic. Once he is back in camp, Francona said, the team will meet with the veteran to plan his return-to-games schedule.
• Outfielder Marlon Byrd, who signed a Minor League contract with the Indians on Friday, is slated to serve as the designated hitter for Sunday's game against the Mariners. The Indians want him to get a few at-bats before playing him in the field.
• Right fielder Lonnie Chisenhall, who dealt with right forearm tightness in recent days, is now symptom-free, according to Francona. The manager said Chisenhall will likely return to Cactus League action on either Sunday or Monday.