Tribe's House healthy, happy after trying 2015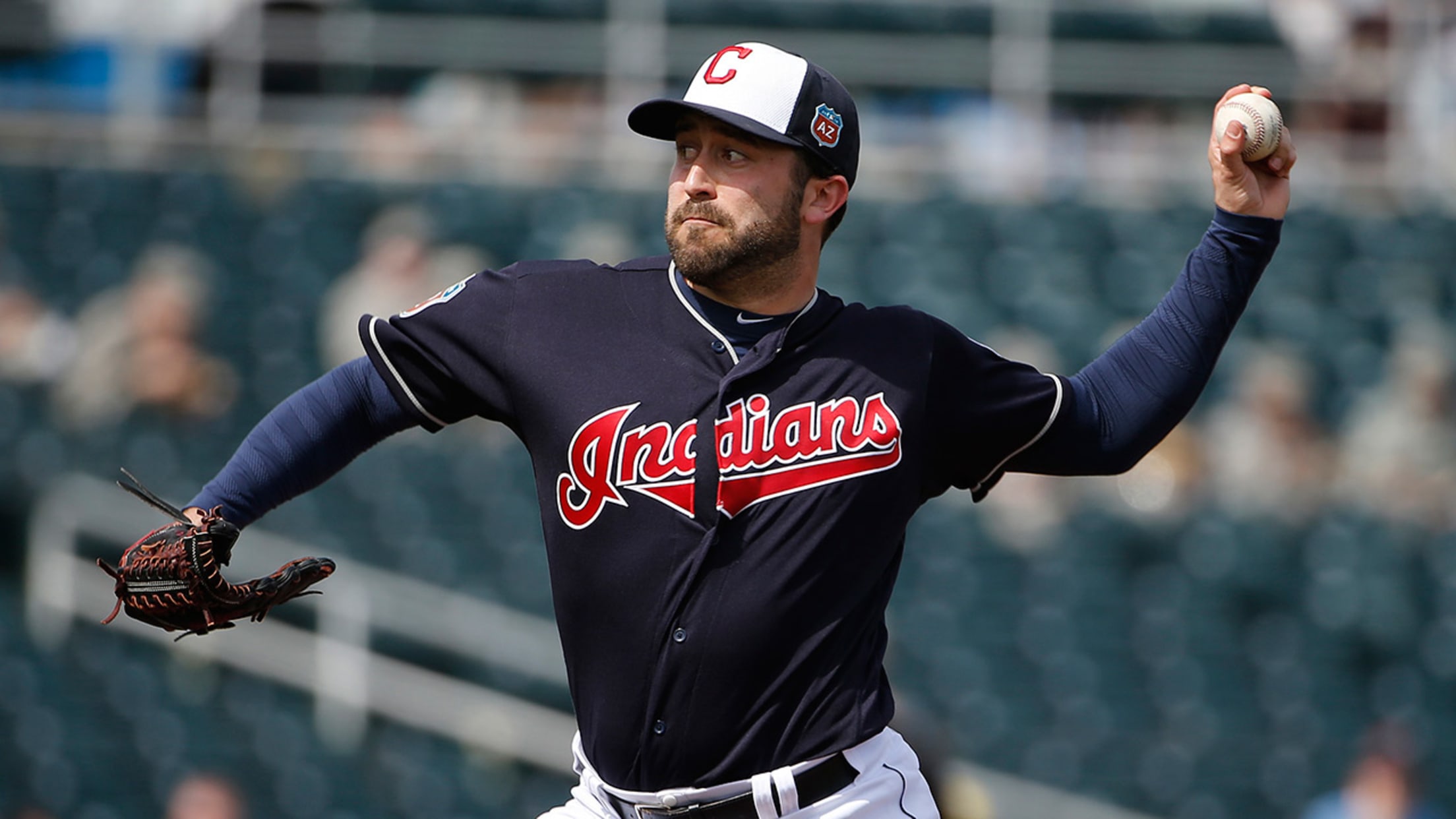 "I just want to be able to go out every five days, be healthy ... get a full year under my belt again," said TJ House. (AP)
SURPRISE, Ariz. -- Rehabbing in Arizona in the middle of the summer can feel like solitary confinement for a player. As if the monotonous daily exercise schedule is not trying enough, he might find himself sitting in an empty locker room with a big league game tormenting him from the
SURPRISE, Ariz. -- Rehabbing in Arizona in the middle of the summer can feel like solitary confinement for a player. As if the monotonous daily exercise schedule is not trying enough, he might find himself sitting in an empty locker room with a big league game tormenting him from the lone TV that is powered on.
That was the case last year for TJ House, whose recovery from a slight tear in his rotator cuff kept him at the Indians' complex in Goodyear for most of the season. He finally confessed to Cleveland's staff that he was going crazy. He wanted to know if he could spend the offseason months back in Ohio to at least have a change of scenery.
"I told them, 'I'm getting a little bit antsy out here,'" House said.
• Spring:Tickets | Ballpark | 40-man roster | NRIs
This spring, those anxious feelings have started to evolve into eagerness. At the advice of the Indians' medical staff and doctors, House chose a conservative comeback over surgery last year, and the lefty is feeling healthy and strong for the first time in two seasons. After all that happened in 2015, House is eager to get back on the mound to start, and start over, again in '16.
As things currently stand, House appears to be third in the pecking order for the lone opening in Cleveland's rotation. While House rehabbed last year, right-hander Josh Tomlin returned from his own shoulder injury and righty Cody Anderson reached the Majors and impressed the Tribe with a solid rookie showing. Those two starters look like the front-runners for the fifth spot.
Under the circumtances, House is keeping things in perspective.
"I understand that [my time will come]," House said. "It might not be now. It might not be until July or August or September. Who knows? What I do know is I can control what I do when I go out there and pitch. I just have to maintain that thought process. ... I just want to be able to go out there every five days, be healthy, start, play, get a full year under my belt again. Wherever that may be, that's up to them."
Through three Cactus League appearances, House has allowed six runs on seven hits in 5 2/3 innings, but pitching coach Mickey Callaway is monitoring more than the raw statistics. Callaway sees good sink on the left-hander's two-seamer and pitches hitting the lower half of the strike zone on a more consistent basis. So far, it looks more like the 2014 version of House.
"Last year was tough for him," Callaway said. "He looks really good this spring."
Indians manager Terry Francona agreed.
"Health-wise, he's fine," Francona said. "I've actually thought he's been throwing the ball pretty good. I do think with a lack of repetition, I think even by TJ's own admission, he's shaking off some rust. But, I think he's heathy and I think that bodes well, because he had kind of put himself on the map."
Two years ago, House joined the Indians as a rookie and fashioned a 3.35 ERA in 19 outings in the big leagues. He pitched well enough to stick as the fifth starter into the beginning of last season, but his shoulder refused to cooperate.
On April 25, after throwing a bullpen session the previous day, House made an emergency start in place of Trevor Bauer and lasted only three innings. House did not feel like himself, but neither he nor the medical staff could pinpoint the problem. House started again on April 30, lasted only three innings for the second straight outing, and that was it for his season.
The back of House's baseball card will forever have a reminder of his health woes in the form of a 13.15 ERA for 2015.
"It was never like a specific moment. I can't tell you like, 'Oh, it was on this pitch,'" House said. "We tried to work through it and I made that next start against Toronto. It just wasn't working. We knew there was something there, but we didn't know what it was. We had to shut it down and figure out what was going on."
The Indians discovered the partial tear in House's shoulder and he spent the next 5 1/2 months rehabbing in Arizona before returning to Cleveland in November.
Back at Cleveland's complex this spring, House is no longer feeling so lonely, or so far away from being back in the bie leagues.
"Mentally, it was very draining," House said. "But, it also puts it back into perspective. I really missed baseball. You really realize how much you love doing what you do, and you really are just hoping you can get back to a spot where you can get back out there and compete and feel like your old self."