Gomes sparks Tribe's HR fest in Arlington
Indians swat four homers to back Anderson's strong outing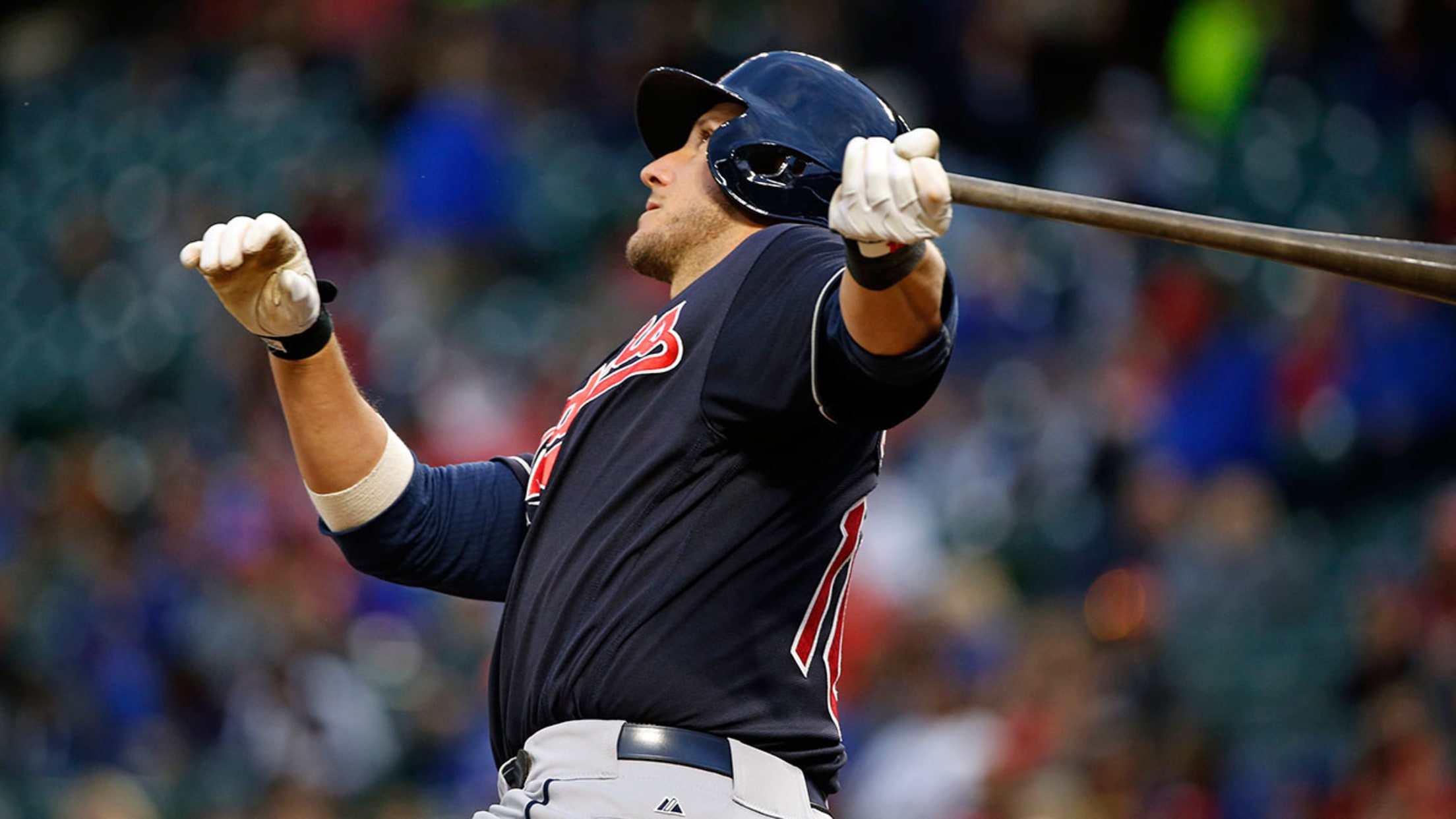 Yan Gomes watches his solo home run in the second inning off Rangers starter Colby Lewis on Friday in Arlington. (AP)
ARLINGTON -- The Indians might have been content to start the season early, considering their success Friday night, but the Rangers were just as pleased knowing the meeting was merely a Spring Training dress rehearsal in a regular-season venue.In a 9-1 Cleveland victory at Globe Life Park, Yan Gomes and
ARLINGTON -- The Indians might have been content to start the season early, considering their success Friday night, but the Rangers were just as pleased knowing the meeting was merely a Spring Training dress rehearsal in a regular-season venue.
In a 9-1 Cleveland victory at Globe Life Park, Yan Gomes and Juan Uribe hit solo homers off Rangers starter Colby Lewis in the second inning to give the Indians the lead for good, and a five-run fifth inning put the game out of reach before the managers began to empty their benches in an exhibition game.
Cleveland got everything it wanted out of starter Cody Anderson in his final spring outing. He allowed one earned run on three hits in 6 2/3 innings, striking out four. The 25-year-old made 15 starts last season and will be in Cleveland's starting rotation from the beginning this year.
"He did such a good job, he threw strikes, he used all his pitches, held his velocities," Indians manager Terry Francona said. "We continue to just be proud of this kid."
The Indians collected 13 hits to the Rangers' four.
"It's good to go in with a good start, a decent start under your belt to give you that confidence rolling right into the season," Anderson said.
The Indians touched up Andrew Faulkner, a rookie who has already been told he'll be on the Opening Day roster, for five runs in the fifth. Francisco Lindor singled home a run, Jason Kipnis singled in two more, and Carlos Santana hit a two-run homer.
Lindor homered off Jake Diekman in the next inning, and the Tribe added a run in the ninth when pinch-hitter Bryson Myles, who will be headed back to the Minor Leagues on Sunday, doubled home a run.

Going 2-for-4 and driving in two runs, Lindor pushed his spring batting average to .350 and added his team-leading 15th RBI of the spring.
Rangers relievers Tom Wilhelmsen, Diekman, Sam Dyson and Shawn Tolleson -- all of whom are expected to play important roles in the Texas bullpen -- allowed one run combined in 3 2/3 innings.
"We wanted to get that core group of guys out there tonight and get them another touch on the mound, and on our mound," Rangers manager Jeff Banister said. "I felt good about getting them out there tonight. That's their last time on a mound before we start the regular season."
Texas scored its only run when Ryan Cordell, the Rangers' No. 15 prospect, went deep off Anderson in the sixth.
After allowing two runs on three hits and three walks, Lewis' spring ERA fell to 7.78. He has allowed 15 earned runs over his past 14 2/3 innings.
But Lewis' spring performance has often been indicative of nothing; last year he had a 9.75 ERA in spring but recorded career highs in wins, innings pitched and games started in the regular season.

"I feel like it's gotten better each time, even as the game progressed on today, I felt like every inning was a little bit better than the previous inning," Lewis said. "I feel like I'm right where I need to be."
Texas and Cleveland have one more tuneup Saturday at 3:05 p.m. CT (3:05 ET) in Arlington (watch live on MLB.TV's free preview) before both clubs open the season at home on Monday.
Worth noting
• Catcher Bryan Holaday, whom the Rangers acquired Tuesday in a trade with Detroit, made his spring debut with the Rangers and went 0-for-2 while catching Lewis and five of the Rangers' relievers for the first time.
"That's a tough challenge," Banister said. "The first time seeing guys, he's catching them in a game, no real bullpen session at all. I thought he did a fine job. He looked good behind the plate, moved well, threw the ball well, blocked some tough blocks. I felt like he handled our guys well tonight."
• Banister said the Rangers were pleased with Globe Life Park's new LED lights, which the club installed during the offseason.
"It's definitely clearer, brighter," Banister said. "Players made some comments that they definitely can tell the difference. … It's brighter out in right field, and all over really. It's a nice improvement to the ballpark."

Dave Sessions is a contributor to MLB.com.