Indians' finale vs. White Sox postponed
Game will be made up as part of straight doubleheader May 23 in Chicago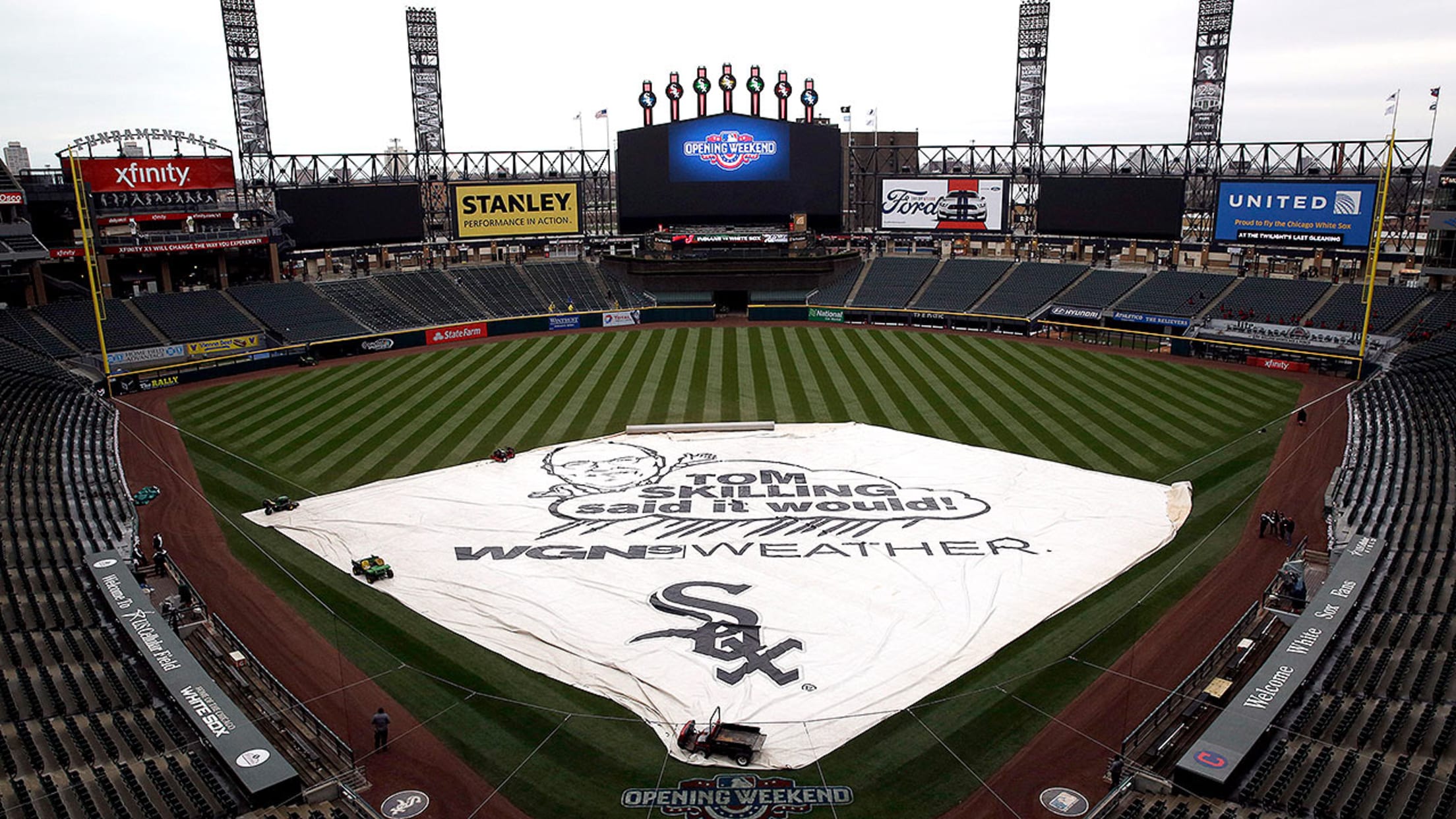 Sunday's rainout was the third postponed game in the past seven days for the Tribe. (AP)
CHICAGO -- One of the Indians' goals for this season was to get off to a hot start in April. Unfortunately, Mother Nature has only offered a cold start -- complete with snow, rain and a slew of postponements in the first week of Cleveland's regular season.It was more of
CHICAGO -- One of the Indians' goals for this season was to get off to a hot start in April. Unfortunately, Mother Nature has only offered a cold start -- complete with snow, rain and a slew of postponements in the first week of Cleveland's regular season.
It was more of the same on Sunday, when the Tribe had its game against the White Sox at U.S. Cellular Field postponed due to rain, which was expected to pick up in intensity throughout the afternoon and evening. The game will be made up on May 23 as part of a straight doubleheader, beginning at 5:10 p.m. ET.
This marks the third postponement in the past seven days for the Indians. Rookie outfielder Tyler Naquin, who has been soaking up the Majors for the first time, smiled when asked how he has enjoyed his first week in the big leagues.
"Hey, whether it's 20 degrees or 80 degrees, being in The Show is good enough," Naquin said. "The weather will go. It'll come and go, and we'll be just fine. We'll take care of business whether it's freezing or 100 degrees. That's our job."
We have been postponed. Again.

Traditional DH on 5/23, starting at 4:10.

Sorry gang! pic.twitter.com/UtzsfS8k3P

— Cleveland Indians (@Indians) April 10, 2016
Right-hander Josh Tomlin -- Cleveland's fifth starter -- was slated to pitch against Chicago on Sunday, but he will now be skipped in the rotation order. With an off-day on Monday, and the past week of weather issues having already forced a rotation shuffle, the Indians will give the ball to ace Corey Kluber on Tuesday as planned for the opener of a three-game series at Tampa Bay.
Following Kluber will be Carlos Carrasco (Wednesday at Rays), Danny Salazar (Thursday at Rays), Cody Anderson (Friday vs. Mets) and then Tomlin (Saturday vs. Mets). That means Tomlin will have gone 17 days between starts, dating back to his final Spring Training outing on March 29 in Arizona.
The past seven days have also taken a toll on Cleveland's pregame routine.
The Indians have taken batting practice on the field only once in the past eight days. The cold, rain and flurries that have plagued the club have also robbed it of the chance to go through the usual pregame infield drils. The good news is that the Indians will not run into the same issues in the next series, thanks to being under the Tropicana Field dome in St. Petersburg.
.@RaysBaseball do you still have a roof

— Cleveland Indians (@Indians) April 10, 2016
"We'll probably have early work on Tuesday. We need it," Indians manager Terry Francona said. "It's more the ground balls and just getting guys out there to turn double plays and stuff. We haven't done any of that, and early in the year is when you need it. Later in the year, it becomes a little overrated, but now we need it."
This past Monday, the Indians had their scheduled home opener postponed due to inclement weather, pushing the game against the Red Sox to Tuesday. On that day, the first-pitch temperature of 34 degrees made it the coldest season-opening game on record in Indians history. There was a rain delay on Wednesday and a postponement on Thursday.
On Friday in Chicago, the Indians and White Sox played through on-and-off snow flurries. In the fifth inning of Cleveland's 7-1 win that day, center fielder Rajai Davis actually lost track of a fly ball due to the snow, but he recovered in time to make a spectacular diving catch. On Saturday, Chicago and Cleveland played in 32-degree weather. Sunday was a little warmer, but the wet conditions necessitated the postponement.
"It was going to be steady rain all day long," White Sox manager Robin Ventura said. "There wasn't really good reports. You take that into consideration and move on."