Q&A with WWE superstar Daniel Bryan
Chase Field will host 2019 Royal Rumble on Jan. 27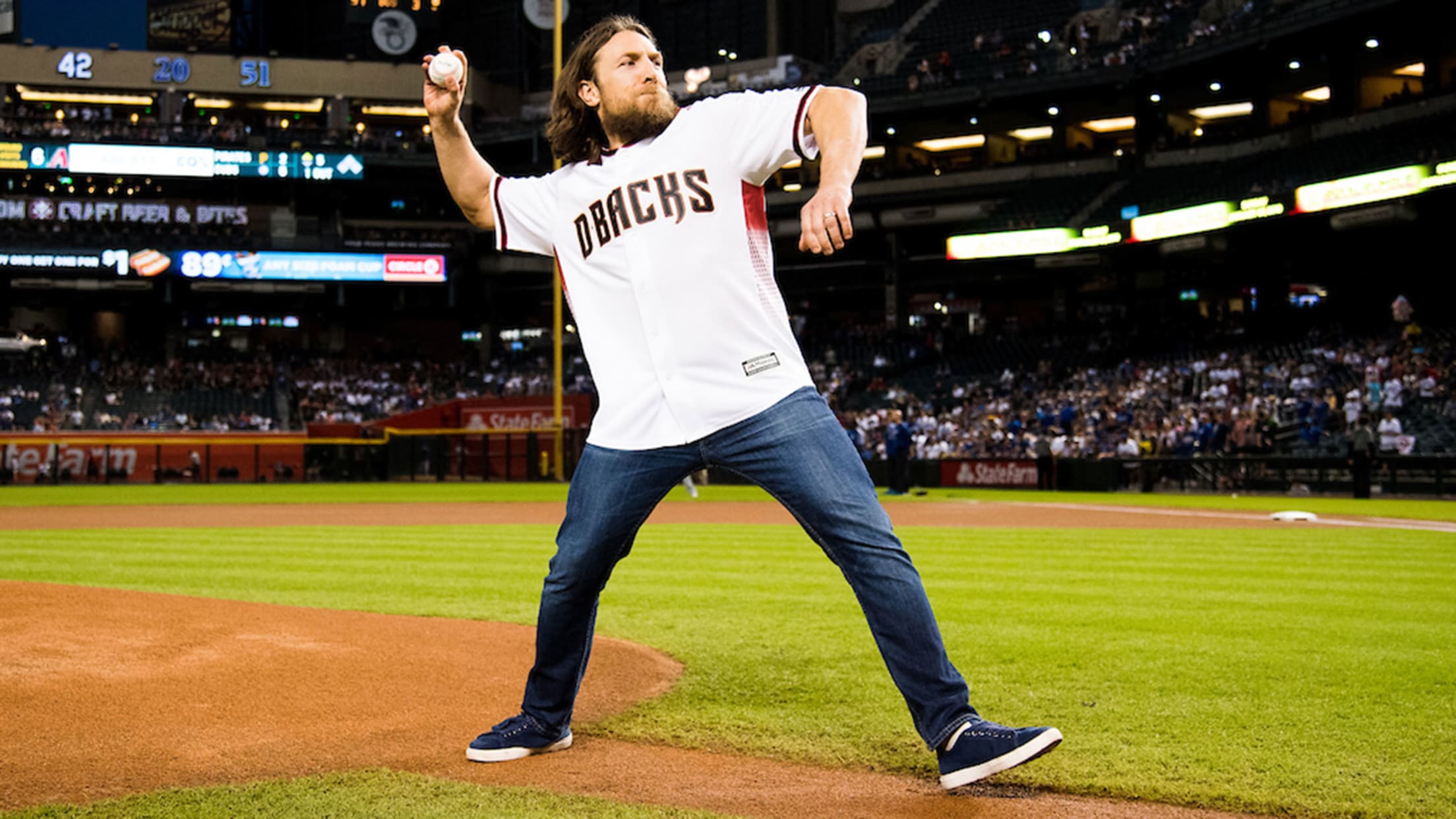 On Sunday, January 27, the WWE makes its Chase Field debut hosting the Royal Rumble -- the official kickoff on the road to WrestleMania. As part of promoting the event, WWE Superstar Daniel Bryan took batting practice and threw out the ceremonial first pitch at the Arizona Diamondbacks' final home
On Sunday, January 27, the WWE makes its Chase Field debut hosting the Royal Rumble -- the official kickoff on the road to WrestleMania. As part of promoting the event, WWE Superstar Daniel Bryan took batting practice and threw out the ceremonial first pitch at the Arizona Diamondbacks' final home game of the regular season last month.
In addition, the Aberdeen, Wash., native also took time out to open up about his memories of the national pastime, his thoughts on throwing out his second-career big league first pitch, meeting D-backs reliever and fellow beard aficionado Archie Bradley and the differences between performing in an arena vs. an outdoor stadium.
D-backs: Daniel, in just a few months, you'll be back in this building for one of WWE's biggest events, the Royal Rumble. This being the home of the D-backs throughout the baseball season, what memories of the game do you have growing up in the Pacific Northwest?
Daniel Bryan: Baseball before 1995 is my forte. I just met (former D-backs first baseman) Mark Grace and I yelled, "Mark Grace! This is awesome!" I'll tell all my friends, and they'll all know who Mark Grace is. We all collected baseball cards and that kind of memorabilia when we were kids, and now even former Seattle Mariner (and Hall of Fame pitcher) Randy Johnson is working in your guys' front office. I was always a huge Mariners fan, but once you get past 1995 … I vaguely followed the Mark McGwire and Sammy Sosa home run race in 1998, but we in the WWE do so many shows every year it's harder for me to keep up with it all. For example, everybody thinks I'm a diehard Seattle Seahawks fan, which I am. I love the Seahawks, but I never get to watch a game. People ask me about those players, and all I know is Russell Wilson is the quarterback.
I loved Randy Johnson back in the day. I liked Ken Griffey Jr., and I loved when they brought his dad onto the team and they played at the same time in 1990. I thought that was the coolest. I loved Edgar Martinez, just like everybody did. As a DH, he was always hitting over .300. He seemed to get better as he got older.
D-backs: You threw out a first pitch for the Phillies a few years back, but this was your first invite to do batting practice with a MLB team. Did you play a lot growing up?
Bryan: I haven't played baseball since I was 13 years old, and I was not good. So doing BP or throwing out a first pitch are those things where it's like, "Oh, I don't want to go out there and make a fool of myself." I'm trying to hype up the Royal Rumble and imagine me coming out here in front of all these people and they're like, "Oh, this is the WWE guy. Let's see how you can throw a pitch," and it's like bounce, bounce, bounce ...
It's interesting because in the entertainment world and for many in the rest of the world, all news is good news when it comes to event promotion. "Oh wow, WWE WRESTLER THROWS THE WORST FIRST PITCH IN THE HISTORY OF BASEBALL" might make for a better headline than me just throwing an average first pitch. The one I did with the Phillies a few years back went well. Here, I want to throw the pitch from the mound because the Phillies wouldn't let me do that, but I don't think teams like that. The Phillies gave me plenty of time to warm up. It was purely luck that it went so well there. I was throwing warm-up pitches in the batting cages, and I hadn't thrown a baseball in I don't know how long. I will say this. One of the things that saved me then was I played a lot of fetch with my yellow lab, Asparagus the Wonder Dog. So, the notion of throwing a ball is not completely foreign to me.

D-backs: With you having your signature beard, meeting D-backs reliever Archie Bradley who has his own unique facial hair was probably inevitable today. We heard his beard guy even gave you a free touch-up.
Bryan: When I first showed up at Chase Field today, I looked infinitely wilder than I do now. He got me set up with his guy and got me groomed up. As they say in the beard community, I'm now "high and tight."
D-backs: Usually WWE superstars perform in enclosed arenas, but Chase Field being a baseball stadium and, weather permitting, an outdoor stadium with the retractable roof open on January 27 for the Royal Rumble, what are the challenges to working in such a unique venue in front of an anticipated packed house?
Bryan: It's interesting because as a performer, I think it's not so much a difference between an outdoor show vs. an indoor one. A much bigger difference is a stadium show as compared to an arena show. Typically when we come to Phoenix, we do our shows inside an arena, an enclosed atmosphere. And when you do a move, you hear the "Yeaaaah" from fans right away. In a big stadium show, sometimes we'll do a move, hear no response and you'll think, "Wow, nobody cared." And then you're in the middle of doing something else, and then you hear this "Whoaaah." You kind of want to stop and say, "Wait a second. I didn't do anything." Then you realize it takes a second for the sound to travel down to the ring. That's the weird part. Because what we do is entertainment, a lot of times I'm gauging what I'm doing by how the fans react. So if you can't hear how the fans reacted for a particular move, even with a couple seconds delay, it just throws off your whole mindset. But it is just so cool to me to be in front of so many people. There's nothing like the energy of performing in front of so many fans.
I'm also in a very unique situation where a lot of people will chant 'Yes!' as soon as I start coming out. So it's a whole arena of people chanting in unison with me. I read a lot, and so I've been reading about fungal networks recently and how they all interact in the plant world. I've started to think when I come out to the ring, there's this unique singular fungal network where wrestling fans and I all chant "Yes!" together. It's weird. If you were to tell people, "Okay, everybody do this at the same time," it'd be hard to get everybody in sync but wrestling fans just naturally do it. So, we all do it together and it's pretty incredible.
TICKETS FOR THE ROYAL RUMBLE ON JANUARY 27 ARE ON SALE NOW THROUGH THE CHASE FIELD BOX OFFICE OR AT TICKETMASTER.COM.