NJ native stars for Iowa in frigid Pinstripe Bowl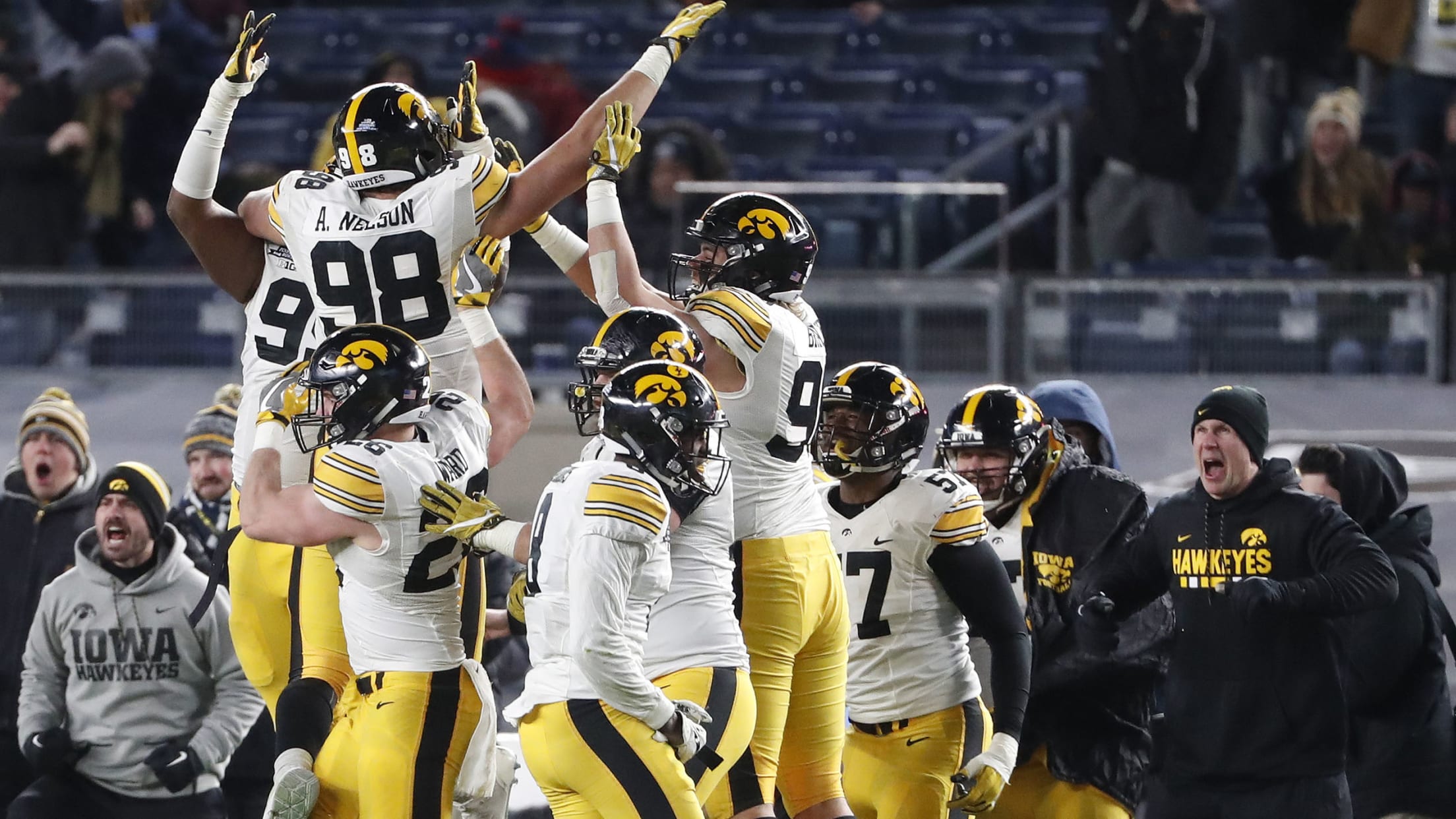 Iowa earned its first bowl victory since 2010 in the Pinstripe Bowl at Yankee Stadium on Wednesday. (AP) (Kathy Willens/AP)
NEW YORK -- Though field temperatures in the Bronx were reported as "frozen," Akrum Wadley's lungs and legs showed no signs of numbing.The Iowa running back finished his final college game with 88 rushing yards, 24 receiving yards and 171 yards on kick returns to lead the Hawkeyes to their
NEW YORK -- Though field temperatures in the Bronx were reported as "frozen," Akrum Wadley's lungs and legs showed no signs of numbing.
The Iowa running back finished his final college game with 88 rushing yards, 24 receiving yards and 171 yards on kick returns to lead the Hawkeyes to their first bowl win since 2010 with a 27-20 victory over Boston College on Wednesday in the New Era Pinstripe Bowl at Yankee Stadium.
"It's everything we talk about, and we finally got a bowl," Wadley said. "I can now start training on a positive note, and with good momentum, knowing we got our bowl victory."
After tying the game at 20 with 8:09 to go in the fourth quarter, Boston College did not let Iowa advance past its own 10-yard line on the Hawkeyes' ensuing drive. But the Golden Eagles couldn't capitalize, losing the ball on a fumble on their next drive.
Iowa responded with a three-play, 45-yard drive, capped by a go-ahead, 1-yard touchdown run by Drake Kulick with 3:09 to go.
An interception by Iowa's Joshua Jackson with just more than a minute to go sealed the Hawkeyes' victory.
Wadley, a New Jersey native, excelled in front of his friends and family supporting him in the crowd at Yankee Stadium. The running back finished his college career with 35 touchdowns, one shy of tying Tavian Banks for most career touchdowns in program history.
Boston College outrushed (175-101) and outpassed (208-99) Iowa, but the Eagles committed three turnovers while the Hawkeyes had none. Iowa capitalized by scoring 10 points off Boston College's turnovers.
"It's huge," Hawkeyes quarterback Nate Stanley said. "They gave us a couple short fields with turnovers, and we were able to turn them into points, so obviously if it was the other way around, they have those points and we're down. So it just puts you in a bind when you have to come from behind, especially when those points come off quick drives by the offense."
Stanley went 8-for-15 for 99 yards and a touchdown. He was sacked three times, but helped lead Iowa to a come-from-behind victory in the second half.
Eagles quarterback Darius Wade went 16-for-27 for 208 yards, a touchdown and two interceptions. Boston College went 8-for-17 on third downs and 1-for-2 on fourth downs.
Despite the frigid temperature, Eagles freshman running back AJ Dillon rushed for 157 yards and a touchdown. He was one of several players that changed out of their usual spiked football cleats into flat basketball sneakers to combat the icy field conditions.
"[Dillon] made some good runs," Boston College head coach Steve Addazio said. "I thought it was hard out there for him tonight."
The 2017 New Era Pinstripe Bowl, known as "New York's Bowl Game," marked the eighth year it was played at the current Yankee Stadium. A goal post stood at the position where home plate typically is at Yankee Stadium. Clad in bright yellow and dark red, the 37,667 fans in attendance filled the park.
During the week, players and coaches visited several New York City landmarks. The teams went ice skating at Central Park, dined at NYY Steakhouse in Manhattan, took in the sights at One World Observatory, visited the 9/11 Memorial and Museum, saw the Rockettes at Radio City Music Hall and rang the opening bell at the New York Stock Exchange.
Iowa head coach Kirk Ferentz said he was grateful for the opportunity to lead his team to victory, stating that joining the Hawkeyes in 1981 was the best decision he's made, other than proposing to his wife.
"The first half, Boston College did a really good job against us," Ferentz said. "We didn't play our best, and that's not a good mix. But just couldn't be prouder of our team in the second half. They came out, thought they played tough, gritty football, and certainly we were playing in tough conditions. This was just a real challenge for both teams with the weather, certainly the field, and it's just December, January football. It's always going to be a challenge."