Struggles won't knock Nova out of rotation
Yanks don't want to bring Severino back up from Minors just yet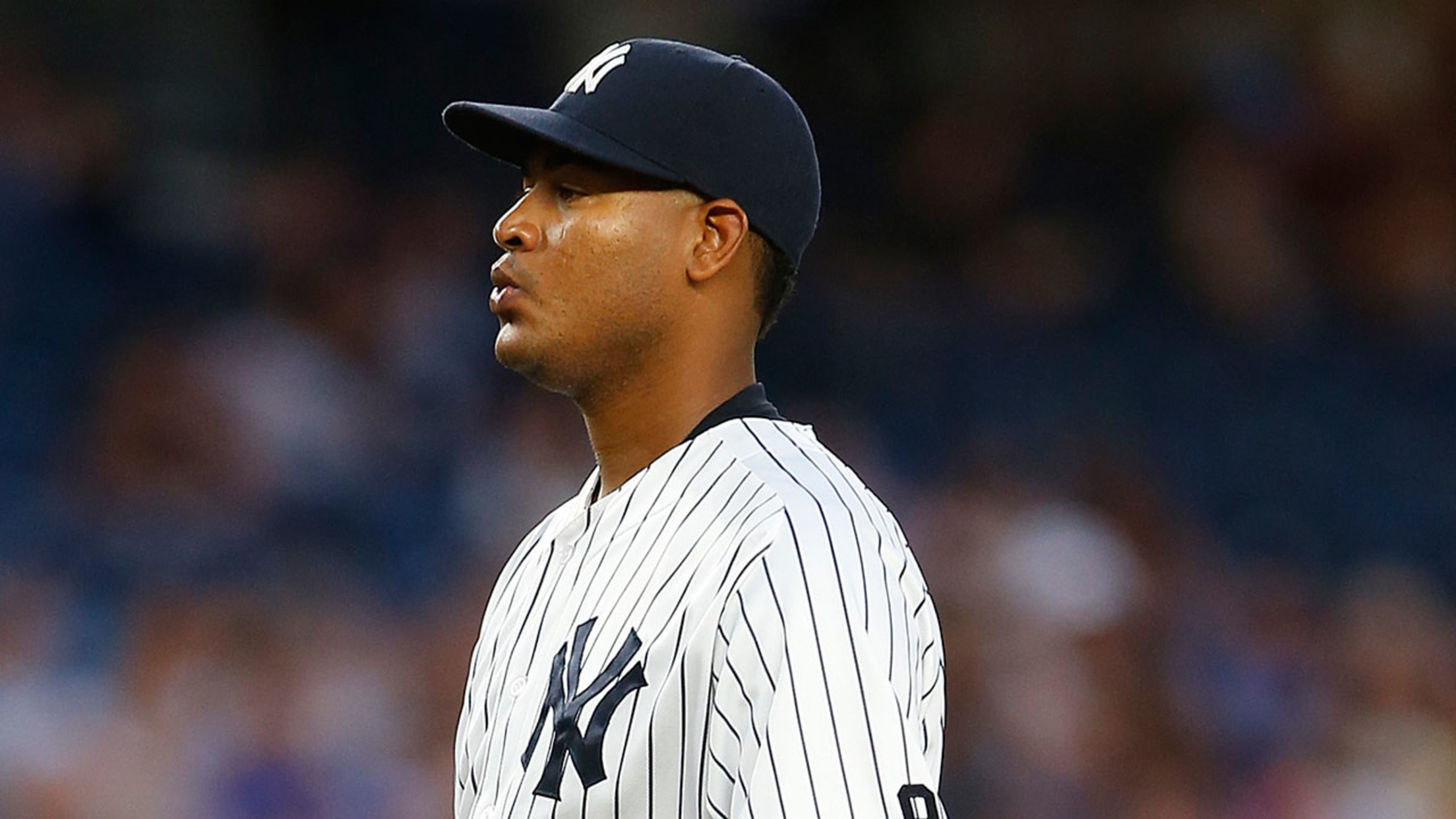 Ivan Nova allowed six runs (five earned) over four-plus innings on Tuesday. (Getty)
NEW YORK -- It was several hours before Ivan Nova would throw the first pitch of Tuesday's game against the Rockies, and Yankees general manager Brian Cashman was shooting from the cuff with a group of reporters, saying that he still considers the data on this team to be incomplete."I
NEW YORK -- It was several hours before Ivan Nova would throw the first pitch of Tuesday's game against the Rockies, and Yankees general manager Brian Cashman was shooting from the cuff with a group of reporters, saying that he still considers the data on this team to be incomplete.
"I hope this team declares itself in such a way -- one way or the other -- that is pretty damn obvious," Cashman said before New York's 8-4 loss to the Rockies. "I use that word carefully because I'm sure social media will jump out [and say], 'It is pretty damn obvious to me!' I get it. I understand it. We're not blind."
Hours later, as Nova absorbed his second loss to Colorado in a week, their read on the right-hander seemed to be crystal clear. Nova owns a 6.88 ERA over his last six starts, having permitted 26 earned runs in 34 innings. That isn't getting it done, but the problem is, the Yankees don't believe they have a better option to take his place.
Right-hander Luis Severino is 3-0 with a 2.52 ERA in four starts for Triple-A Scranton/Wilkes-Barre, having worked 8 1/3 innings of one-run ball in his last start against Gwinnett on Saturday, but manager Joe Girardi said the Yanks' reports indicate the touted prospect is still not ready to return to the Majors.
"We've talked about Sevvy -- the location of his fastball has not been great, his changeup has not been as effective as we need it to be and his slider has been inconsistent," Girardi said.
"We want to get him straightened out; we don't want to just bring him up because maybe another guy is struggling. You've got to make pitches here. Pitching here is a lot different. You make mistakes here and they are hit hard."
Nova could speak to that, as his ongoing search for his sinker and curveball left him walking off the mound with no one out in the fifth inning. He hung a curveball to Charlie Blackmon that the Rockies outfielder clanged off the right-field foul pole for a leadoff homer, part of a 35-pitch, three-run first inning.
"I made a mistake with the curveball -- well, actually, not a mistake for me because I don't want to fall behind the first hitter of the game," Nova said."I tried to throw a curveball for a strike and he put a good swing on it. I struggled the first inning. It's not what you want to do, starting the game. You want to go deeper in the game, and it didn't allow me to do it."
Nolan Arenado's second-inning sacrifice fly put another run on the board before Blackmon went deep off Nova again in the fourth. Nova faced two batters in the fifth inning before being removed, unable to complete at least five innings for the first time in seven starts.
"He struggled. He threw a lot of pitches in the first two innings -- almost 60 -- and that's why I got him out when I did," Girardi said. "The top four or five guys got him again tonight."
Girardi said Nova has not mentioned any health issues. Nova said he will review the video of Tuesday's start to prepare for his next outing. He said he is not concerned about the possibility of losing his spot in the rotation, and based upon Girardi's comments, he shouldn't be.