Yankees have agreement in place for Happ
Veteran left-hander is among the top starting pitchers on trade market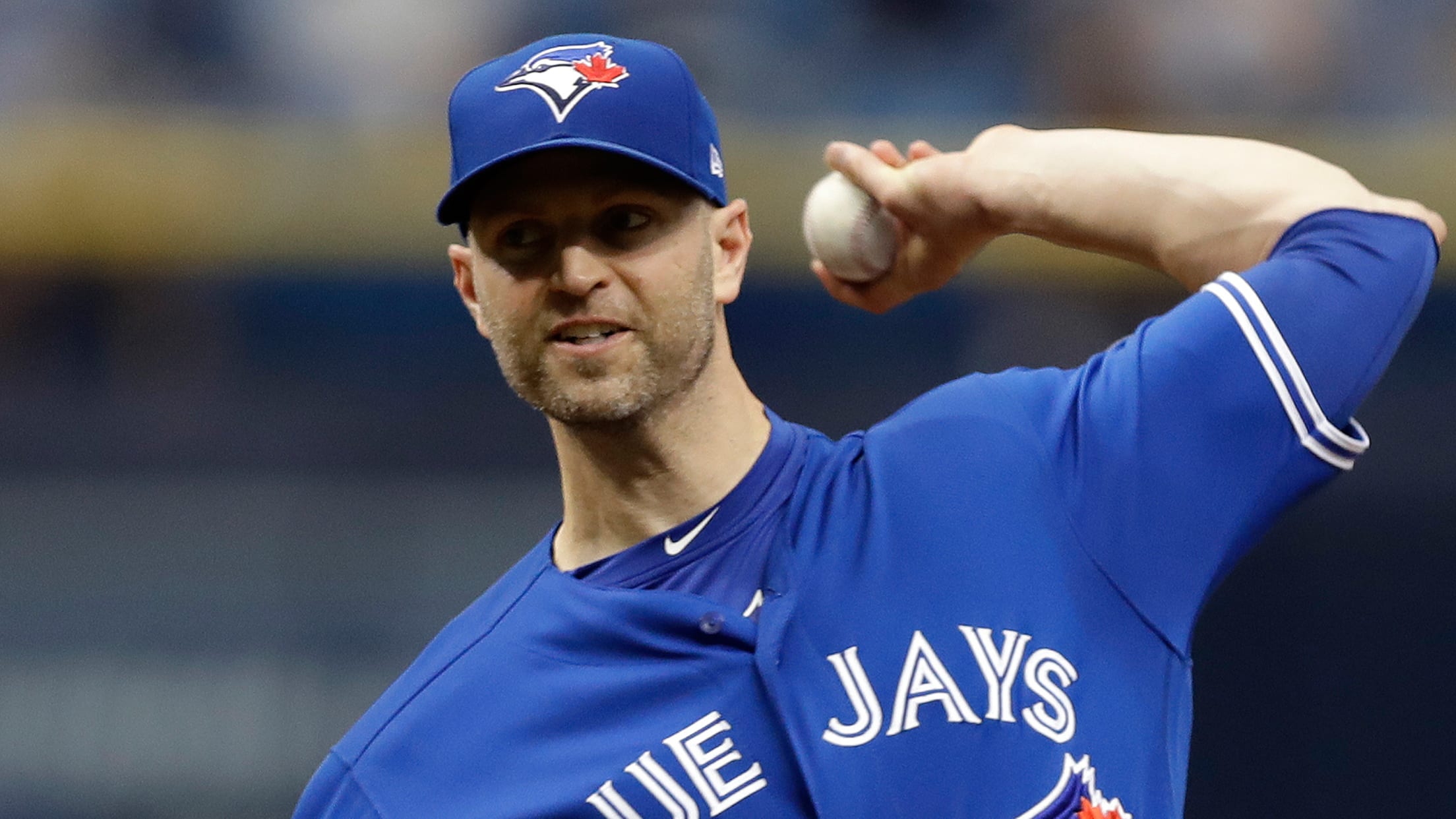 A popular name on the rumor mill, J.A. Happ soon could be on the move.Speculation started swirling Wednesday afternoon when MLB.com's Mark Feinsand reported that the Toronto Blue Jays appeared close to dealing the left-hander. From there, rumors began to kick into gear and haven't slowed much since.A free agent
A popular name on the rumor mill, J.A. Happ soon could be on the move.
Speculation started swirling Wednesday afternoon when MLB.com's Mark Feinsand reported that the Toronto Blue Jays appeared close to dealing the left-hander. From there, rumors began to kick into gear and haven't slowed much since.
A free agent at season's end, Happ has been linked to a number of contending clubs in need of a rotation boost down the stretch, including the Yankees, Brewers, Cubs, Mariners and Phillies.
Rumors travel fast. Follow all the latest right here.
The 35-year-old was an All-Star for the first time in his 12-year big league career and owns a 4.18 ERA in 2018. That number is elevated a bit because Happ struggled in early July before bouncing back in his most recent start by holding the Orioles to one run over five innings with nine strikeouts against no walks. His 1.18 WHIP and 10.3 K/9 mark are among the best of his 12-year career in the Major Leagues.
We'll stay on top of all the latest as the chase for Happ continues.
• The latest? The Yankees and Blue Jays have a trade agreement in place for Happ, a source tells MLB.com's Jon Paul Morosi.
J.A. Happ trade agreement to #Yankees is in place, source confirms. @MLB @MLBNetwork #BlueJays

— Jon Morosi (@jonmorosi) July 26, 2018
The full deal appears to be Happ to New York for infielder Brandon Drury and outfielder Billy McKinney, a source tells MLB.com's Mark Feinsand.
Source: Yankees sending Brandon Drury and Billy McKinney to Jays in the trade for J.A. Happ. Congressman @JonHeyman was first to report them as potential return.

— Mark Feinsand (@Feinsand) July 26, 2018
The Yankees, who have been circling Happ, are "getting closer" as MLB Network insider Joel Sherman reports. While no deal is done yet, they have looked like the front-runner since rumors kicked into high gear Wednesday.
Hearing #Yankees are getting closer on JA Happ. Not done yet but getting closer. #Bluejays

— Joel Sherman (@Joelsherman1) July 26, 2018
Fellow MLB Network insider Jon Heyman is hearing the same, while also advancing the discussion to say Drury could be involved.
happ deal being finalized to yanks is likely to be 2 for happ. brandon drury may be in.

— Jon Heyman (@JonHeyman) July 26, 2018
• The Blue Jays are pushing to get something done with Happ -- and soon. His next scheduled start is Saturday vs. the White Sox, and the club is aiming to move him before then, according to Heyman on Thursday afternoon.
Blue Jays are making clear their intention is to trade Happ before his scheduled Saturday start. Yanks believed to be in good position but jays have other teams (and yankees are talking to other teams about other pitchers as well)

— Jon Heyman (@JonHeyman) July 26, 2018
• The Yankees, Brewers and Cubs are in play for Happ, according to USA Today's Bob Nightengale, who notes Thursday morning that Milwaukee's urgency to add a starter is a big factor in this race. Nightengale labels the Yanks the "biggest threat" in the Brewers' way.
The Milwaukee #Brewers realize the urgency to land a starter and J.A. Happ is a perfect fit, particularly going from the AL East to the NL Central, but #Yankees loom as biggest threat to intercept their plans, with #Cubs also in mix

— Bob Nightengale (@BNightengale) July 26, 2018
• Feinsand, who reported Tuesday that the Blue Jays had a "very high" asking price for Happ, noted late Wednesday that the Yankees still "appear to be the leader" but noted that other teams remain very much in play.
Yankees still appear to be the leader in the race for J.A. Happ, but other teams remain engaged with Blue Jays. Brewers & Cubs still in play, though 1-2 more may also be in the mix. Toronto may not get its initial high asking price, but the heavy competition should benefit Jays.

— Mark Feinsand (@Feinsand) July 26, 2018
• Speaking of New York, MLB Network insiders Ken Rosenthal and Sherman both heard that Drury interests Toronto's front office, which could help swing a deal.
Also heard, as @Joelsherman1 did, that #Yankees' Drury is in play for possible Happ trade with #BlueJays. Could lead to expanded deal; NYY also has inquired on TOR backup catching, per source.

— Ken Rosenthal (@Ken_Rosenthal) July 26, 2018
Heard #Bluejays like Brandon Drury and he is a player #Yankees have talked about with a few teams in this market. Tor GM Ross Atkins comes from #Indians exec tree and Clev evaluators always liked Drury. In fact, Clev almost obtained Drury from #DBacks just b4 NYY did last Feb.

— Joel Sherman (@Joelsherman1) July 26, 2018
Rosenthal also points out that the Yankees -- who are expected to be without backstop Gary Sanchez (right groin injury) for at least a month -- have checked in on the possibility of adding catcher depth with the Blue Jays, who have Luke Maile on the 25-man roster and Reese McGuire on the 40-man.
• The Mariners also got a mention Wednesday night as a Happ suitor from Heyman.
Jays originally sought Clint Frazier or Justus Sheffield for Happ. That was when yanks saw happ price as too high. Can't see nyy doing that for rental, and they've offered others. Still talking. Brewers also interested. M's, too. Maybe cubs, others.

— Jon Heyman (@JonHeyman) July 25, 2018
Perhaps coincidentally -- or not? -- Seattle acquired the southpaw from the Blue Jays back in December 2014, with outfielder Michael Saunders going to Toronto. In other words, this wouldn't be the first time such a swap took place.
Jason Catania is a reporter for MLB.com. Follow him on Twitter at @JayCat11.