'Trader Jack' is 14th member of Padres' HOF
Former general manager was architect of 1984 NL championship team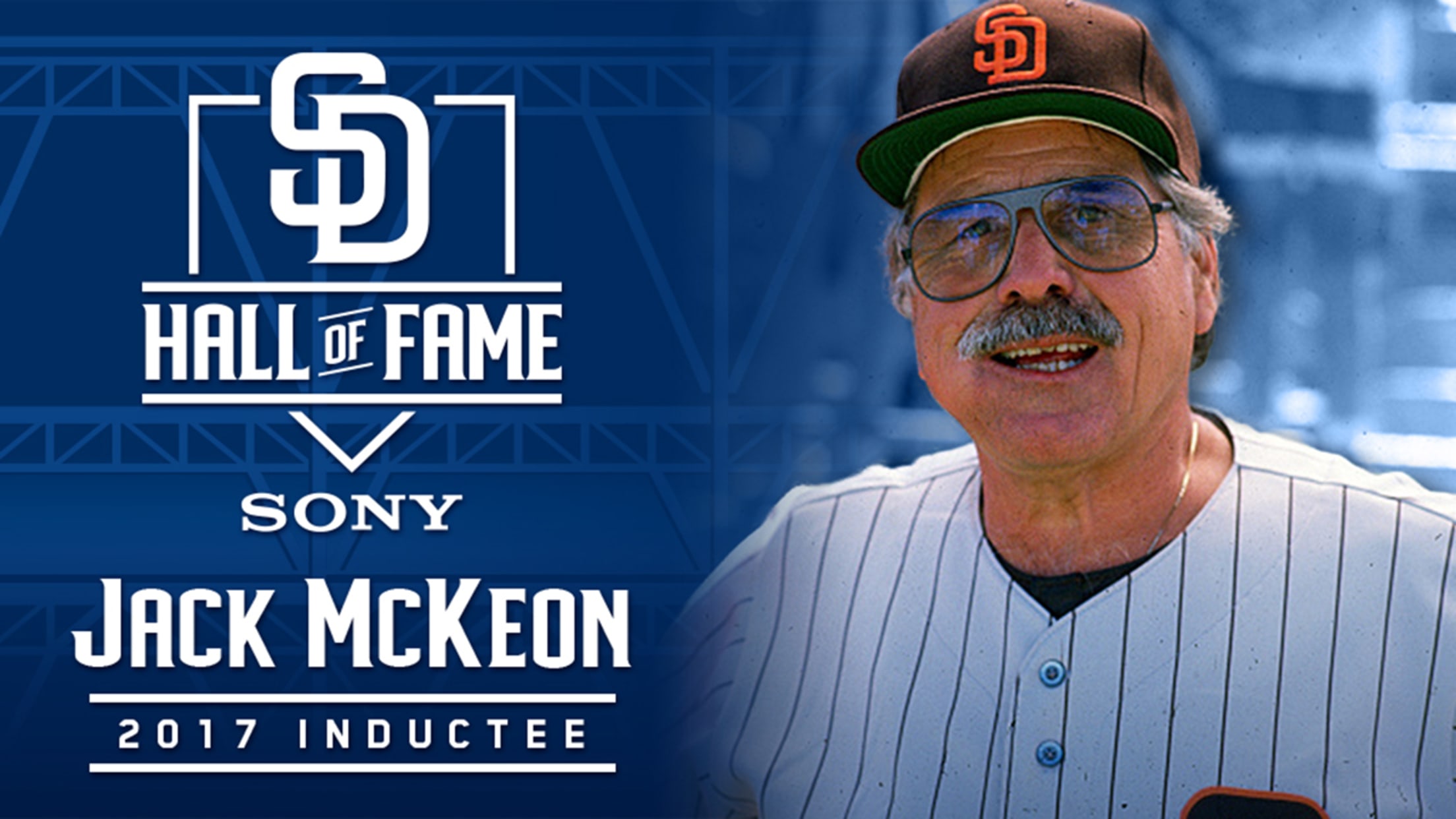 Bill Center, longtime sportswriter for U-T San Diego, is an employee of the Padres.Jack McKeon believed in himself to the point of and not being afraid to make a mistake."I've been right a lot more than I've been wrong," McKeon once said. "You can't be worried about pulling the trigger
Bill Center, longtime sportswriter for U-T San Diego, is an employee of the Padres.
Jack McKeon believed in himself to the point of and not being afraid to make a mistake.
"I've been right a lot more than I've been wrong," McKeon once said. "You can't be worried about pulling the trigger on a deal as a general manager. I don't lose sleep at night after I've made a trade. But I do wake up sometimes thinking about the next possibility."
McKeon, aka "Trader Jack," was born to be a GM. He loved talking baseball and trades … even if it didn't involve his team.
Once while sitting in his office during a road trip when he was the manager/general manager of the Padres, McKeon started talking about a three-way trade he'd like to see made.
"It would help all three teams," McKeon said as he laid out the details of a massive 12-player deal.
What was unusual was that none of the three teams involved were the Padres.
"This idea just popped into my head," McKeon said between puffs of his signature chewed-off cigar. "I should call someone and tell them I fixed all their problems."
McKeon the general manager was the consummate wheeler dealer. He loved talking baseball.
McKeon once talked about a conversation he had with Padres owner Ray Kroc shortly after "Trader Jack" was promoted from assistant general manager to GM at the age of 49, during the 1980 All-Star break.
"Ray was frustrated that the Padres hadn't become a winner during his ownership," said McKeon. "I asked Mr. Kroc if there were any players on the roster that he considered untouchable. When he said 'No,' I said, 'Good, let's shake things up.'"
McKeon's actions as general manager built the 1984 team that won the National League pennant. For his actions on behalf of the Padres, McKeon will be honored Aug. 19 as the 14th inductee into the Padres' Hall of Fame.
McKeon originally joined the Padres in 1979 as the assistant general manager to Bob Fontaine. He served as the Padres' general manager from midway through the 1980 season to 1990.
Forty-six games into the 1988 season, McKeon named himself manager to replace Larry Bowa. As the 12th manager of the Padres, McKeon had a 193-164 record. He continued in the dual role as general manager/manager until replacing himself with Greg Riddoch as manager during the 1990 All-Star break. McKeon was dismissed as general manager later in '90.
It was during his tenure with the Padres that McKeon earned his nickname.
"If I can improve the Padres with a trade, I'll consider anything," said McKeon. "I'm a gambler. I always have been. I'm aggressive and I'm confident. I'm not worried about making a mistake because I think I'm going to be right much more often than I'm wrong."
McKeon's handprint was on every member of the 1984 Padres.
Four months after becoming GM, McKeon acquired Terry Kennedy in an 11-player trade with the St. Louis Cardinals. That deal served as the springboard for other deals that McKeon would make to build the 1984 Padres.
McKeon acquired shortstop Garry Templeton from the Cardinals in a trade for Ozzie Smith. He traded for third baseman Graig Nettles, left fielder Carmelo Martinez and pitcher Dave Dravecky. He drafted outfielders Tony Gwynn and Kevin McReynolds. He acquired second baseman Alan Wiggins in the Rule 5 Draft. He signed first baseman Steve Garvey and closer Goose Gossage as free agents.
McKeon also put together an international scouting department that signed the likes of Hall of Fame second baseman Roberto Alomar, catchers Benito Santiago and Sandy Alomar Jr., shortstop Ozzie Guillen and third baseman Carlos Baerga.
Shuffling players was McKeon's trademark throughout his reign as the Padres' general manager. He made more than a dozen major trades while with the Padres. He acquired and traded several players more than once.
McKeon acquired infielder Luis Salazar three times and traded him away twice. He twice acquired Kurt Bevacqua. McKeon even traded away his son-in-law, reliever Greg Booker.
McKeon was far from done after departing the Padres. He managed the Cincinnati Reds for four seasons. In 2003, at the age of 72, he led the Florida Marlins to the World Series title.