Jackson claims Southern League title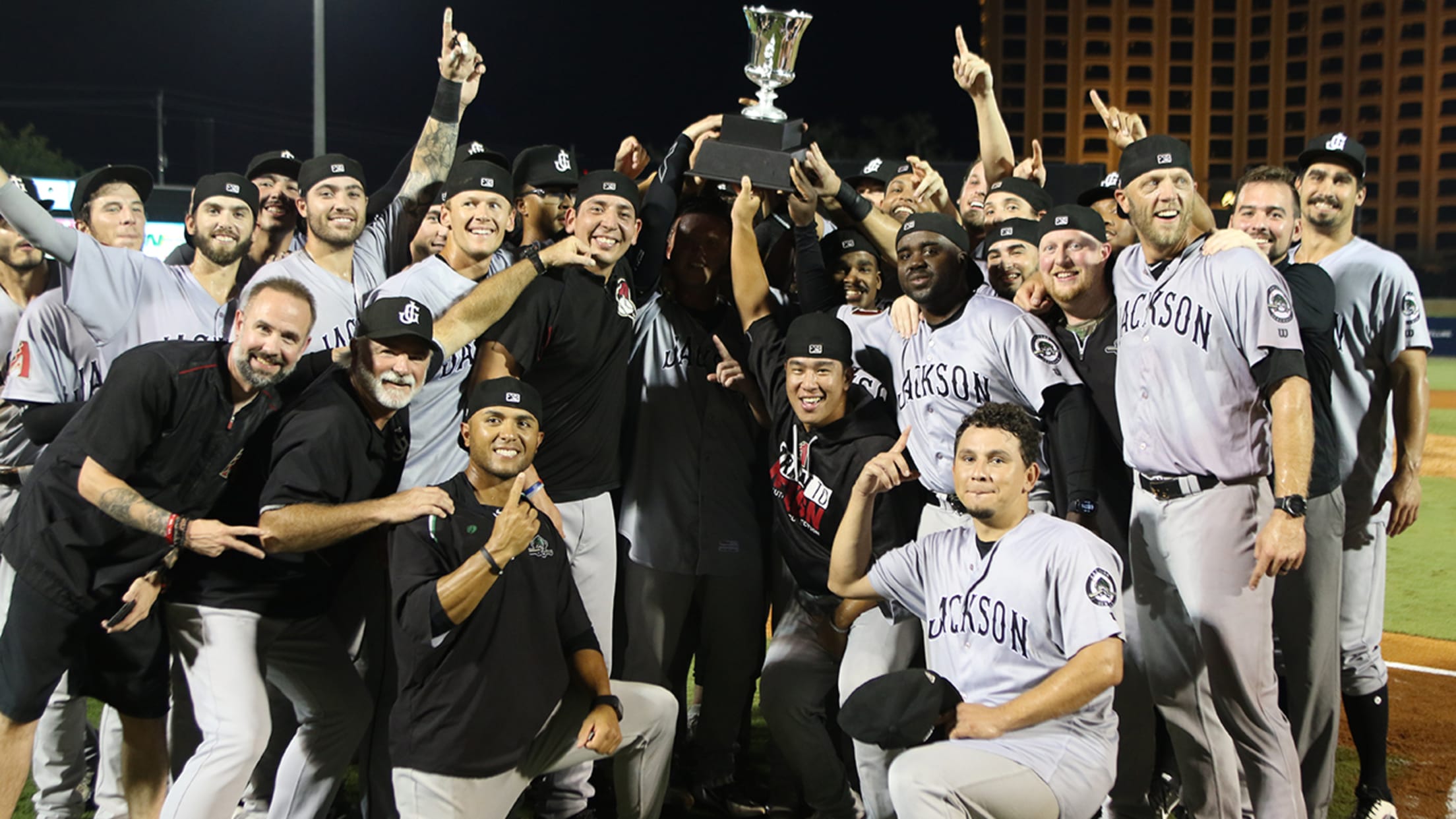 (Michael Krebs)
Evan Marzilli plated the game-winning run with a pinch-hit double in the ninth inning as Double-A Jackson edged Biloxi, 3-2, to win the 2018 Southern League championship on Saturday.The Generals wrapped up the best-of-five series in four games, winning three straight contests after being shut out by Biloxi, 7-0, in
Evan Marzilli plated the game-winning run with a pinch-hit double in the ninth inning as Double-A Jackson edged Biloxi, 3-2, to win the 2018 Southern League championship on Saturday.
The Generals wrapped up the best-of-five series in four games, winning three straight contests after being shut out by Biloxi, 7-0, in the opener. What's more, the club's Southern League title comes in its second year as an Arizona Diamondbacks affiliate.
• Box Score
:: Complete prospect coverage ::
Jackson scored two runs before making an out, as leadoff man Ben DeLuzio singled to open the game and then scored on Kevin Medrano's two-run homer to right-center field.
Emilio Vargas, Arizona's No. 14 prospect, would capitalize on the early run support, as he allowed just one hit while retiring nine of the first 10 batters he faced before Brewers No. 15 prospect Troy Stokes Jr. tagged him for a solo shot to left field to open the fourth inning.
The 22-year-old right-hander ultimately completed five innings of one-run ball, scattering four hits and striking out eight in a no-decision. Vargas took the loss in his previous postseason start, when he allowed six earned runs on six hits in 3 1/3 innings in the semifinals.
The Shuckers' offense sprung to life in the sixth inning with Vargas out of the game, as Stokes and Trent Grisham (Brewers' No. 19) greeted Jackson reliever Miguel Aguilar with back-to-back singles ahead of Keston Hiura, who made it three straight with a game-tying knock to center field.
MILB Video - Title: Hiura hits RBI single - Url: http://www.milb.com/r/video?content_id=2490592583
The teams remained tied until the ninth inning, when Jackson strung together a pair of singles against Biloxi closer Nate Griep -- the 2018 Southern League saves leader as well as the Shuckers' franchise leader.
After a Shuckers mound visit, pinch-hitter Marzilli hammered Griep's first offering past a diving first baseman and into right field for an RBI double.
MILB Video - Title: Marzilli knocks RBI double - Url: http://www.milb.com/r/video?content_id=2490593683
Kevin Ginkel tossed a perfect ninth to earn the save and seal Jackson's title.
Medrano, the 2018 Southern League batting champion, and Dom Miroglio (D-backs' No. 30) both finished 2-for-4 in the victory. Miroglio led all hitters in the Southern League playoffs with a .484 average (15-for-31).
Domingo Leyba (D-backs' No. 17) was named series MVP after collecting hits in three of four games, highlighted by a 4-for-6, four-RBI performance in Game 3.
Stokes went 2-for-3 with two runs to finish the series with a .467 average. He reached base in all eight postseason games for Biloxi.
Shuckers starter Trey Supak (Brewers' No. 13) struggled early but settled in and retired 11 of the final 12 batters he faced while completing 5 1/3 innings. He yielded five hits and struck out four in the no-decision.