deGrom relishes first Father's Day as dad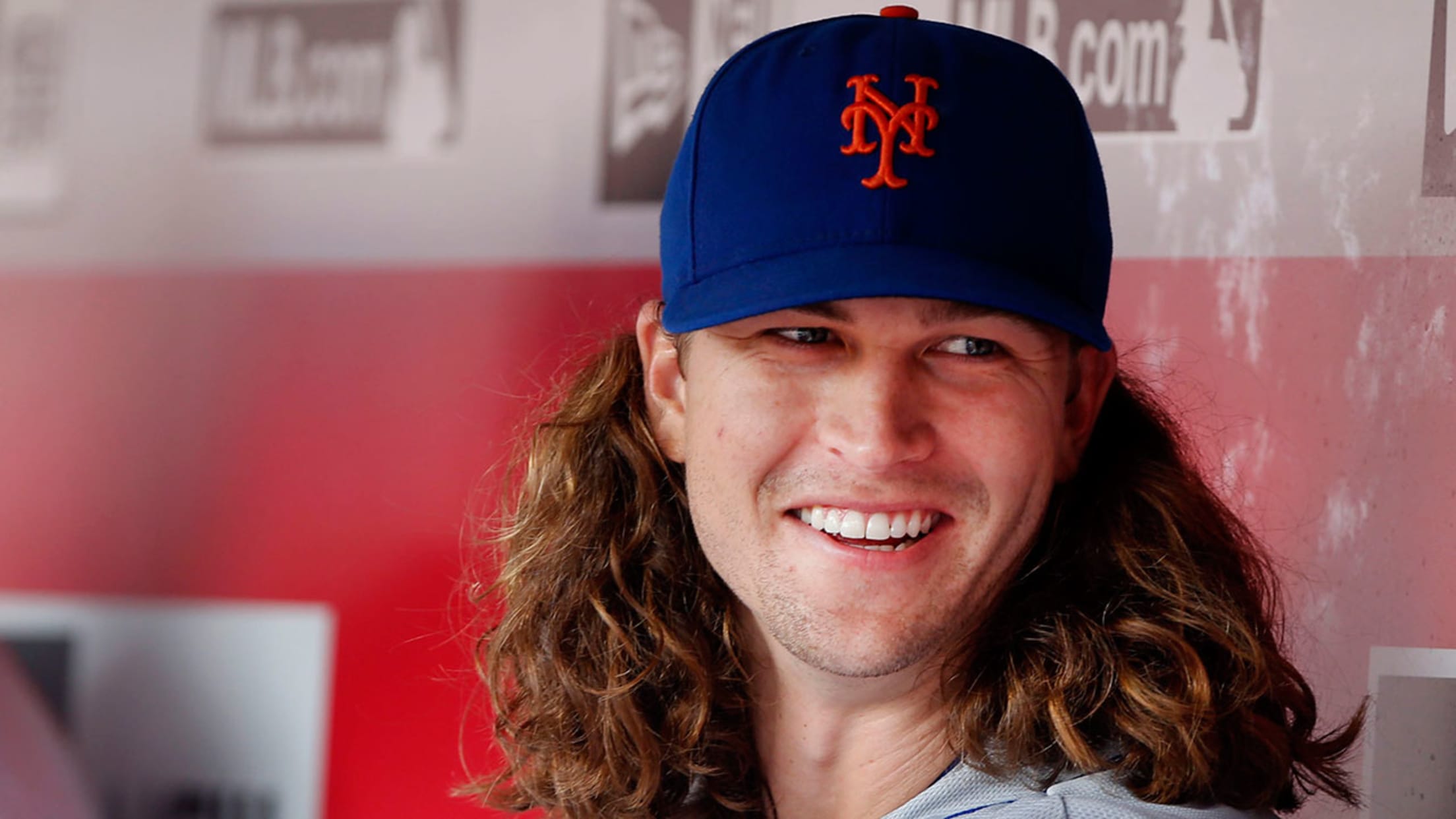 Jacob deGrom will be celebrating his first Father's Day as a dad after the birth of his son Jaxon. (AP)
NEW YORK -- The waiting was the difficult part. The waiting, not knowing.Jaxon deGrom was born at 9:23 p.m. on a Monday. Like any new parents, Jacob and Stacey deGrom stayed up deep into the night caring for him. It was not until early the next morning that the deGroms
NEW YORK -- The waiting was the difficult part. The waiting, not knowing.
Jaxon deGrom was born at 9:23 p.m. on a Monday. Like any new parents, Jacob and Stacey deGrom stayed up deep into the night caring for him. It was not until early the next morning that the deGroms realized something was wrong with Jaxon, when Stacey's sister, a respiratory therapist, noticed the child's skin turning blue.
:: Father's Day 2016 ::
Trained to spot this type of condition, Stacey's sister woke the baby up and his normal color returned. The deGroms spent most of that early morning fretting over Jaxon, monitoring him, making sure nothing happened again. But it did keep happening, every time Jaxon slept. By around 6:30 a.m., exhausted, the parents relented to placing the new baby in the hospital's Natal Intensive Care Unit, where nurses could monitor him full-time.
Thus began the waiting.
"It definitely scared us," deGrom said, opening up weeks later about the frightening time in his life. "You don't really know what's going on. You're waiting 24 hours for one test and 48 for another test, and the whole time you're just thinking, 'Oh, please, let nothing serious be wrong.'"
Under any circumstances, deGrom's first Father's Day as a dad would be an apt time for him to reflect and give thanks for the birth of his son. Jaxon's apnea condition, and the fear and confusion that engulfed deGrom at the time, only makes he and Stacey appreciate their growing family ever more.
In the days that followed Jaxon's entry into the NICU, deGrom spent sleepless nights on a hospital bed -- "especially for somebody who's 6-foot-4, you don't really fit on them too well," he laughed -- and did everything he could to soften a situation out of his control. Also rehabbing a minor lat injury at the time, deGrom left his home in DeLand, Fla., several times per week around 7 a.m. to make a two-hour drive down to Port St. Lucie. There, he would throw bullpen sessions in front of Mets staffers, climb back into his car, and return to Stacey and Jaxon. It took five consecutive issue-free days for doctors to release Jaxon from the hospital.
"It was nice to have my family there," deGrom said. "Stacey did an unbelievable job. She was probably better together than I was through the whole thing."
Now more than two months old, Jaxon is the one commuting regularly, from Florida to New York City. When the Mets are on a long road trip, Stacey and Jaxon travel to DeLand, where family members can help care for the baby. When the Mets are home, the growing family -- including a puppy named Pixie -- reunites in New York.
Jaxon has begun making noises at all hours, thrilling the deGroms with his development. A couple of weeks ago, deGrom took a cellphone video of Jaxon floating in a pool, thrashing his legs, smiling the whole time.
He smiles a lot these days.
"I think it really puts things in perspective," deGrom said. "No matter how good or bad you do on the field, you go home and you've got a baby there. Especially from what I've heard when they get older, it doesn't matter how you do, they're there and they're happy to see you. It puts things in perspective. We play this game for fun. Just on the bad days, it makes it that much better to go home and see your child there."