Stallings, Terdoslavich deliver; Bucs stifle Rays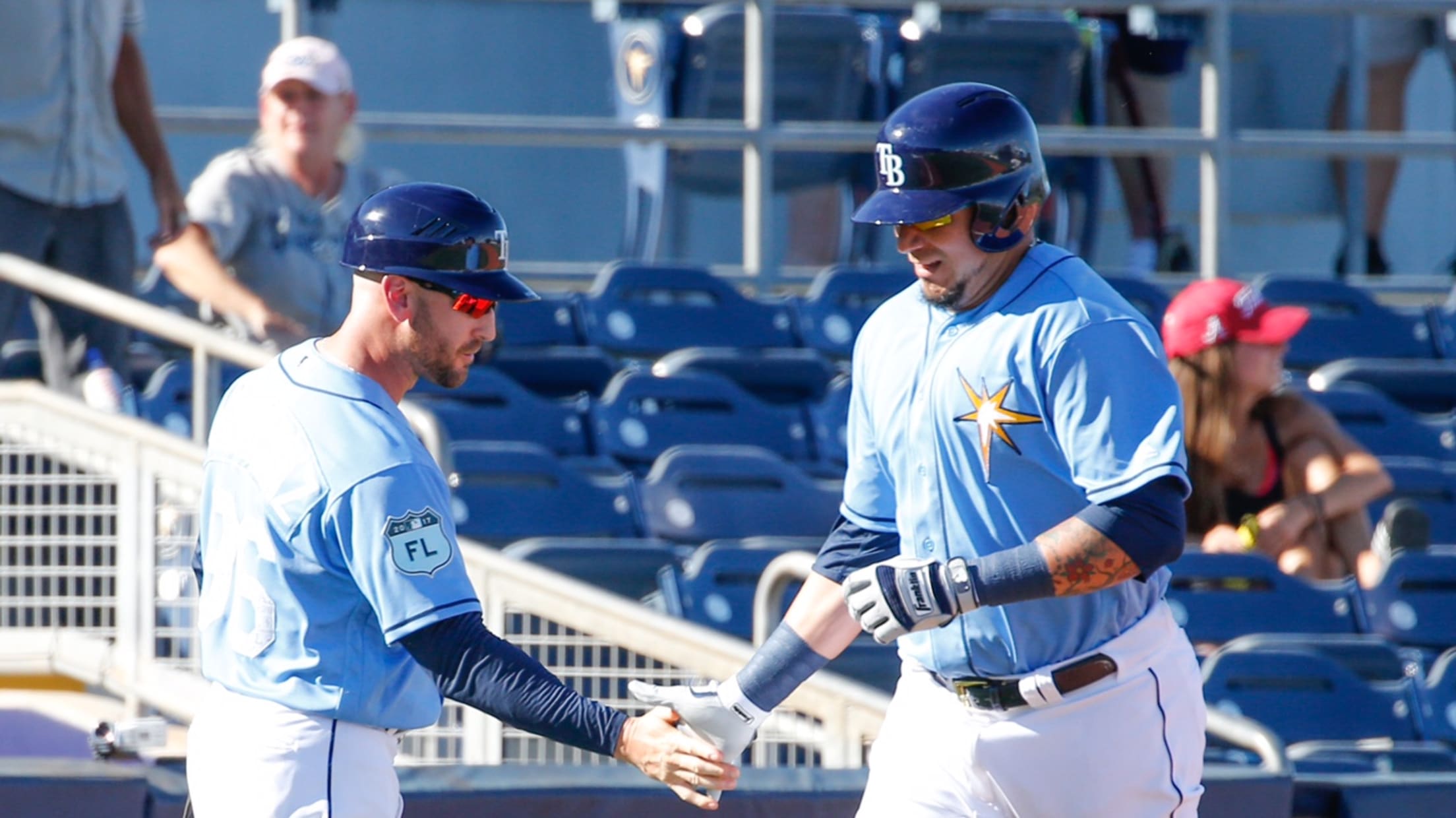 Jesus Sucre broke up the Pirates' shutout with his homer in the eighth inning. (Rays) (Skip Milos)
PORT CHARLOTTE, Fla. -- The Pirates used a six-run fifth to fuel a 7-2 win over the Rays Saturday afternoon at Charlotte Sports Park.Jacob Stallings, the son of University of Pittsburgh men's basketball coach Kevin Stallings, started the fifth-inning fireworks when he jumped on a 2-1 offering from Rays right-hander
PORT CHARLOTTE, Fla. -- The Pirates used a six-run fifth to fuel a 7-2 win over the Rays Saturday afternoon at Charlotte Sports Park.
Jacob Stallings, the son of University of Pittsburgh men's basketball coach Kevin Stallings, started the fifth-inning fireworks when he jumped on a 2-1 offering from Rays right-hander Danny Farquhar and deposited the ball over the wall in left.
Joey Terdoslavich and Phil Gosselin added two-run doubles, and Austin Meadows' RBI double capped the rally. All six runs were credited to Farquhar.
"Foul balls kind of beat Farquhar, drove his pitch count up a little bit," manager Kevin Cash said. "But he was up in the zone quite a bit, and this group from Pittsburgh made him pay."
Catching hopeful Jesus Sucre got the Rays on the scoreboard with a solo home run off Brett McKinney with two outs in the eighth. The Rays added another run in the ninth when Dayron Varona scored on a wild pitch by John Kuchno.
The Pirates arrived ready on Saturday, as evident by their heads-up play in the first after Kevin Kiermaier dropped a one-out single into right and tried to stretch it into a double. Terdoslavich fielded the ball and threw a strike to shortstop Jordy Mercer, nailing Kiermaier, who arrived head-first.
Terdoslavich, who had two doubles and two runs scored on the afternoon, followed his stellar work in the field with a double off Dana Eveland to lead off the next inning. Jose Osuna threaded a single through the middle to give the Pirates a 1-0 lead.
The Bucs didn't corner the market on strong plays in the field. After Meadows reached when Eveland couldn't handle the relay covering first, second baseman Nick Franklin alertly backed up the play and threw out Meadows trying to advance to second.
Pirates Up Next: The Pirates will make the short trip to Sarasota, Fla., on Sunday for a rematch with the Orioles at Ed Smith Stadium. Right-hander Jameson Taillon, looking to build off an impressive rookie campaign, will start for the Bucs. Andrew McCutchen is expected to start in right field, with top outfield prospect Austin Meadows playing center. First pitch is scheduled for 1:05 p.m. ET.
Rays Up Next:Chris Archer will start for the Rays on Sunday afternoon when they face the Red Sox in a 1:05 p.m. contest at Charlotte Sports Park. Also expected to see action are Chase Whitely, Kevin Gadea, Chih-Wei Hu, Ryan Yarbrough, Jeff Ames and Andrew Kittredge. Fernando Abad will start for the Red Sox.
Watch every out-of-market regular-season game live on MLB.TV.
Bill Chastain has covered the Rays for MLB.com since 2005.