Diekman encourages kids to Gut it Out
Rangers left-hander tells IBD patients to not let the condition limit them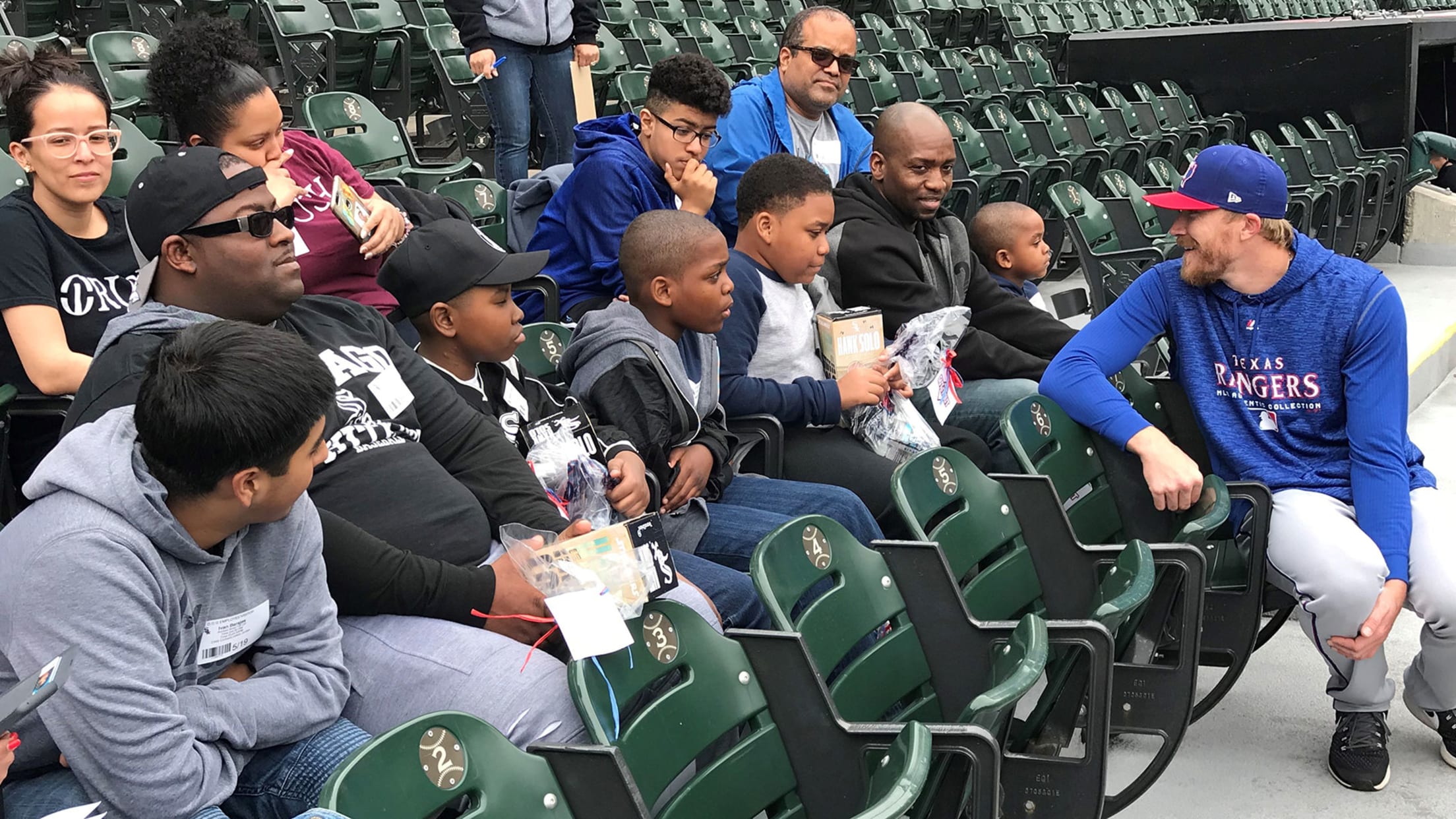 CHICAGO -- The inked message on Rangers left-hander Jake Diekman's right wrist has not faded much over the past four years and serves as a daily reminder of the ulcerative colitis he has lived with since age 11.The message, Gut it Out, is also stitched into Diekman's glove and is
CHICAGO -- The inked message on Rangers left-hander Jake Diekman's right wrist has not faded much over the past four years and serves as a daily reminder of the ulcerative colitis he has lived with since age 11.
The message, Gut it Out, is also stitched into Diekman's glove and is there for anyone to see. The three words comprise the message that Diekman shares with families like the ones he met with before Saturday's game against the White Sox.
Ulcerative colitis, which is an inflammatory bowel disease, can be debilitating, but Diekman is quick to tell kids and their parents that IBD can be managed in a way that allows those afflicted with the condition to live productive lives.
On Saturday -- which is recognized as World IBD Day -- Diekman met with 10 pediatric patients from Chicago's Rush University Children's Hospital to continue to raise awareness among those who, like Diekman, live with the disease.
"We try to create a community where kids don't have to feel like embarrassed or shy about talking about [IBD]," Diekman said. "If we can bring them out there and I, in any way, can be a role model for them to show them that, hey, IBD, Crohn's and colitis doesn't really have to push you back."
This Saturday 5/19 in celebration of #WorldIBDDay, I want you guys to share what you #GutItOut for. Is there someone who inspires you? Is there a goal you want to reach? Take a photo w/ the Gut It Out sign & share on social media w/ #GutItOut! pic.twitter.com/ogbDQpvbeB

— Jake Diekman (@JakeDiekman) May 17, 2018
According to the Crohn's and Colitis Foundation website, Diekman became extremely ill while traveling with his family to California at age 11. His parents originally believed Diekman was dealing with food poisoning, but after he remained sick for the following two weeks, he was diagnosed with ulcerative colitis.
The condition flared up again prior to the 2013 season when Diekman lost 20 pounds after he began to feel sluggish, overheated and irritable. According to the site, Diekman determined to take charge of his condition then and there.
In 2015, he sold T-shirts printed with Gut It Out, which raised $12,000 for CCFA. That was just the beginning of Diekman's interaction with IBD patients and their parents.
His message, Diekman said, is simple.
Listen to the doctor. Take the medication. Tell your parents when you're not feeling well. Stay hydrated and perhaps most importantly, don't shy away from spreading the word.
"Tell your friends, tell those that you are close with," Diekman said. "It will make it a lot easier."
Jeff Arnold is a contributor to MLB.com based in Chicago.