Thompson, Williams among top prospect performers Sunday
Phillies' No. 2 hurls six scoreless, No. 3 drives in four for Triple-A Lehigh Valley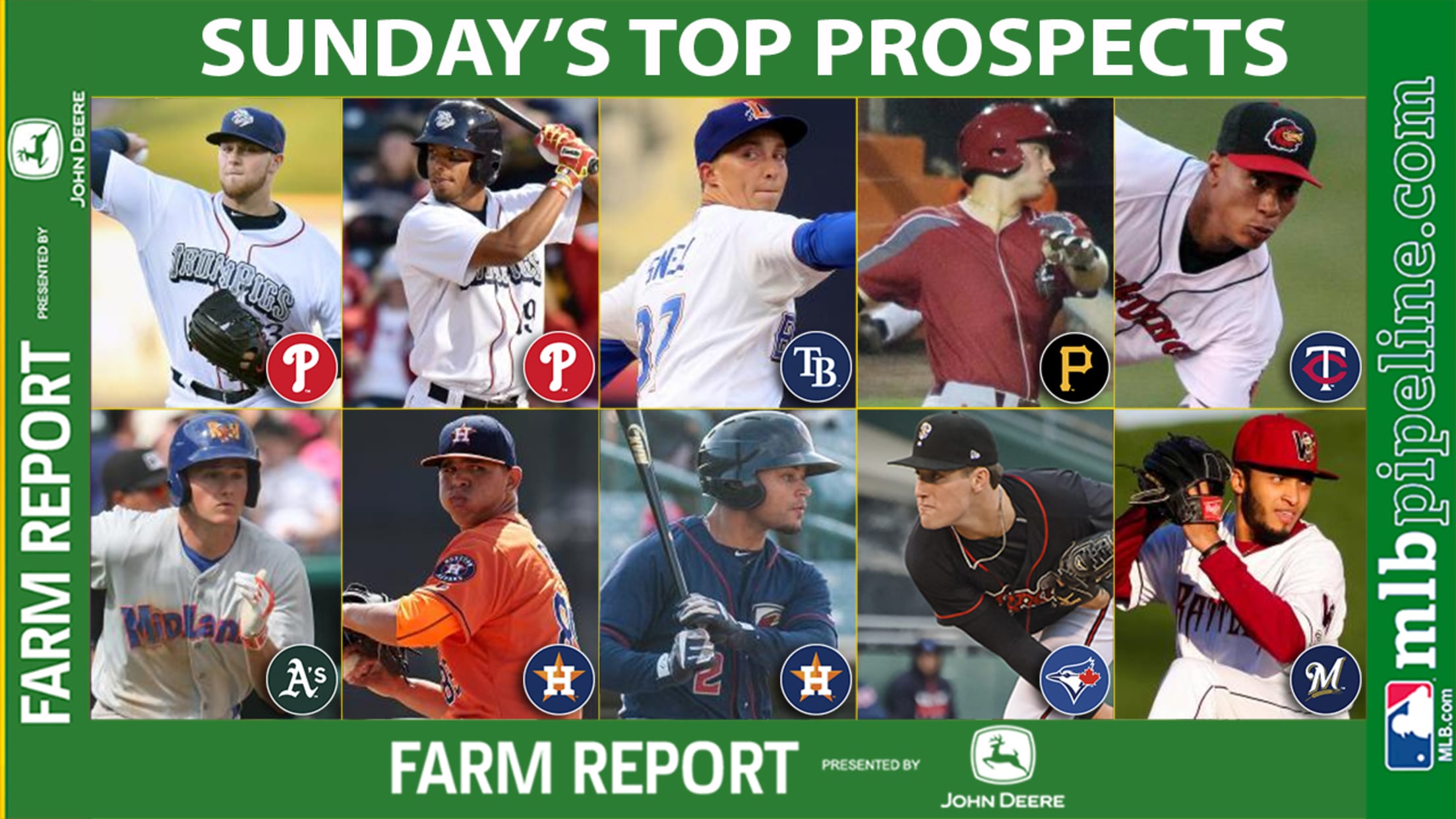 (Paul Sancya/AP)
The Phillies' Triple-A prospect contingent was out in full force on Sunday in Lehigh Valley's 11-3 rout of Charlotte.Jake Thompson, the Phillies' No. 2 prospect and No. 59 on the Top 100, bounced back from his worst start of the season on May 31 with one of his better performances
The Phillies' Triple-A prospect contingent was out in full force on Sunday in Lehigh Valley's 11-3 rout of Charlotte.
Jake Thompson, the Phillies' No. 2 prospect and No. 59 on the Top 100, bounced back from his worst start of the season on May 31 with one of his better performances as he held the Knights to just three hits over six scoreless innings. The 22-year-old right-hander struck out three batters and walked a pair while throwing 60 of his 93 pitches for strikes.
MILB Video - Title: Watch: Thompson strikes out batter - Url: http://www.milb.com/r/video?content_id=780645183
The IronPigs supported Thompson's strong start by hitting five home runs, three of which came from Phillies Top 30 prospects. Leading the offensive outburst was No. 50 overall prospect Nick Williams (Phillies' No. 3), who hit his seventh home run, tripled and tallied four RBIs while going 2-for-5. It was the 22-year-old outfielder's second homer in three games and third in his past six, and he's hitting .366 with 13 runs scored and nine RBIs in his last 10 contests.
MILB Video - Title: Watch: Williams goes yard - Url: http://www.milb.com/r/video?content_id=780652483
Andrew Knapp (No. 9) also hit his seventh home run -- a solo shot with two outs in the fourth inning, while Darnell Sweeney (No. 23) went deep for the third time.
The rest of the best performances from top prospects Sunday
• No. 12 overall prospect Blake Snell (Rays' No. 1) tossed six scoreless innings to pace Triple-A Durham in a 9-0 shutout of Gwinnett. The 23-year-old lefty scattered five hits, walked three and matched his season high with nine strikeouts, giving him three nine-strikeout performances in his last five starts. Snell has struck out 77 hitters against 27 walks and owns a 3.14 ERA in 57 1/3 innings for the Bulls.
MILB Video - Title: Watch: Snell notches K - Url: http://www.milb.com/r/video?content_id=781006783
• No. 16 overall prospect Austin Meadows hit a solo home run in the bottom of the ninth inning to extend his hitting streak to 14 games, but it wasn't enough to keep Double-A Altoona from falling to Binghamton, 4-3. The Pirates' No. 2 prospect is hitting .434 with two homers, six triples and four doubles during his streak.
MILB Video - Title: Watch: Meadows launches homer - Url: http://www.milb.com/r/video?content_id=780969083
• No. 91 overall prospect Jorge Polanco hit his second Triple-A home run as part of a 2-for-4 performance at the plate in Rochester's 8-6 win over Louisville. TheTwins' No. 5 prospect has swung at hot bat since returning to the Minors on May 23, hitting .353 (18-for-51) with seven extra-base hits over his last 13 games.
• No. 100 overall prospect Matt Chapman (A's No. 4) connected on his Texas League-leading 14th home run for Double-A Midland in its loss to Tulsa. The 23-year-old third baseman had gone 2-for-34 after hitting a pair of homers on May 25.
MILB Video - Title: Watch: Chapman crushes homer - Url: http://www.milb.com/r/video?content_id=782754283
• Franklin Perez, No. 16 on the Astros' Top 30, was dominant in his second start of 2016 as he struck out a season-high six hitters while allowing two hits in four scoreless innings for Class A Quad Cities, which fell to Burlington, 5-4. The 18-year-old right-hander, whom the Astros signed for $1 million out of Venezuela in July 2014, has gotten off to a strong start in his full-season debut, posting a 2.81 ERA and a 19/4 strikeout-to-walk ratio in 16 innings across four outings.
• Astros No. 27 prospect Jason Martin hit two two-run homers in Class A Advanced Lancaster's win over Modesto. The two-homer performance lifted the 20-year-old's average to .293 and gives him a career-high 10 home runs in 46 games this season.
• After striking out a career-high 10 hitters over eight innings in his last start for Class A Lansing Blue Jays No. 3 prospect Sean Reid-Foley impressed once again on Sunday with six scoreless innings of two-hit ball to lead the Lugnuts past Bowling Green, 6-2. The 2014 second-rounder walked one and struck out five, giving him a 28/6 strikeout-to-walk ratio in 25 2/3 innings across his past four starts.
"I just try to build off of each start and locate my fastball and throw strikes," Reid-Foley told MiLB.com. "It was probably my off-speed [today] because my fastball command wasn't the best. I was throwing my off-speed stuff for a lot of strikes, so I'd say that."
• In Class A Wisconsin's 3-2 loss to Kane County, 19-year-old righty Marcos Diplan matched his season highs with eight strikeouts and five innings for the Timber Rattlers. The Brewers' No. 19 prospect gave up two runs on six hits and one walk, and he has yet to allow more than two earned runs in his past 11 outings since coughing up five runs in his season debut on April 8. Overall, Diplan owns a 5-1 record (12 appearances/six starts) with a 1.89 ERA in 47 2/3 innings this season.
• Making his season debut for Double-A Springfield, Luke Weaver, the No. 3 prospect in the Cardinals system, held a talented Frisco offense to four hits over 7 1/3 scoreless innings in a 5-0 shutout win. After missing the first months of the season while recovering from a fractured left wrist, Weaver, 22, threw 62 of his 87 pitches for strikes in the outing as he struck out a career-high 10 batters without issuing a walk. No. 10 prospect Harrison Bader hit his 13th homer in the win.
MILB Video - Title: Watch: Weaver fans batter - Url: http://www.milb.com/r/video?content_id=782747683
• Mariners No. 6 prospect D.J. Peterson extended his hitting streak to 16 games with a pair of home runs in Double-A Jackson's win over Pensacola. The 24-year-old is hitting .339 with four multi-hit games during his streak, and he's hit six of his eight home runs in that span.
MILB Video - Title: Watch: Peterson goes yard - Url: http://www.milb.com/r/video?content_id=782764783
• Pirates No. 10 prospect Alen Hanson helped power Triple-A Indianapolis' offense in a 7-5 win over Toledo as he went 2-for-4 with his second home run in as many games. The 23-year-old switch-hitter -- who collected his first big league knock during a three-game stint with the Pirates in May -- has slashed .259/.282/.397 with three home runs and 12 steals in 42 games for the Indians this season while seeing playing time at second and third base, as well as left field.
MILB Video - Title: Watch: Hanson homers - Url: http://www.milb.com/r/video?content_id=782748083
• Pirates No. 22 prospect Kevin Kramer drove in three runs on three hits for a second straight game as Class A Advanced Bradenton defeated Lakeland, 6-3. The 22-year-old third baseman has collected multiple hits in the past three games for the Marauders and is 8-for-14 for with three extra-base hits and six RBIs in that span.
• White Sox No. 3 prospect Spencer Adams recorded his first career shutout in Class A Advanced Winston-Salem's 4-0 win over Wilmington. The 20-year-old righty struck out a pair without issuing a walk in his nine-inning gem, throwing 64 of his 91 pitches for strikes. He offset the eight hits he allowed by generating 14 ground-ball outs. In 12 starts for the Dash this season, Adams is 6-3 with a 3.41 ERA in 74 innings.
MILB Video - Title: Watch: Adams finishes complete game - Url: http://www.milb.com/r/video?content_id=780560883
• Yankees No. 20 prospect Chance Adams fired four scoreless innings for Class A Advanced Tampa against Charlotte before a 52-minute rain delay halfway through the fourth inning ended his outing. Adams, a 2015 fifth-round Draft pick, pounded the strike zone with 37 of his 49 pitches, allowing three hits and striking out six. The Dallas Baptist product was outstanding for Tampa in May, posting a 1.24 ERA, a 0.86 WHIP and a 32/7 strikeout-to-walk ratio in 29 innings (five starts).