Paxton (ill), Felix (hamstring) miss Anaheim trip
Mariners hopeful that both starters can return to rotation this season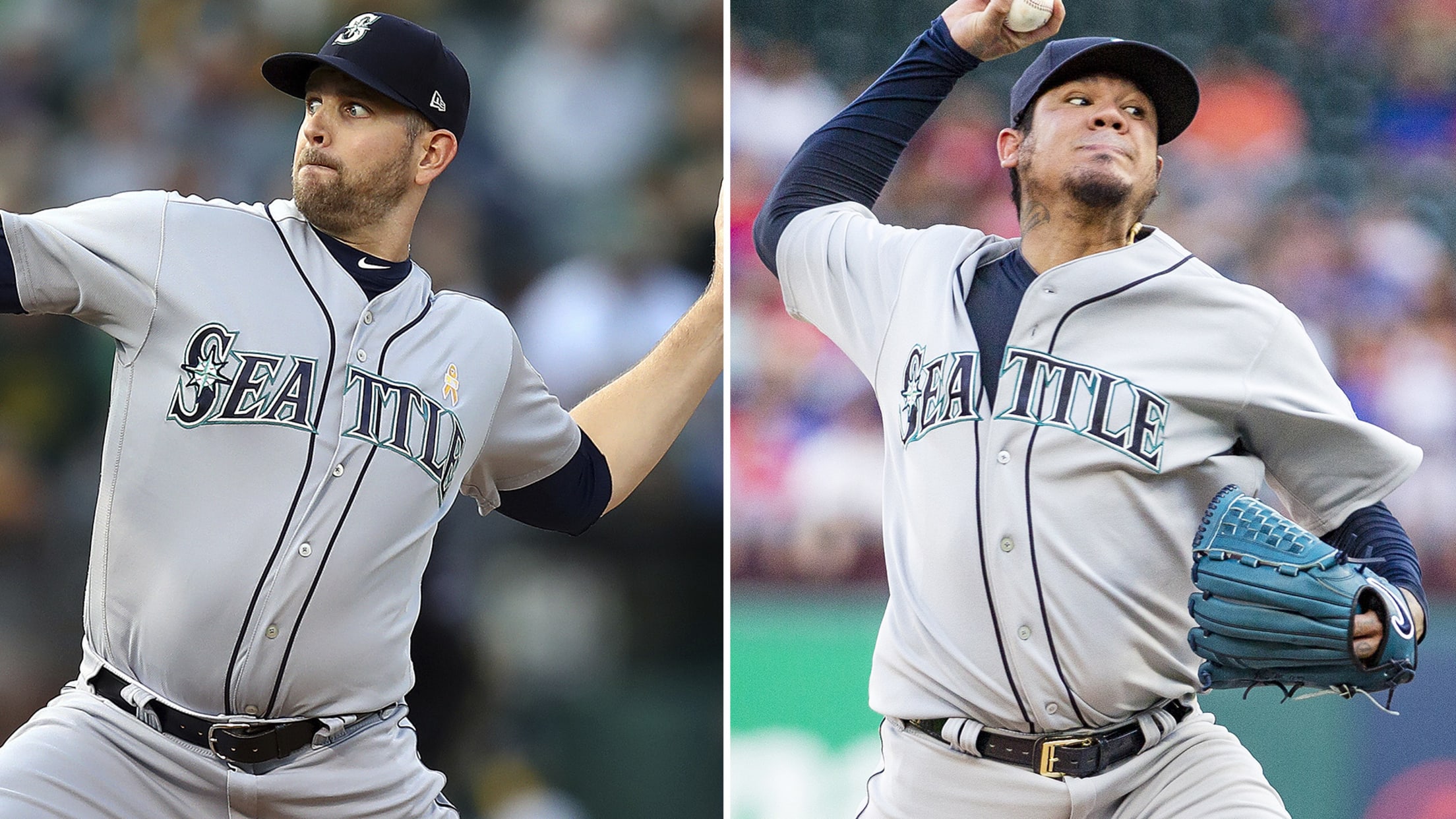 ANAHEIM -- James Paxton and Felix Hernandez remained back in Seattle as the Mariners opened their final road trip of the season on Thursday, though manager Scott Servais retains hope that both will rejoin the rotation at some point during the 10-game trek.Paxton was scratched from his scheduled Friday start
ANAHEIM -- James Paxton and Felix Hernandez remained back in Seattle as the Mariners opened their final road trip of the season on Thursday, though manager Scott Servais retains hope that both will rejoin the rotation at some point during the 10-game trek.
Paxton was scratched from his scheduled Friday start against the Angels while dealing with a mild form of pneumonia, according to Servais. Hernandez also remains on hold as he recovers from a strained right hamstring that knocked him out in the fifth inning of his last start on Saturday.
Erasmo Ramirez will start Saturday against the Angels and Marco Gonzales will pitch the series finale on Sunday afternoon, but Friday's starter remains undetermined as the Mariners plan to go with all relievers in a bullpen day.
Paxton has set career highs with 26 starts and 150 1/3 innings this year, but he could be limited to one or two more starts if the illness lingers. Servais said Paxton doesn't have the type of pneumonia that gets into the lungs and affects breathing, but the manager was reluctant to venture exactly when Paxton might return.
"I'm not a doctor, I'm going off what they're telling me," Servais said. "I know he's feeling a little better today. … I certainly am expecting him to come back and pitch. Hopefully it's on this road trip."
The Mariners have only seven games remaining after they return home, so time is running out. Hernandez is in a similar situation with his hamstring. He played catch with trainers at Safeco Field on Thursday to keep his arm fresh, and Servais said "there's a chance he could join us on this road trip."
While the Mariners moved Hernandez to the bullpen for one game in mid-August, he returned to the rotation immediately when Paxton went on the 10-day disabled list after getting hit in the forearm by a line drive. Servais expects to keep starting Hernandez the remainder of the season, though acknowledges that all depends on Hernandez's health.
"I'd like to, but we need to get clearance from the medical people that he's going to be OK," Servais said. "I don't want to run him out there and get an inning out of him and here we go. Let's make sure he's healthy enough to go out and give you five or six innings."
While Hernandez is 8-13 with a career-high 5.46 ERA in 28 games (27 starts), Servais sees some value in getting the 14-year veteran back on the mound at some point, if possible.
"I think it's important to end the season healthy," Servais said. "He's made some strides. His fastball command has been better probably the last four times out there. I know he feels better about it and a couple mechanical changes he's made. He wants to pitch again. I want him to pitch again. So why wouldn't he pitch again?"
Segura likely to return on Friday
Shortstop Jean Segura was out of the lineup for a third straight day on Thursday due to a flu-type illness, though Servais said it was a different sickness than what Paxton is dealing with. Outfielder Cameron Maybin was also feeling ill.
Segura said he was feeling better as he prepared to see how things went during Thursday's pregame batting practice, and Servais indicated he's hopeful the All-Star shortstop will be back in the lineup by Friday.
Dealing with Hurricane Florence
Three Mariners from North Carolina were keeping an eye on news reports on Thursday as Hurricane Florence prepared to hit land near their families' homes.
Third baseman Kyle Seager's family resides about two hours inland in the Charlotte area, while relievers Shawn Armstrong and Adam Warren are both from New Bern, which sits on the coast of North Carolina and is directly in the storm's path.
Armstrong now lives in Raleigh, which is farther inland, but his parents still reside in New Bern and have evacuated.
"They've gone up to my house in Raleigh, but I've seen some pictures of the hometown on the news," Armstrong said. "It hasn't really even hit yet, but the storm surge has already pretty much flooded downtown New Bern. All the towns there have been hit pretty hard and are already starting to flood before it even gets there."
Seager said his family is "bunkered up as much as possible" in anticipation of heavy winds and rain for what is expected to be the worst storm since Hurricane Hugo came through that area when he was a baby.
Armstrong has dealt with more storms living near the coast, but acknowledged this one sounds ominous.
"I've been through a lot hurricanes, and all my family has as well, but this is the first time pretty much everywhere around us has been evacuated," Armstrong said. "The ground is so saturated from what I've seen and the water levels are already high. So you don't really know what to expect, especially when there already is pre-hurricane flooding. So we'll see."