Paxton eagerly learning lay of land in Florida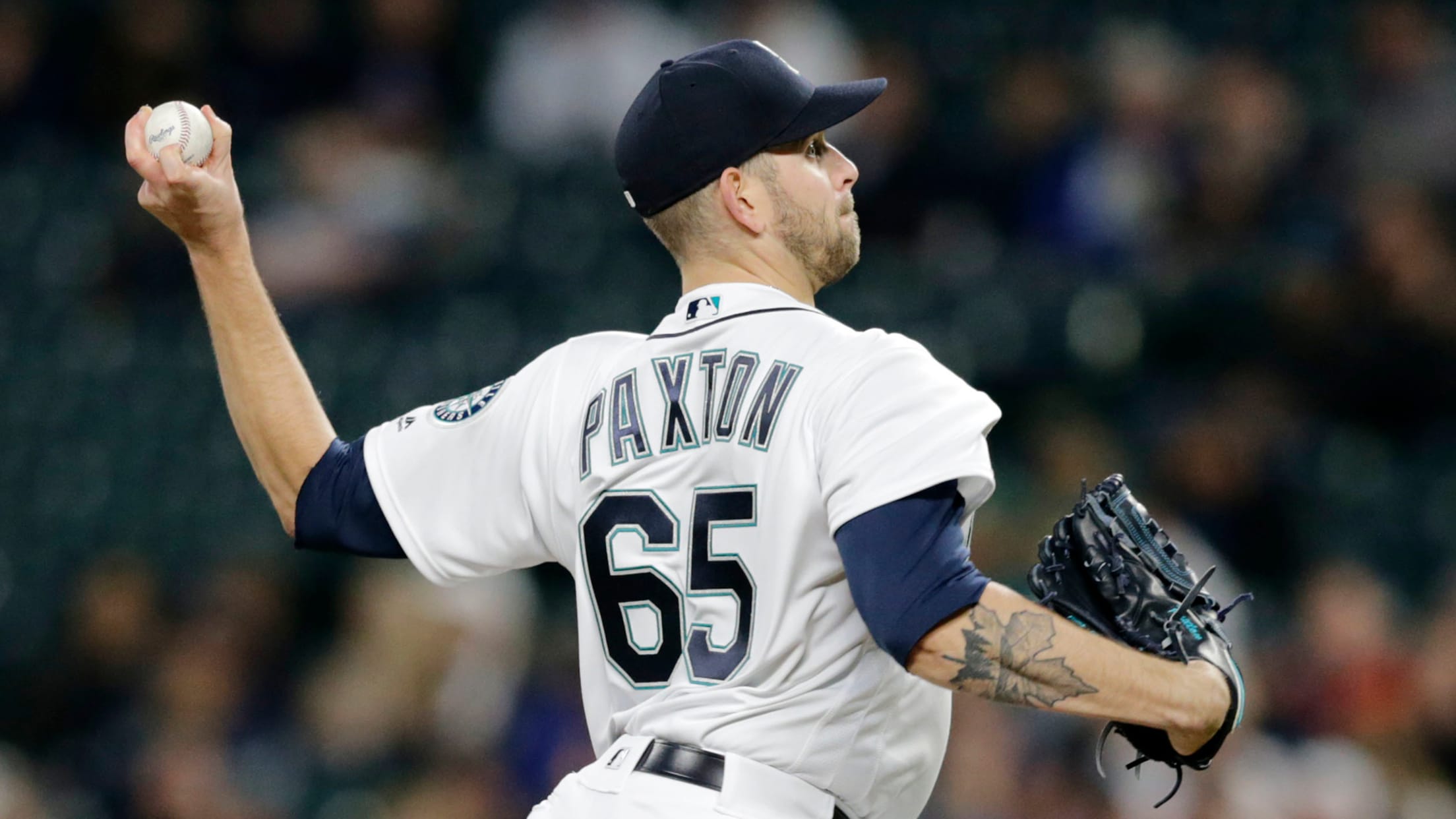 TAMPA, Fla. -- One of James Paxton's first assignments upon arriving at the Yankees' Spring Training complex was to ditch his old gear, replacing a well-traveled bag with the Mariners logo the left-hander used to transport his belongings to the Sunshine State.That accomplished, Paxton has taken on the challenge of
TAMPA, Fla. -- One of James Paxton's first assignments upon arriving at the Yankees' Spring Training complex was to ditch his old gear, replacing a well-traveled bag with the Mariners logo the left-hander used to transport his belongings to the Sunshine State.
That accomplished, Paxton has taken on the challenge of learning the layout of an unfamiliar facility and shaking hands with the men he will now call his teammates. A touted pickup in a November trade with Seattle, the 30-year-old Paxton said he is beginning to feel at home with the Yanks.
"The first couple of days, I was aimlessly walking around," Paxton said Thursday. "I didn't know where things were, and I was going through the wrong doors. Now I'm walking through all of the right doors and getting where I want to go. I'm just focused on remembering names right now; getting to know everybody. It's been great."
With pitching coach Larry Rothschild observing, Paxton tossed on flat ground Thursday morning and said he is scheduled to throw a bullpen session Friday. Gary Sánchez has volunteered to catch that as the batterymates attempt to get on the same page in advance of Grapefruit League action.
:: Spring Training coverage presented by Camping World ::
"We've chatted a few times in there already," Paxton said. "That'll be cool, starting to build that relationship and getting him to know my stuff, get to know me, and I'll get to know him and how he catches the ball and everything. I'm looking forward to that."
Paxton spent his first six seasons with the Mariners, compiling a 41-26 record and a 3.42 ERA in 102 starts. He was 11-6 with a 3.76 ERA last year, including a brilliant May 8 no-hitter over the Blue Jays in Toronto. He has also served five disabled list stints in the past three years.
"I think there's an upside there," Rothschild said. "He certainly has the ability, and he's shown that. It's just a matter of staying healthy and the consistency. But he's got a chance to really make a nice addition to this staff."
With Luis Severino, Masahiro Tanaka, J.A. Happ and CC Sabathia joining Paxton in some order, it is a rotation that should be more than capable of keeping the Yankees in games.
"I think we're going to be really good," Paxton said. "I played catch with Severino my first day out. Man, the ball jumps out of his hand something special. He's a different animal. The other guys, J.A. Happ, I talked to him the other day. I played with him in Seattle. He's going to be awesome.
"Tanaka is always nasty and then you've got CC, who is just a salty vet and knows exactly what he's doing out there. I'm really looking forward to learning from him. I've watched him throughout my career, just trying to learn what he does. I'm excited to get to meet him in person."
Paxton said he has had multiple conversations with manager Aaron Boone since the trade, and coming from an organization that has not participated in postseason play since Ichiro Suzuki's rookie year in 2001, he is embracing the perpetually lofty expectations of the Yanks' fan base.
"I'm really excited about it," Paxton said. "I feel like playing with the Yankees, you're expected to win. It's World Series or bust for Yankees fans. I'm excited about having that pressure and just being on a team that is so committed to winning."