Salty not feeling pressure of competition
In mix for backup backstop role, veteran keeps perspective, praises Tigers' winning mentality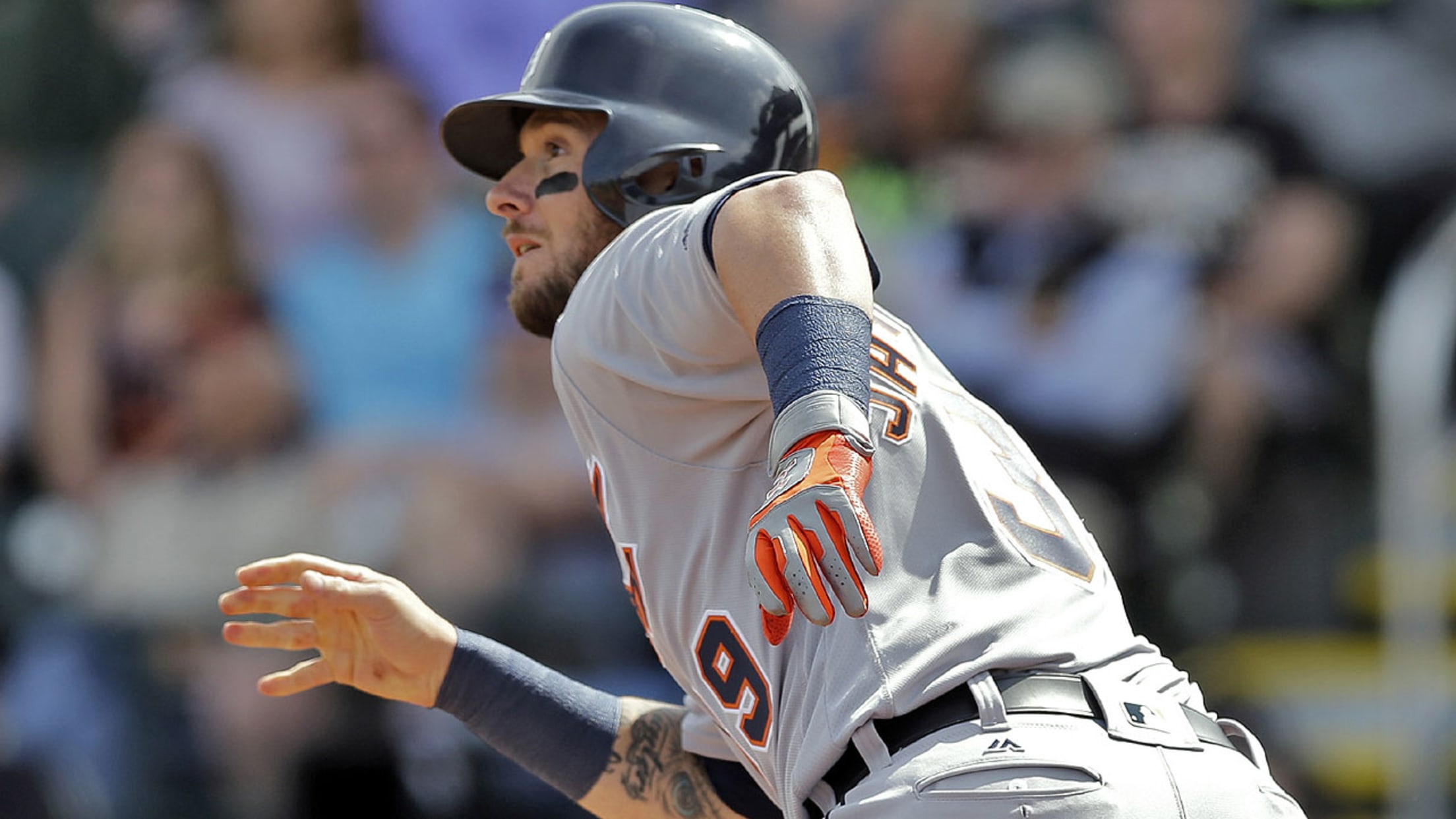 Jarrod Saltalamacchia: "Detroit's always a team that finds a way to win, and I wanted to be a part of that." (AP)
PORT ST. LUCIE, Fla. -- Jarrod Saltalamacchia figured to be the backup to James McCann when the veteran catcher signed with Detroit in December, but the Tigers could have somewhat of a dilemma should Bryan Holaday continue on his red-hot start this spring.Saltalamacchia is approaching the competition in the same
PORT ST. LUCIE, Fla. -- Jarrod Saltalamacchia figured to be the backup to James McCann when the veteran catcher signed with Detroit in December, but the Tigers could have somewhat of a dilemma should Bryan Holaday continue on his red-hot start this spring.
Saltalamacchia is approaching the competition in the same manner as he always has during his MLB career that began in 2007 with the Braves, who made him a first-round selection in the 2003 Draft.
• Spring Training information
"I'm just letting it play out. Do what I normally do, play hard and try to get to know these guys as much as possible," Saltalamacchia said Monday before the Tigers' 7-3 loss to the Mets at Tradition Field. "I can't control the other stuff."
After being released by the Marlins a month into last season, Saltalamacchia landed in Arizona, where he had a .251 batting average with eight home runs and 23 RBIs in 70 games. Detroit was looking for a veteran backup for McCann, and Saltalamacchia was happy to join.
"Detroit's always a team that finds a way to win, and I wanted to be a part of that," he said. "It's a great spot for me."
Saltalamacchia batted cleanup and went 1-for-3 Monday. McCann also made the trip to Port St. Lucie and was the DH, going 1-for-3 with an RBI.
Tigers manager Brad Ausmus said that both made the trip to give each of them some needed at-bats. As for the potential dilemma that the team could face at the end of Spring Training, Ausmus said there is no timetable on when a decision will be made on which two catchers will break camp with the Tigers.
"It's a double-edged sword because if you have depth, that's a plus, but depth also sometimes creates difficult decisions," Ausmus said.
Saltalamacchia said he's not feeling any pressure.
"I've been under the same [thinking] that whatever's going to happen is going to happen," he said. "I can only do my job. I can't do my job and worry about this guy's job and that guy's job. I mean, you're spinning circles at that point."
Saltalamacchia said the key for him is to be prepared for whenever he is called on to start or whatever is asked of him.
"Last year I was in a backup role, so I had to continually work on my catching just to make sure I was ready to go when I got called on," Saltalamacchia said. "It's the same this year. Got to make sure that when I get into a game, it's not going to be my fault that we lost. I want to make sure that I'm 100 percent prepared."
Saltalamacchia said he believes the Tigers are ready to return as a contender after last year's disappointing season.
"It's the same feeling there was when I was in Boston," Saltalamacchia said. "They expect to win every year, which is what you want. So the fact [the Tigers] finished last, I know they're not happy with that. I know the pitchers weren't happy with the way they ended up. I know [Miguel Cabrera] and [Victor Martinez] weren't happy with being injured. So there's a lot to prove this year. It's a team that's won before."
Steve Dorsey is a contributor to MLB.com.