Monday's top prospect performers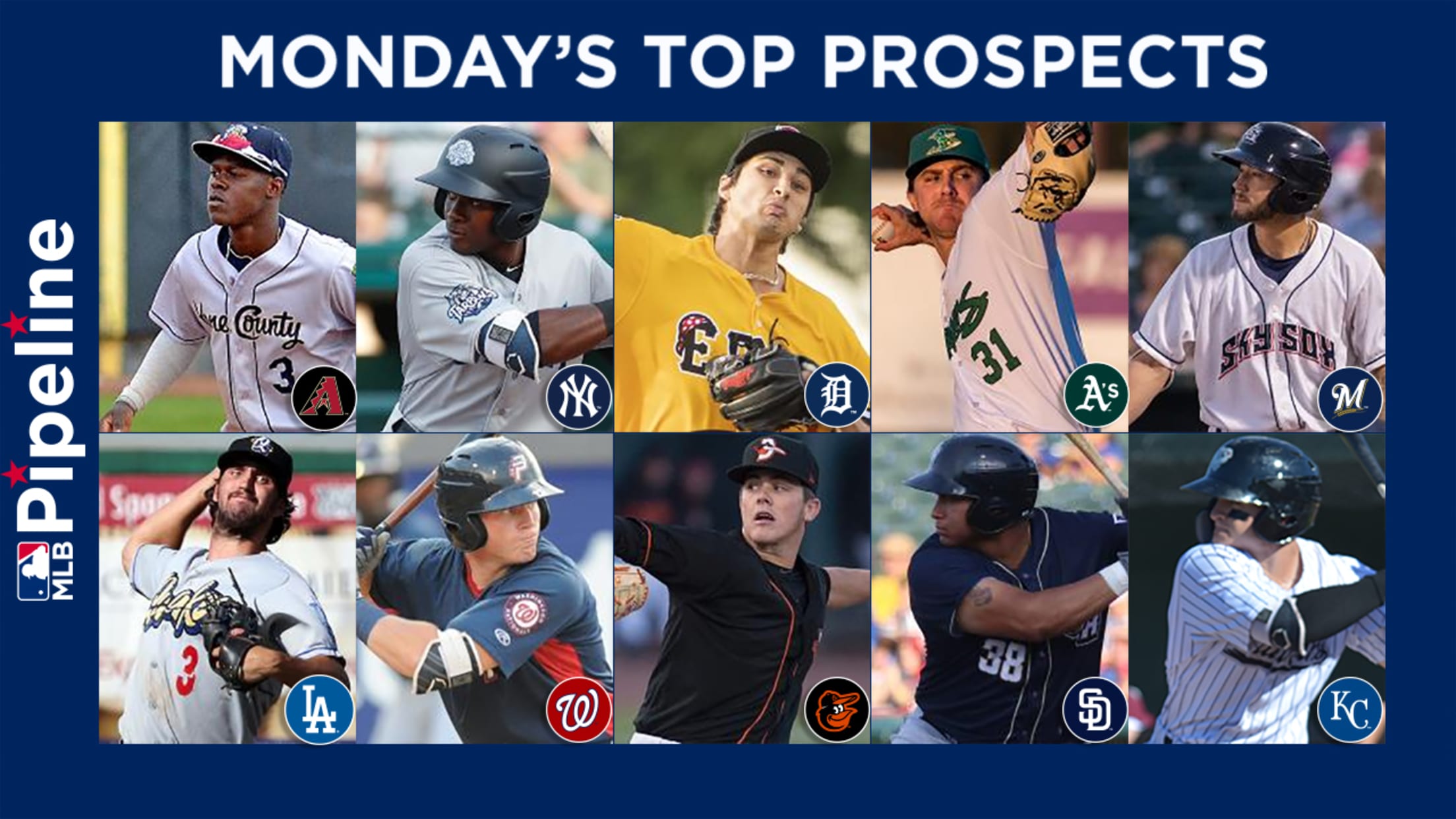 Here's MLB Pipeline's roundup of the top prospect performances in the Minor Leagues on Monday.:: Complete prospect coverage ::As some of Major League Baseball's top sluggers showcased their power in the T-Mobile Home Run Derby, Jasrado Chisholm put on his own power clinic in a career performance.The D-backs' No. 3
Here's MLB Pipeline's roundup of the top prospect performances in the Minor Leagues on Monday.
:: Complete prospect coverage ::
As some of Major League Baseball's top sluggers showcased their power in the T-Mobile Home Run Derby, Jasrado Chisholm put on his own power clinic in a career performance.
The D-backs' No. 3 prospect broke out of his recent slump to hit a pair of home runs and set career highs with five hits and five RBIs while leading Class A Kane County over Dayton, 13-4. He finished 5-for-6 at the plate and also tied his career best with four runs.
Batting second for the Cougars, Chisholm put his team on the board with an RBI triple and scored one batter latter. The 20-year-old shortstop homered in his next two trips to the plate, connecting on a solo blast in the next frame and then adding a two-run shot in the fourth for his second multihomer game of the year.
MILB Video - Title: Chisholm's second homer - Url: http://www.milb.com/r/video?content_id=2277762483
Chisholm's sixth-inning single marked his fourth hit of the game and left him a double short of the cycle, though he would fail to accomplish the feat in his final two trips the plate, popping out to short in the seventh before delivering an RBI single in the ninth.
The Bahamas native had been 1-for-21 with eight strikeouts over his previous five games before erupting for five hits on Monday to improve his season average from .233 to .244. He's produced a .783 OPS in 76 games overall and is tied for second in the Midwest League with 15 home runs.
The rest of the best performances from top prospects Monday
• After earning Prospect Team of the Week honors earlier in the day, No. 37 overall prospect Estevan Florial (Yankees' No. 1) homered for a second straight game, stole a base and scored two runs before finishing 2-for-4 in a rehab game in the Rookie-level Gulf Coast League. The 20-year-old outfielder has posted four consecutive multihit games as well as a .482 average through eight games in the GCL. More important, Florial's three home runs in that span are an encouraging sign after he missed the better part of two months due to a broken hamate in his hand.
• No. 52 overall prospect Alex Faedo (Tigers' No. 3) secured his first Double-A victory with seven scoreless frames as Erie blanked Richmond, 2-0. He mixed three hits with a walk and four strikeouts in the performance while throwing 59 of 88 pitches for strikes. In his first professional season, the 22-year-old Faedo, a first-round pick in 2017, owns a 3.28 ERA with a 1.03 WHIP and .208 opponents' average in 82 1/3 innings (16 starts).
MILB Video - Title: Faedo notches a strikeout - Url: http://www.milb.com/r/video?content_id=2277495083
• A's No. 23 prospect Wyatt Marks posted six scoreless frames for a second time in three starts as Class A Beloit edged West Michigan, 3-2, in 12 innings. He racked up nine strikeouts, tying his second best single-game total this season, over 94 pitches (55 strikes) in the outing, allowing three hits and three walks. A 13th-round pick in the 2017 Draft, Marks has pitched to a 3.58 ERA with 111 strikeouts across 93 innings (18 games/16 starts) in the Midwest League.
MILB Video - Title: Watch: Marks strikes out 9th batter - Url: http://www.milb.com/r/video?content_id=2279368683
• Brewers No. 3 prospect Lucas Erceg went 4-for-4 with a solo homer and also reached once via a walk in a perfect night at the plate for Double-A Biloxi. The 23-year-old third baseman's homer was his second in as many days as well as his fifth in the last nine games, giving him a total of 11 home runs in 88 games for the season. Overall, Erceg is slashing .256/.319/.408 in his first Double-A campaign after producing a .259/.310/.421 last season with Class A Advanced Carolina.
MILB Video - Title: Erceg goes yard - Url: http://www.milb.com/r/video?content_id=2278161083
• Dodgers No. 21 prospect Tony Gonsolin tossed six strong innings, allowing two earned runs on eight hits to earn the win his Double-A Tulsa debut. He struck out eight, threw 62 of his 91 pitches for strikes and did not issue a walk in the outing. Gonsolin, a 24-year-old righty, received a promotion to Tulsa after posting a 2.71 ERA with 114 strikeouts and 26 walks in 89 2/3 innings (18 starts) with Class A Advanced Rancho Cucamonga.
• Nationals No. 15 prospect Jakson Reetz hit a pair of home runs as he recorded three hits for a second straight game in Class A Advanced Potomac's win over Frederick. The 22-year-old catcher hit a solo homer in the fifth inning and added a two-run shot in the following frame to finish 3-for-5 with three RBIs. Reetz's first ever multihomer game pushed his season total to five homers, a new career high after he totaled four home runs in each of the last two years.
• Another member of MLB Pipeline's latest PTOW, Orioles No. 4 prospect DL Hall made a case for earning repeat honors as he tossed six innings of one-run ball with a career-high 10 strikeouts en route to his second straight win for Class A Delmarva. The 19-year-old lefty has been stellar over his past seven starts, registering a 0.55 ERA with 38 strikeouts and 17 hits allowed in 32 2/3 innings.
• Padres No. 14 prospectJosh Naylor and Austin Allen (No. 27) combined to record three extra-base hits and five RBIs in Double-A San Antonio's 9-3 win over Midland. Naylor started in left field and paced the offense with a 2-for-4 performance that included a pair of doubles, two runs scored and three RBIs. Allen, meanwhile, connected on his 14th home run, a two-run shot in the sixth inning, before finishing 2-for-5.
MILB Video - Title: Naylor clears the bases - Url: http://www.milb.com/r/video?content_id=2278344483
• Pirates 2018 fourth-rounder Aaron Shortridge permitted one earned run on three hits over five innings in a no-decision for Class A Short Season West Virginia. The 21-year-old righty struck out nine, his highest total in six professional starts, and threw 51 of his 71 pitches for strikes. He's compiled 30 strikeouts and five walks along with a 3.52 ERA in 23 innings to begin his career.
• Rockies first-rounder Ryan Rolison (No. 22 overall pick) yielded one hit, walked one and recorded four strikeouts over three scoreless innings for Rookie-level Grand Junction in his second professional start. The 21-year-old lefty was 10-4 with a 3.70 ERA and averaged 11.1 strikeouts-per-nine with Mississippi this past spring as a Draft-eligible sophomore.
• Royals third-rounder Kyle Isbel hit two home runs and a double as he recorded his second four-hit game as a professional. The 21-year-old outfielder finished the game 4-for-5 with a career-high four RBIs for Rookie-level Idaho Falls. He's hitting .381 overall, with 15 extra-base hits (four homers) and 12 steals in 25 games.