Gyorko (back) on IL; Cards call up Edman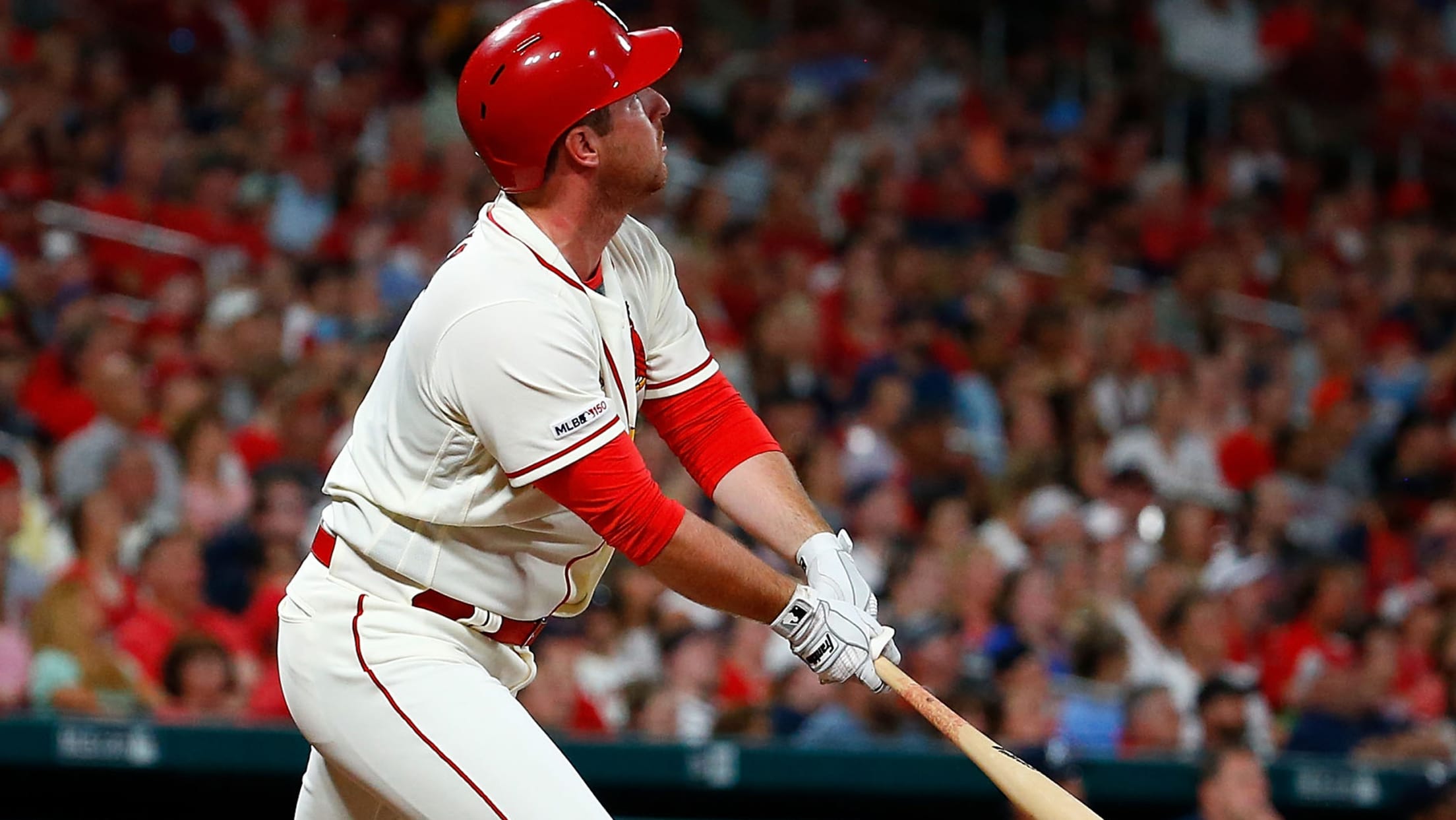 CHICAGO -- A ground ball from Cubs first baseman Anthony Rizzo in the third inning of the Cardinals' 3-1 loss Friday caused third baseman Jedd Gyorko to reach across his body, and in the process of the spin and recording the out at first, Gyorko's back locked up. He was
CHICAGO -- A ground ball from Cubs first baseman Anthony Rizzo in the third inning of the Cardinals' 3-1 loss Friday caused third baseman Jedd Gyorko to reach across his body, and in the process of the spin and recording the out at first, Gyorko's back locked up.
He was taken out of the game in the fifth inning as part of a double-switch, and on Saturday, he found himself on the 10-day injured list with a lower back strain. The Cardinals purchased the contract of rookie infielder Tommy Edman from Triple-A Memphis.
Gyorko received treatment Friday night and felt good to go Saturday, but the Cardinals played it safe instead.
"I responded really well to the treatment yesterday, woke up this morning and felt pretty good," Gyorko said. "Felt like I could go. They decided that I can't. I feel like I'm capable of going, but sometimes, it's out of my hands."
Gyorko, 30, said he didn't have the chance to make his case to stay on the active roster. Manager Mike Shildt said it was a difficult decision because Gyorko could be ready to go in a day or two, but the Cardinals didn't know the forecast for the strain and made the decision to bring someone fresh to the lineup.
"I was hoping to come in today and take some swings, see how it felt," Gyorko said. "But they didn't want to take the chance of playing with a guy short."
During batting practice Saturday, Gyorko was doing light work around the bases.
He was in the lineup for everyday third baseman Matt Carpenter on Friday and had been mainly used as a pinch-hitter this season. In 56 at-bats, Gyorko is hitting .196 with 11 hits and two home runs.
The Cardinals are now looking at Edman as a potential spark off of the bench. The 24-year-old will make his Major League debut with his first appearance. He got the news from Memphis manager Ben Johnson, right before the Redbirds' game at Reno on Friday night. He flew to Chicago on Saturday morning.
"Johnson called me into his office and asked me, 'How's your body feeling?'" Edman said. "I said, 'It feels good, good to go tonight.' And he said, 'Well, you're actually not going tonight because you're going to the big leagues tomorrow.'
"It was obviously a very surreal feeling. The whole game I was sitting there, knowing I was going up to the big leagues. One of the longer games I've sat through."
After a solid spring, Edman, the Cardinals' No. 11 prospect, has a team-leading .305 average in 49 games for the Redbirds. The switch-hitter has a .349 average against lefties and a .292 average against righties.
Edman can be moved all around the infield. He's played 25 games at second base, 10 at shortstop and nine at third base for Memphis this year. He has also played some outfield. With Memphis, he cycled through stretches of playing each infield position as the team dealt with injuries, off-days for other players and making sure he got enough reps at each position. The same went for what side of the plate he hit on.
Shildt sees Edman as a left-handed option off of the bench and plugging him in where he's needed as the Cardinals continue their 10-day road trip.
"He hit the whole spring, and he's done a good job of that the early part of this season with Memphis," Shildt said. "He went about it the right way. He's demonstrated big league consistency and skill set and aptitude. Now he's here."
To make room for Edman on the 40-man roster, the Cardinals designated Double-A right-hander Merandy Gonzalez for assignment. The Cardinals claimed Gonzalez off of waivers from the Giants in late March. He had a 6.23 ERA in 26 innings (23 appearances) for both Class A Advanced Palm Beach and Double-A Springfield this year.
No concern for Mikolas
Miles Mikolas won't miss any time after getting hit by a 99.8-mph liner in the fourth inning of Friday's game.
The Cardinals right-hander was lifted after getting hit because of swelling on his right forearm, but he played catch Saturday and told Shildt he didn't have any worries about the arm.
"He jokingly said, 'It''s going to take more than 99.8 -- it'll take at least 100 -- to get me down,'" Shildt said. "Thankfully, got him in a good spot, if there is such a thing, and was able to play catch, spin some balls, said he wasn't concerned, so I'm not concerned."