Banister praises coaches' poise in wild year
Manager credits staff for challenging Rangers en route to AL's top seed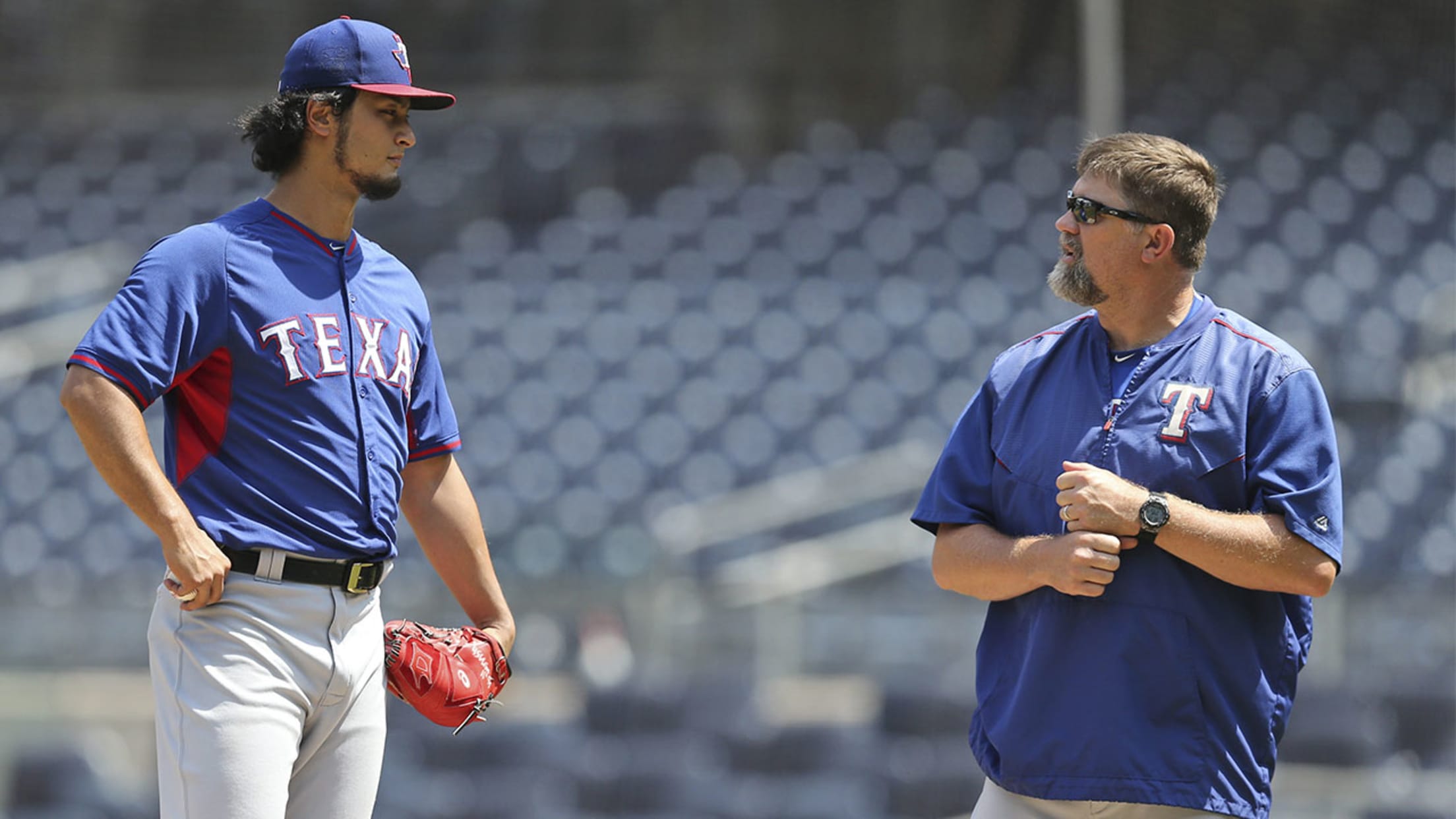 Doug Brocail (right, working with Yu Darvish) is completing his first season as the Rangers' pitching coach. (AP)
ARLINGTON -- The Rangers' road to clinching the American League West, home-field advantage throughout the postseason and the most home wins in club history has not been a straight one.Prince Fielder's playing days came to an end in August, Shin-Soo Choo has made four trips to the disabled list, key
ARLINGTON -- The Rangers' road to clinching the American League West, home-field advantage throughout the postseason and the most home wins in club history has not been a straight one.
Prince Fielder's playing days came to an end in August, Shin-Soo Choo has made four trips to the disabled list, key members of the rotation have spent extended time on the DL, and several of the team's youngest players, like Nomar Mazara, have been counted on heavily. Not to mention some of the team's biggest contributors of late weren't playing with the Rangers until August.
Manager Jeff Banister credits his coaching staff, with several members making their first stints at the Major League level, for being a constant throughout some of the madness.
"They show up every day, eager, and they have something different for these players every day to keep them engaged," Banister said. "They challenge them to show up and work."
• Postseason picture | Gear up for playoffs
New to this year's staff were hitting coaches Justin Mashore and Anthony Iapoce, pitching coach Doug Brocail and bullpen coach Brad Holman. Bench coach Steve Buechele, first-base coach Hector Ortiz and field coordinator Jayce Tingler are in their second year with the team.
Spike Owen took over on an interim basis for third-base coach Tony Beasley, as he recovers from rectal cancer.
Banister didn't see a risk in taking on several new coaches to his staff.
"I considered it a risk not hiring them," Banister said. "With each one of these guys, it's not just about their skill set as a teacher and a coach, it's more so about where they've been, what they've overcome and what they've conquered to get to this point."
Banister also credited his core group of players -- guys like Adrián Beltré, Elvis Andrus, Mitch Moreland, Colby Lewis and others -- for policing the team.
But it's been the coaching staff's willingness to make a genuine difference that has impressed Banister. He pointed to Mashore's and Iapoce's ability to help turn Carlos Gómez's season around as an example of that.
"If you want to make a difference in someone's life, it's tiring, it's exhaustive and it's a lifetime event," Banister said. "When it gets tough and guys aren't responding, and their success is not where they wanted it to be, they were willing to dig in, get in the trenches with them and say, 'We're going to do this together.'"
Rangers beat
• Choo said his body responded well after Friday night's game -- his first Major League action since Aug. 15, when he fractured his left forearm. He was batting leadoff and playing right field Saturday.
• The Rangers have not committed to the order in which Cole Hamels and Yu Darvish will start in the postseason rotation. Banister said he wants to see who they play after the AL Wild Card Game before officially making that decision.
• Rays catcher Bobby Wilson returned to Globe Life Park on Friday for the first time since being designated for assignment by the Rangers on Aug. 1. He said he hopes to make it back for some of the Rangers' playoff games.
Hi Bobby! 👋🏽 pic.twitter.com/T4m3wUudCC

— Texas Rangers (@Rangers) October 1, 2016
• Sam Dyson's 73 appearances this season are the most by a Rangers reliever with at least 35 saves in a season.
Ryan Posner is a reporter for MLB.com based in Texas.