Francoeur: Phillies 'have a big fan in me'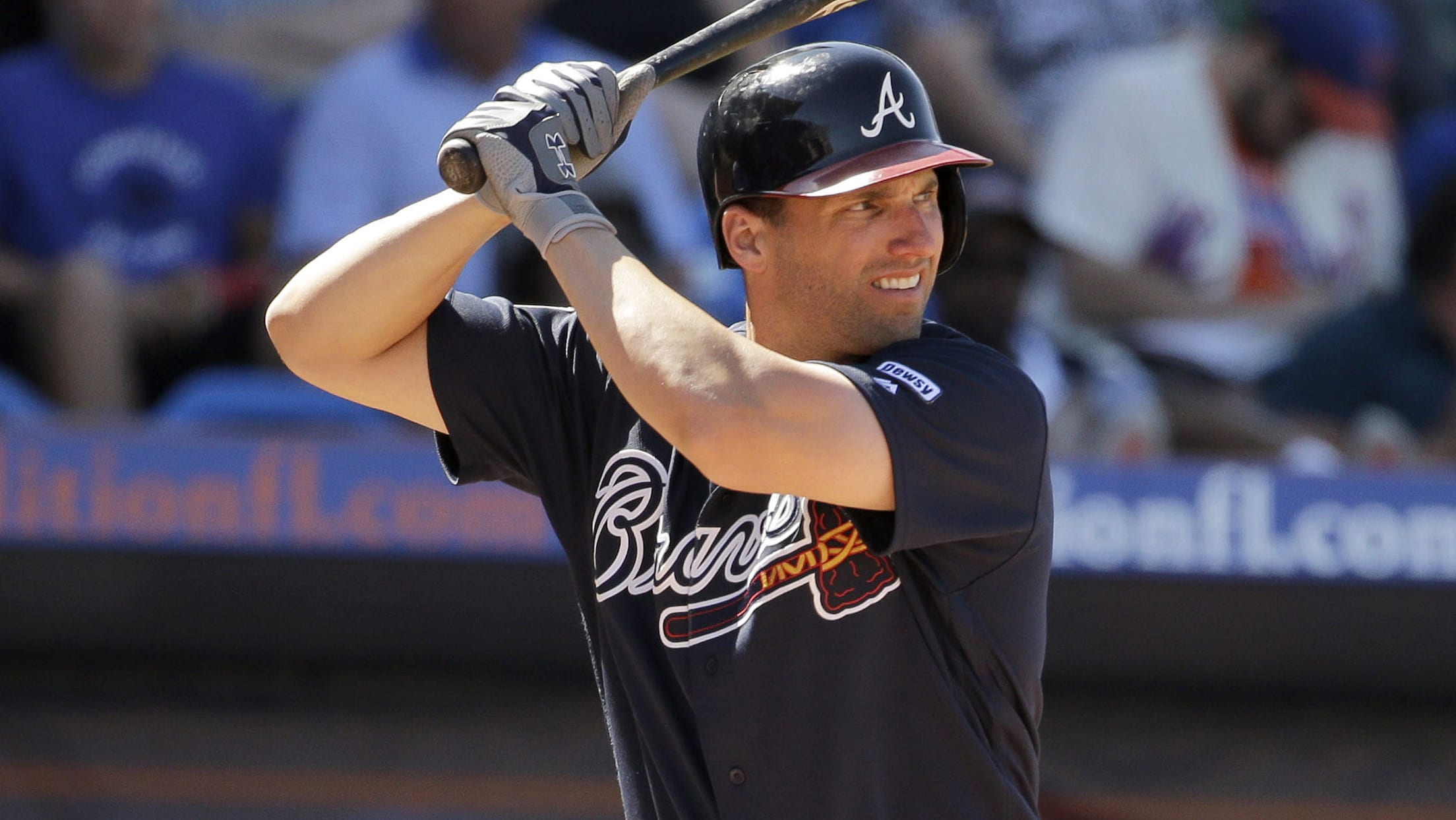 "I've got nothing but love for [the Phillies]," said Jeff Francoeur, who is in camp with the Braves this spring. (AP) (Jeff Roberson/AP)
LAKE BUENA VISTA, Fla. -- Jeff Francoeur made the rounds Wednesday afternoon at Champion Stadium.He started in left field with a lengthy conversation with Phillies first baseman Ryan Howard. He moved toward the visitors' dugout, where he stopped and chatted with Phillies manager Pete Mackanin, coaches Larry Bowa and Juan
LAKE BUENA VISTA, Fla. -- Jeff Francoeur made the rounds Wednesday afternoon at Champion Stadium.
He started in left field with a lengthy conversation with Phillies first baseman Ryan Howard. He moved toward the visitors' dugout, where he stopped and chatted with Phillies manager Pete Mackanin, coaches Larry Bowa and Juan Samuel, and catcher Cameron Rupp. He eventually made his way through the Phillies' pregame stretch, shaking hands or having a quick conversation with nearly every former teammate.
"They'll have a big fan in me, I promise you that," Francoeur said.
• Spring:Tickets | Schedule | More
Francoeur signed a Minor League contract with the Braves just before Spring Training last month. He had hoped to re-sign with the Phillies, with whom he resurrected his career last season, but they expressed no interest over the offseason. Essentially, the Phillies' front office felt Francoeur had no place once the club claimed Peter Bourjos off waivers and selected Rule 5 Draft pick Tyler Goeddel.
But the Phillies arguably could use a veteran outfielder like Francoeur right now. Aaron Altherr will not play until July, at the earliest, following left wrist surgery, and Cody Asche seems likely to open the season on the disabled list because of a strained right oblique. It leaves the Phillies' Opening Day outfield as Odubel Herrera, Bourjos and Goeddel, with Darnell Sweeney and non-roster invitees Cedric Hunter, David Lough and Emmanuel Burriss competing for bench jobs.
Herrera hasn't played since March 12 because of a bruised left middle finger. He had a chance to pinch-hit Wednesday.
"I was wearing Odubel out," Francoeur said, laughing. "Good Lord, your finger? Are you kidding me? He said April 1. I said, 'You've already turned into that guy after one season?' He took it good."
But even if the Phillies suddenly had interest in Francoeur, he might not be available. He has a good chance of making the Braves' Opening Day roster -- he has a March 28 out clause, so he should know soon -- not only because he has played well this spring, but because the Braves have loved what he brings to a clubhouse.
A few folks in the Phillies' clubhouse Wednesday said they miss Francoeur's presence and leadership. He had a knack for getting along with everybody, and his energy proved contagious, which he illustrated Wednesday.
"I've got no hard feelings," Francoeur said. "It's a new regime. They can do what they want. All those guys there, Pete, Larry, I loved them. They helped me out a lot last year. [Hitting coach Steve Henderson]. I've got nothing but love for those guys. … I definitely thought I would be coming back, but then, obviously, different stuff happened. But hopefully in the end it's all going to work out."
But Francoeur also wants to set the record straight about one thing: He does not owe Maikel Franco a new suit.
Francoeur last season told Franco he would buy him a suit if he hit 15 home runs. Franco fell one short because of an injury, but Franco said earlier this spring Frenchy still agreed to buy him one.
"I think things got a little miscommunicated," Francoeur said. "I think what I'm going to do instead of a suit -- because he didn't hit 15, you've got to get 15 -- I'm going to get him a couple nice dress shirts. That's what I'm going to do, all right? I'll get him taken care of. I see him calling me out with the suit, and I'm like, you didn't hit 15, bro. The last time I checked, a bet is a bet.
"I'll keep him happy. Especially with what he's doing this spring, I think he'll be able to afford his own suits anyway."