HOF debate: Case for Kent, Wagner, Andruw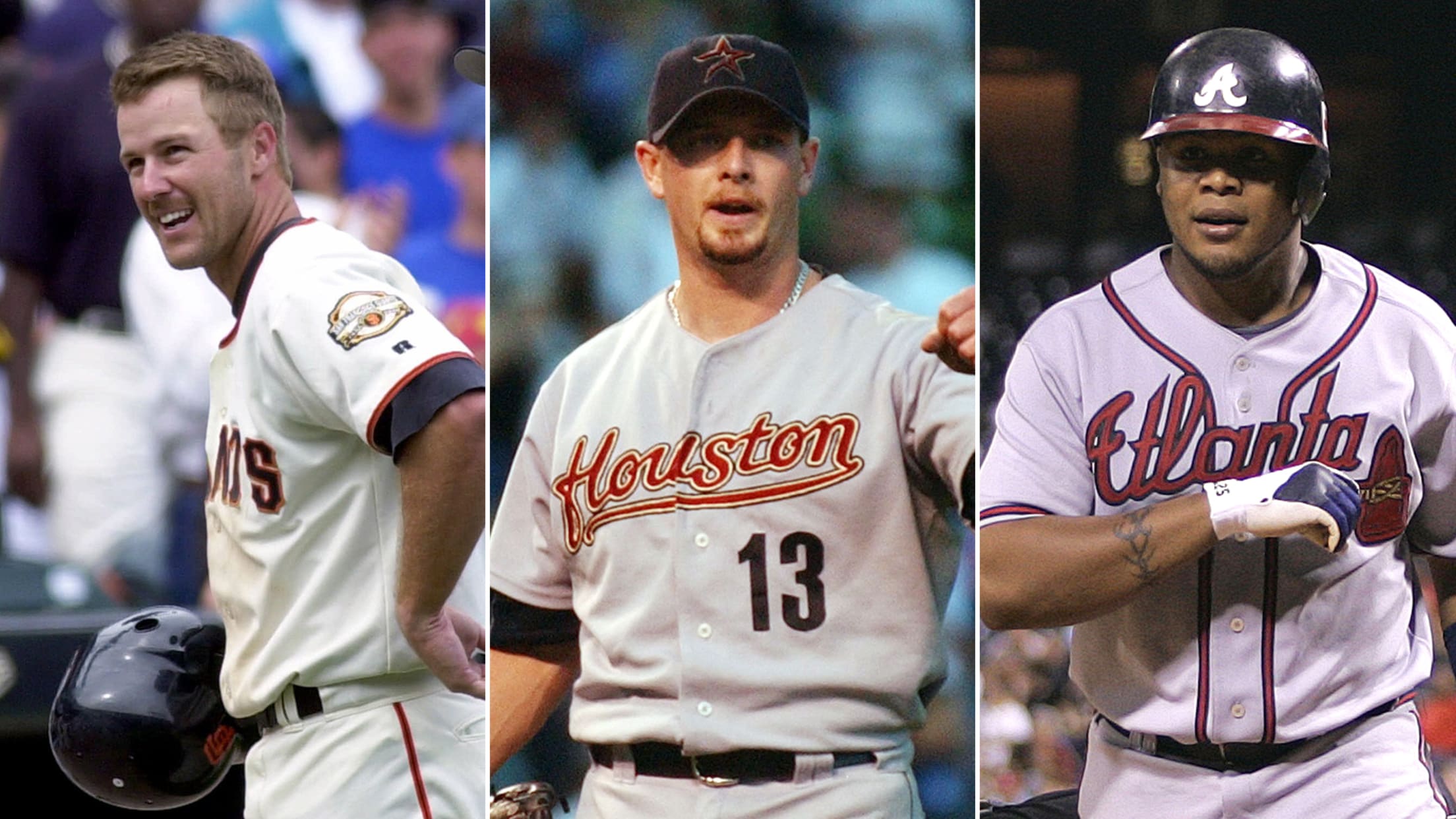 On Jan. 26, the Baseball Hall of Fame will announce which players, if any, were elected to the Hall of Fame Class of 2021. In this roundtable debate, MLB.com reporters gathered to discuss three players from the same era who are considered among the best at their positions. Billy Wagner
On Jan. 26, the Baseball Hall of Fame will announce which players, if any, were elected to the Hall of Fame Class of 2021. In this roundtable debate, MLB.com reporters gathered to discuss three players from the same era who are considered among the best at their positions. Billy Wagner is in his sixth year on the ballot, while Jeff Kent is in his eighth, and Andruw Jones is in his fourth.
• Hall of Fame releases 2021 ballot
Alyson Footer (@alysonfooter, moderator): Let's start with Kent, who has received paltry support among voters despite his numbers being essentially on par with several HOF second basemen. Some basics: 17 years, 377 homers, eight 100-RBI seasons, .290 career batting average. Why isn't he getting more support?
Chris Haft (@goodforball, reporter): It's absolutely stunning to me that Kent doesn't get more support. No, he wasn't warm and fuzzy with the media, but he wasn't unpleasant to the extent that it should suppress his vote totals this much.
Bill Ladson (@ladsonbill24, reporter): I think it's a joke that he's not in the Hall of Fame. After Joe Morgan, Kent is the best second baseman of all time. In my opinion, his frosty relationship with the media is the reason he is not in the Hall of Fame.
Footer: Interesting, Bill, I come at this from the opposite direction. I can't imagine that him being abrasive has much to do with vote support. He had his moments, but in my experience, it wasn't that over the top, to where reporters would hold that against him. I think his prickly exterior is a little overblown. (He also saved a lot of that bluster for the local radio/TV stations. He was pretty good to the beat reporters, in my experience.)
Haft: It's funny -- after Kent retired, I did a story on him (without quotes from Kent, ha-ha) in which I quoted J.T. Snow and Rich Aurilia, who surrounded Kent in the Giants' infield. Separately, they gave me the exact same quote: "At 7:15 p.m., he was the best teammate you could want." Translation: Maybe Kent was a little much to handle, but he sure could play.
Mark Bowman (@mlbbowman, Braves beat reporter): Frankly, before diving into Kent's numbers, I didn't necessarily think of him as a Hall of Famer. But I did realize that if I'm arguing that the first portion of Jones' career was enough to make him a Hall of Famer, then the second half of Kent's career should be considered in a similar manner. Kent didn't have an OPS+ above 111 until he was 30. But from 1998-2007, he had a 130 OPS+. That's a decade of impressive offensive output.
Haft: Glad to hear you say that, Mark. I mean, he remained a productive player after he left the Giants and the security blanket of batting ahead of or behind Barry Bonds.
Ladson: Not only was Kent great with the Giants, he was productive with the Astros, Dodgers and Mets. I think his reputation in New York really hurt him. People talk about how bad he was as a second baseman -- what games were they watching? There isn't a game where I said, "Kent blew the game because of his defense."
Haft: Some voters think he was a butcher at second base. I have nothing but anecdotal evidence to support what I'm about to say, but he was adequate defensively, certainly not a liability.
Bowman: I got the sense he made those around him better. You could see that with the success achieved with the Giants and then the Astros. He seemed to impact both lineups and clubhouses in a positive manner.
Footer: Bill has written extensively on Kent's candidacy and has pointed out that only Rogers Hornsby rivaled Kent's offensive production as a second baseman. He had "only" 2,461 hits -- I suppose not getting to the coveted 3,000 threshold hurts his case. Still, digging deeper into the numbers -- his 123 wRC+, for example, is better than Roberto Alomar, Lou Whitaker and Chase Utley (all 118). Ryne Sandberg is at 115.
Bowman: Yeah, the numbers show he should at least draw better consideration. You have to wonder if some of this has to do with the fact that he was overshadowed by Bonds in San Francisco and then by the Killer Bs in Houston. That said, he was the 2000 National League MVP Award winner and he has earned the right for voters to look at how much better he was than most other second baseman who have ever played the game.
Haft: I realize aesthetics don't count for much, but he also had one of the sweetest swings for a right-handed batter. (It seems like when you talk about nice-looking swings, the conversation's dominated mostly by lefties.)
Bowman: But, as Footer pointed out, the analytics show a wRC+ better than Whitaker, Sandberg, Utley and Alomar. When he becomes eligible, I'll be casting one for Utley, who earned the respect of teammates and opponents much like Kent did throughout his career.
Haft: The simple fact that he was a middle infielder earns him premium points, so to speak. And you're right about Utley, Mark. I'll vote for him in a heartbeat.
Footer: Let's talk about Wagner. The main knock on him is that he didn't log enough innings to be considered HOF worthy. He fell short of 1,000 innings, which some voters weigh heavily. But Wagner was as dominant as any HOF closer, and you could argue he was scarier than Trevor Hoffman, just with fewer saves.
As Jay Jaffe pointed out in analysis for FanGraphs, among pitchers with at least 800 innings, Wagner's strikeout rate -- 11.9 per nine innings, or 33.2% of all batters he faced -- is the best in history by a lot.
His .998 WHIP is lower, by a hair, than Mariano Rivera (1.000) for second all-time. Rivera is the only pitcher since 1920 with a lower ERA (2.21) or higher ERA+ (205) than Wagner's 2.31 and 187. What do we make of this?
Haft: What I make of this is, if you saw the guy pitch and you didn't think he's a Hall of Famer, there's something wrong with your perceptions.
Footer: I agree!
Ladson: I see Wagner the same way I look at Lee Smith. He was awesome during the regular season, but he struggled mightily during the postseason, with a 10.03 ERA.
Bowman: The comps for Wagner are Rivera and Hoffman. Two of them were first-ballot selections and Wagner is still waiting. I just don't get it. From 1995 (rookie seasons for Wagner and Rivera) through 2010 (Wagner's final season), Rivera led all relievers with 34.8 wins above replacement, per FanGraphs. Wagner ranked second with 24 and Hoffman ranked third with 23.9.
Haft: Some of Wagner's year-by-year WHIP and K-per-9 totals make your eyeballs bleed.
Bowman: The baseball world has wisely minimized the significance of pitching wins. Maintaining this same line of reasoning in relation to Wagner, who had 424 career saves, as opposed to 624 for Rivera and 601 for Hoffman, would seemingly further strengthen what is an already strong résumé. While Hoffman totaled 177 more saves, Wagner had a better ERA (2.31 vs. 2.87), higher strikeout rate (33.2% vs. 25.8% ) and lower OPS against (.558 vs. .609).
Ladson: Wagner isn't Rivera or Hoffman. He wasn't on enough winning teams for me to call him a Hall of Famer. I looked at Wagner as a guy who choked when it really mattered.
Haft: Mark mentioned Hoffman. I covered a game in which the Giants somehow rallied in the ninth inning to beat him, and manager Felipe Alou's opening remark was, "Well, we beat God tonight." I felt the same way about Wagner on the one or two occasions I saw him falter.
Bowman: Once again, we have moved past the point where too much stock should be placed in save totals. Still, Wagner has the sixth-most saves and the third-best save percentage, at 85.9%, behind Rivera (89.1) and Hoffman (88.8). Wagner blew 69 save opportunities and Hoffman was unsuccessful with 76 over a slightly longer career. Really, all this tells us is they both blew about four to five save opportunities per season when being used as a full-time closer.
Ladson: The WHIP and strikeouts are awesome, but show me when he won a big game for the Astros, Phillies and Mets? I can't think of one.
Bowman: It also reminds us that it is ridiculous that Hoffman was a first-ballot Hall of Famer.
Haft: I think Bill's point is valid. I just think that Wagner's positives obscure the negatives.
Footer: Wagner didn't pitch well in the postseason, but to be fair, the Astros' bats were mostly absent and responsible for the quick exits from the postseason in 1997, '98, '99 and 2001. I don't think you can pin that on Wagner.
Ladson: But a 10.03 ERA in the postseason isn't great, either. Rivera and Goose Gossage are the standards for me, and Wagner is a buck short because he didn't win in the postseason.
Bowman: There is no doubt that Wagner experienced some trouble in the playoffs. But he made 14 postseason appearances during a career that included 900-plus appearances. If we are going to penalize him that significantly for that small of a sample size, then we probably should just put Andy Pettitte in the Hall of Fame immediately.
Haft: If I recall correctly, Wagner was injured while he was with the Braves during the 2010 NL Division Series against the Giants, right? I'll tell you what: If he had been healthy, and Atlanta could've used Craig Kimbrel to set up Wagner, San Francisco might not have won any of those three World Series trophies. Definitely not the first one in '10.
Footer: Alrighty, last one on the list: Jones. I found this interesting: From 1998-2006, he hit a combined .270/.347/.513 for a 118 OPS+ while averaging 35 homers, 21 fielding runs, and 6.1 WAR, trailing only Alex Rodriguez (7.8 WAR per season) and Bonds (7.5 WAR) in that span. That doesn't automatically make him a Hall of Famer, of course, but man. That's impressive.
Haft: Every year I make a decision, sometimes two, that I'm not 100% proud of on my Hall of Fame ballot. I'll readily admit that. Not voting for Jones might have been my token lousy decision for 2020-21. But his offensive dropoff was too much for me to ignore.
Bowman: The fact that he ranked third in WAR behind only A-Rod and Bonds over that nine-season stretch is one of the stronger arguments you'll find for Andruw. But the basis of the argument for him to get in is rooted in the fact he did hit 434 home runs and won 10 consecutive Gold Glove Awards before he experienced a sharp decline, with a 95 OPS+ over his final five seasons.
Ladson: I know Tom Glavine, John Smoltz and Greg Maddux want Jones in the Hall of Fame. I look at Jones the same way I look at Dale Murphy. The final six years of his career, he forgot how to hit. Yes, he has more than 400 home runs and 1,000 RBIs, but his batting average is frightening to look at.
Footer: Batting average has also been lessened in terms of importance over time, much like pitcher wins and saves, but it's notable that Jones' career .254 average is not great.
Bowman: Say what you want about defensive metrics, but we can't completely overlook the fact Jones ranks first among all outfielders with 24.4 defensive WAR. Was he better than Willie Mays? It would have been nice to have the Statcast metrics around to get a better feel for exactly how much ground each of these great players covered. Jones led all Major Leaguers with 26.7 defensive bWAR during his 11 full seasons (1997-2007) with the Braves.
Ladson: I think defense plays a huge role as to why people want Jones in the Hall of Fame. That guy was awesome. In fact, Pat Corrales, who I covered for several years in Washington, told me that Jones was in the same class as Mays as far as defense is concerned.
Congratulations Andruw Jones, the newest member of the #BravesHoF! pic.twitter.com/N6iGaqj3Cx

— Atlanta Braves (@Braves) August 19, 2016
Footer: For those of you who followed Jones' career closely year to year -- through 2006, did you feel that he was on a solid HOF trajectory?
Bowman: Yes. At that point, he produced 58.0 WAR and Chipper Jones was worth 60.4 WAR. Their résumés were similar at that point. But Chipper thrived in his 30s and Andruw experienced a late-career decline similar to the one that has kept Dale Murphy out of the Hall.
Haft: Yes. I would have liked to see a higher batting average from Jones. But if I can give Omar Vizquel (.272 BA, 82 OPS+) a HOF vote, I certainly should give one to Jones -- which I will do in the future.
Ladson: Jones got off to that great start as a hitter. I remember he used to kill the Nationals and Expos at the plate. But something went wrong after 2006.
Haft: You're right, Bill. At the start of his career, he was a legitimate offensive force.
This day in history: 19-year-old rookie Andruw Jones hits 2 home runs in Game 1 of the 1996 World Series. #ChopOn pic.twitter.com/jblcIFJfNl

— Atlanta Braves (@Braves) October 20, 2016
Bowman: We put Ozzie Smith in the Hall and in the past, Vizquel has drawn much greater support than Jones. I just don't see why we don't place as much value on being defensively great as a center fielder.
Ladson: So, I guess I'm saying Jones is not a Hall of Famer. I see and Murphy as the same player.
Haft: I don't think I've seen a center fielder who's better between the edge of the warning track and the wall. Know what I mean?
Bowman: Smith deserves to be in the Hall of Fame. And if those who watched Bill Mazeroski play believe his defense was enough to warrant entrance, then I have no problem with it. Some of the support Ivan Rodriguez recently received came from being one of the best defensive catchers the game has ever seen. So, it's now time to give similar respect to Jones' defense.
Footer: OK, time to wrap this up. We have one HOF voter on the panel and I'll start my survey with him. Chris, on your ballot this year, of the three, who gets a yes vote?
Haft: Kent and Wagner.
Footer: Bill and Mark, what say you?
Ladson: Kent.
Bowman: Wagner and Jones.
Alyson Footer is a national correspondent for MLB.com. Follow her on Twitter @alysonfooter.
Mark Bowman has covered the Braves for MLB.com since 2001.
Bill Ladson has been a reporter for MLB.com since 2002. He covered the Nationals/Expos from 2002-2016. Follow him on Twitter and Facebook.
Chris Haft has covered the Major Leagues since 1991 and has worked for MLB.com since 2007. Follow him on Twitter at @goodforball.