Another slow start by Shark stings Giants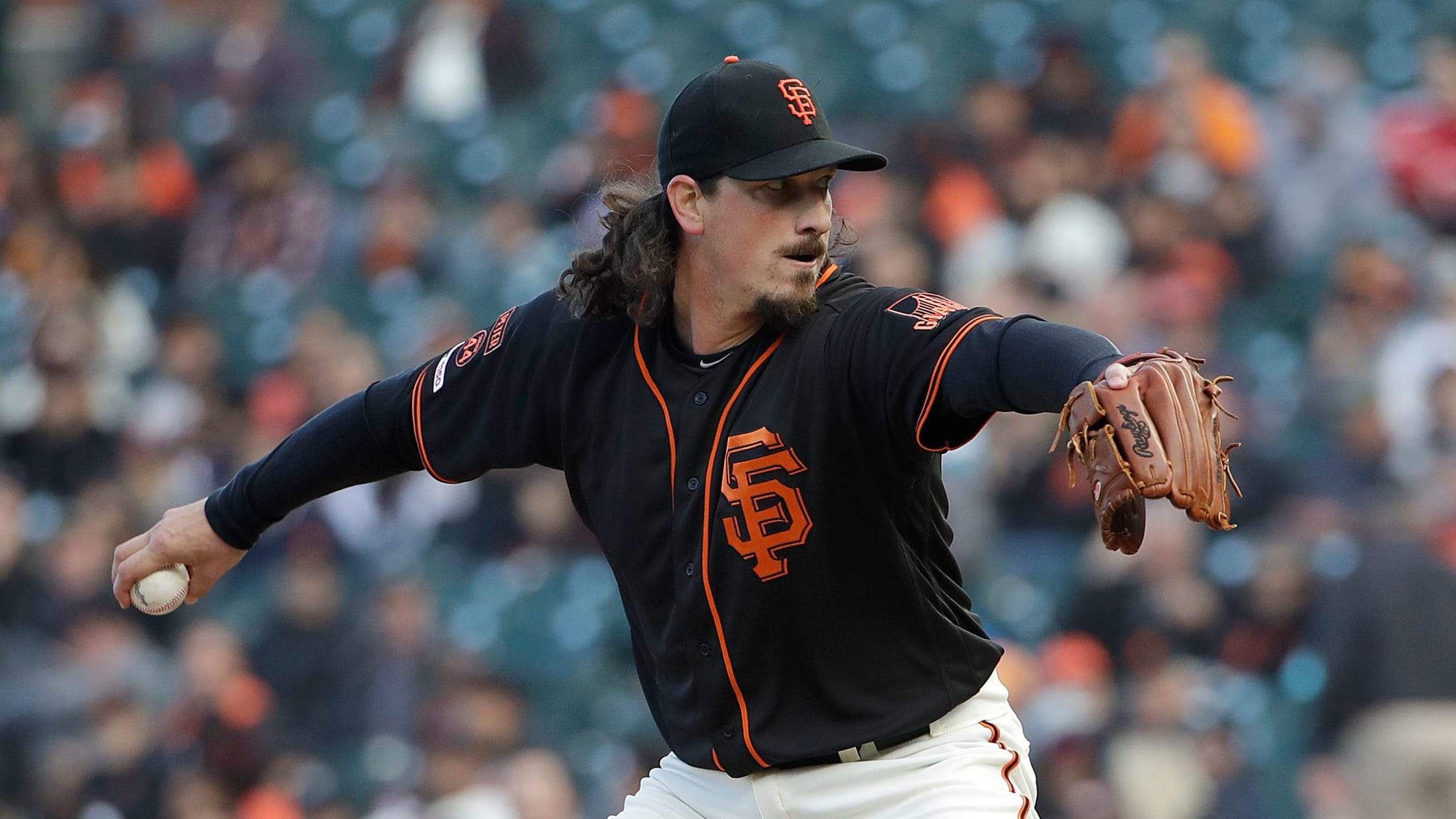 SAN FRANCISCO -- The first inning has proved to be rather treacherous for Giants right-hander Jeff Samardzija this season, and he struggled to get over that early hump yet again in a 5-4 loss to the Reds on Saturday night at Oracle Park. After issuing a leadoff walk to Nick
SAN FRANCISCO -- The first inning has proved to be rather treacherous for Giants right-hander Jeff Samardzija this season, and he struggled to get over that early hump yet again in a 5-4 loss to the Reds on Saturday night at Oracle Park.
After issuing a leadoff walk to Nick Senzel, Samardzija surrendered an RBI triple to Joey Votto and a two-out, two-run home run to Yasiel Puig, allowing the Reds to jump out to a 3-0 lead. Samardzija didn't allow any further damage over the next three innings and was lifted for a pinch-hitter as part of a three-run fourth that put the Giants ahead, 4-3, but the Reds came back to tie the game on Eugenio Suarez's leadoff home run in the fifth.
Derek Dietrich later drove in the go-ahead run with a bloop single off Reyes Moronta in the seventh, clinching a series win for the Reds and dropping the Giants to 16-23 on the season.
Samardzija has now allowed 11 earned runs over eight first innings (12.38 ERA) this season, compared to five runs over 33 innings (1.36 ERA) over the rest of his outings. The slow starts aren't limited to the 34-year-old veteran, as the Giants have been outscored by a 40-3 margin in the first inning this season. Evan Longoria's solo shot off Anthony DeSclafani on Saturday marked the club's first home run in the first inning this season.
"Some things are hard to explain," manager Bruce Bochy said. "As a staff, we've had a tough time in the first inning. It's hard to believe how many runs we've given up early in the game. We've got to fix it. After that, [Samardzija] does settle down and he throws the ball very well."
Samardzija's performance followed a similar trajectory to his last start, in Cincinnati on Sunday. Samardzija yielded three consecutive home runs to allow the Reds to build a four-run lead in the opening frame, though he settled in after that and retired 15 of the final 16 batters he faced. The Giants went on to erase the deficit and secure a 6-5 win.
In an attempt to solve his first-inning woes, Samardzija altered his pregame routine on Saturday and threw more warmup pitches to make sure his arm was ready come first pitch, though he still couldn't keep the Reds off the board.
"You kind of adjust your routine," Samardzija said. "I'm a pretty routine-based guy, so I just got out there a little earlier and got some extra pitches on the mound. Obviously, the last two times out against these guys hasn't gone great in the first inning, but other than that, I wouldn't look too far into it. We're going to work past it and just come with some adjustments, maybe with what we're throwing there in the first. Maybe throw something with a little more movement."
The Giants starters' struggles to navigate the first inning have reopened discussions about using openers to try to maximize the effectiveness of the club's pitching staff. Bochy acknowledged Friday that the concept has come up recently, though he remained noncommittal about whether the team would experiment with the unconventional strategy.
It seems unlikely that the Giants would use openers with Samardzija, who came out against the concept over the offseason, but they could be motivated to try something new during their two-game series against the Blue Jays next week. Tyler Beede is slated to pitch Tuesday's opener, but the Giants have not yet named a starter for Wednesday.
"I can't tell you if or when we'll do it, but it's still something that has come up," Bochy said.
Maria Guardado covers the Giants for MLB.com. She previously covered the Angels from 2017-18. Follow her on Twitter.