Rodriguez eager to prove himself to new team
Indians right-hander to face Royals in first start of '19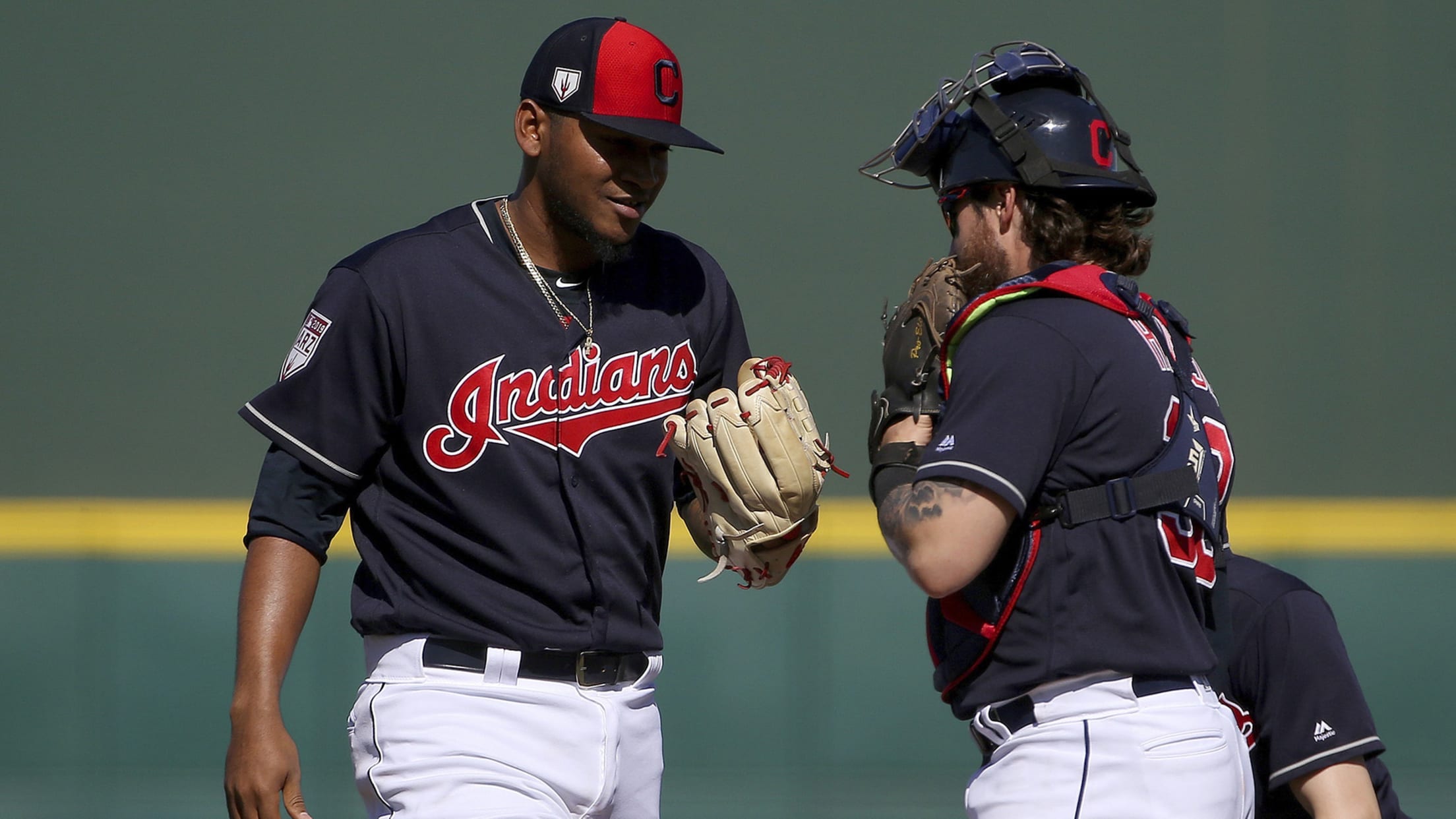 KANSAS CITY -- With a starting rotation as strong as Cleveland's, it's hard for a young pitcher to imagine squeaking his way in to make a big league start with the Tribe. But now that Mike Clevinger is out with an upper back strain for at least six weeks, the
KANSAS CITY -- With a starting rotation as strong as Cleveland's, it's hard for a young pitcher to imagine squeaking his way in to make a big league start with the Tribe. But now that Mike Clevinger is out with an upper back strain for at least six weeks, the Indians turn to one of their younger arms to make a spot start on Saturday against the Royals.
Jefry Rodriguez, 25, made just one start for Triple-A Columbus before getting the callup to the big leagues. He allowed three runs on seven hits, including a homer, and struck out four batters in 5 2/3 innings. Although it's very early in the season, Rodriguez said he wasn't surprised that he got the call.
"In a way, I was expecting it, because I've been putting in the work," Rodriguez said through an interpreter. "At the same time, I know the team has been really following my work and I'm just ready to help in any way I can."
Rodriguez has Major League experience under his belt. Last season, the Dominican Republic native appeared in 14 games with the Nationals that included eight starts. He had a 5.71 ERA through 52 innings and struck out 39 batters, but walked 37. He was traded to the Indians, along with prospect Daniel Johnson, in exchange for catcher Yan Gomes. Although this isn't his first time in the Majors, his debut with his new organization has him feeling those same kinds of first-time nerves.
"I mean, without a doubt, there's always a little anxiety to play for a new team," Rodriguez said. "Yeah, it's always there, even in the Minor Leagues and Spring Training. That anxiety, the desire to pitch is always there."
Rodriguez made four appearances for the Tribe at big league Spring Training camp and allowed five runs on two hits through 6 1/3 frames. The 6-foot-6-inch right-hander describes himself as an aggressive pitcher who attacks hitters. After taking the tips his coaching staff gave him before he was sent down to the Minors during Spring Training, Rodriguez is ready to show the Indians what he's capable of.
"A big arm," Indians manager Terry Francona said, when asked what he saw from Rodriguez this spring. "Still developing, we know that. As he refines his stuff, you know strike-throwing ability, he's got a chance to be a pretty good pitcher. Whether it's a starter or out of the bullpen, he could be either."
Kipnis likely to rejoin Tribe on road trip
After straining his right calf in a spring game on March 20, Jason Kipnis is close to making his 2019 debut. Entering Friday, the second baseman had played in five rehab games at Triple-A Columbus and hit .176/.263/.294 with two doubles, two RBIs, two walks and four strikeouts in 17 at-bats. The Indians are in Kansas City and will head to Seattle on Monday for a three-game series. Kipnis could be with the team before the end of the nine-game road trip.
"[The Clippers have] rain issues tonight," Francona said. "I don't know if they're going to play or not. The weather looks like it's getting better tomorrow. But you'll probably see [Kipnis] on this trip."
CarGo not far behind
Through his first six games with Triple-A Columbus, Carlos Gonzalez hit .348 with a 1.004 OPS. He hit one homer, one double and knocked in three runs. The Indians will bring him up before his opt-out date on April 20, but Francona is not ready to say when Gonzalez will get the call.
"I don't want to make our moves out ahead of time," Francona said. "But I think he's getting pretty close."
Lindor inching closer to rehab assignment
Francona said the plan is to have Francisco Lindor run the bases at Kauffman Stadium on Saturday and then reach out to Dr. Robert Anderson to determine what the next step should be.
"Frankie's kind of chomping at the bit," Francona said. "But we need to connect with the doctor to make sure he signs off on Frankie being ready to go play."
This date in Indians history
1992: Kenny Lofton stole four bases in a 2-1 victory against Boston. They were the first four steals of his career. The six-time All-Star finished his rookie season with 66 steals.