Finch enjoys time as 1st female baseball manager
Softball legend was skipper of Atlantic League's Bridgeport Bluefish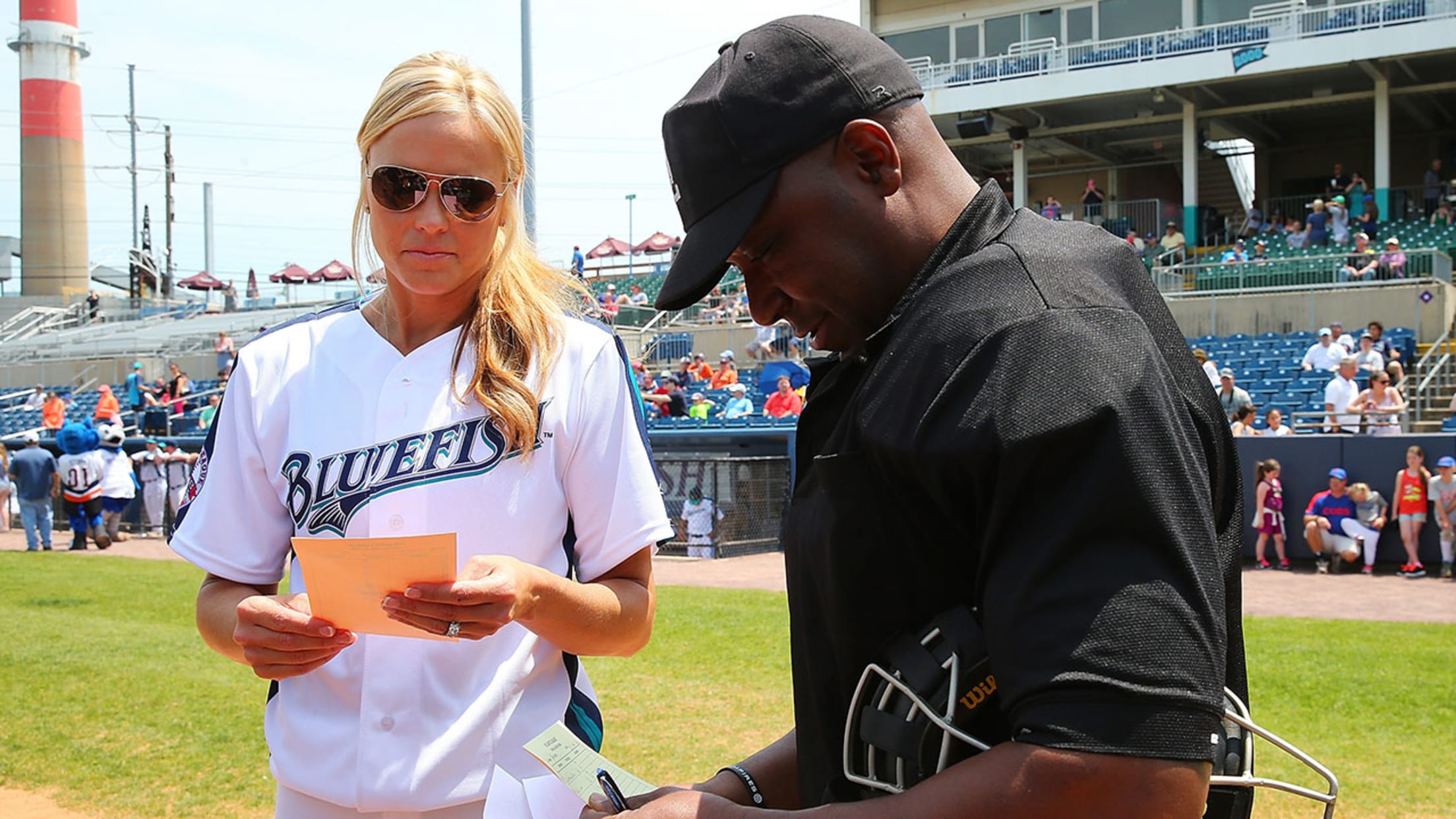 Jennie Finch managed the Bridgeport Bluefish of the independent Atlantic League to a win vs. the Southern Maryland Blue Crabs. (Getty)
BRIDGEPORT, Conn. -- In Southern California, thousands of youngsters dream of growing up to play for the Dodgers.Jennie Finch was no different. Except for the part about being a girl.Baseball remained a passion, though. She went on to become a softball All-American at the University of Arizona, an Olympic gold
BRIDGEPORT, Conn. -- In Southern California, thousands of youngsters dream of growing up to play for the Dodgers.
Jennie Finch was no different. Except for the part about being a girl.
Baseball remained a passion, though. She went on to become a softball All-American at the University of Arizona, an Olympic gold medal winner and a professional for the Chicago Bandits of the National Pro Fastpitch League.
And on a gorgeous Sunday afternoon at The Ballpark at Harbor Yard, she broke another barrier, becoming the first woman to manage a men's professional team, the Bridgeport Bluefish of the independent Atlantic League in their game against the Southern Maryland Blue Crabs.
She hopes this is just the beginning, too. She noted before the Bluefish snapped a four-game losing streak with a 3-1 win that Melissa Mayeux is making her mark in the Major League Baseball development camps, that Sarah Hudek is pitching for the men's team at Bossier Parish (Louisiana) Community College and that Justine Siegal was hired as an Instructional League coach by the Athletics. "I love it. I think it's time," she said.
"We're ready for it. It's exciting to see the women that are involved in baseball now from the front office down to the field. It's just a matter of time and I look forward to the day it officially happens. It's going to be an exciting ride to see how far we can take this thing and what the future holds."
Jessica Mendoza, another former softball standout, is now a regular color commentator on ESPN's Sunday Night Baseball. Also, the Buffalo Bills have hired the NFL's first full-time female assistant (Kathryn Smith) and the NBA has two women who are assistant coaches, Becky Hammon (Spurs) and Nancy Lieberman (Kings).
Finch was a "guest manager" for Luis Rodriguez on Sunday. She wrote out the lineup card and presented it to the umpires before the game. She spent much of the game standing on the top step of the dugout, consulting with Rodriguez on strategy. She coached third base for the first two innings, which is where Minor League managers are normally stationed. In that role she flashed signs to runner Welington Dotel after he singled in the first.
The biggest differences between softball and baseball, she said, is that the field dimensions and the number of relievers available in the bullpen are both larger. This was an "exciting opportunity" she told the crowd before the game.

As it turned out, there were no mid-inning pitching changes for the Bluefish. No reason to argue with the umpires. "It was great," she said, recapping the action. "These guys competed. The pitching staff kept us in the game. It was great to get the [win]."
She enjoyed getting the inside scoop from the manager and pitching coach Bill Blitz, knowing what relievers would be used nd the informal exchanges with the players. "The whole environment, it was just great to be around," Finch said.
The Atlantic League gives some players an opportunity to showcase themselves for affiliated teams and also a stage for ex-big leaguers to try to make it back. One of the latter is Bluefish outfielder Endy Chavez, who is in his 19th professional season. Having a woman manager was no problem, Chavez said.
"It's a pleasure to have her be our skipper and hopefully she'll make the right decisions. We need a win. We need to stay positive and play hard. So I think with her help and motivation we can do it," Chavez said before the game. "This is fun and I'm going to enjoy it."
For her part, Finch saw the symbolism of making history in the Atlantic League. "These guys have big dreams. This is a place for them to maybe get back in it, find a spot, pursue those dreams. That's what my motto has been all along. Dream and believe. They're not giving up and I love that story," Finch said.
She never played for the Dodgers. But she did, as a This Week In Baseball co-host, get to pitch to Paul LoDuca at Dodger Stadium while Tommy Lasorda and Vin Scully watched.
"It's just been an absolute thrill," she said. "This sport has provided me such an incredible opportunity. I'm so thankful for that. I look forward to the day when a woman officially gets a coaching job, a managing job in Major League Baseball. I go around telling young girls, 'Have a dream. Believe in yourself. Go for it. You don't know where they're going to take you.' It's an exciting time for women in sports all across the board.
"I was thinking over the last couple days about all the publicity this has gotten, I just kind of sat back and looked at my 3-year-old daughter and it almost brought tears to my eyes. I thought, 'How amazing is this? My 3-year-old daughter is growing up in a world where she can do anything.'"
Who knows? Maybe even play for the Dodgers.
Paul Hagen is a reporter for MLB.com.