Hahn hoping to improve in crucial final tuneup
Righty's last exhibition start could have big impact on his Opening Day roster chances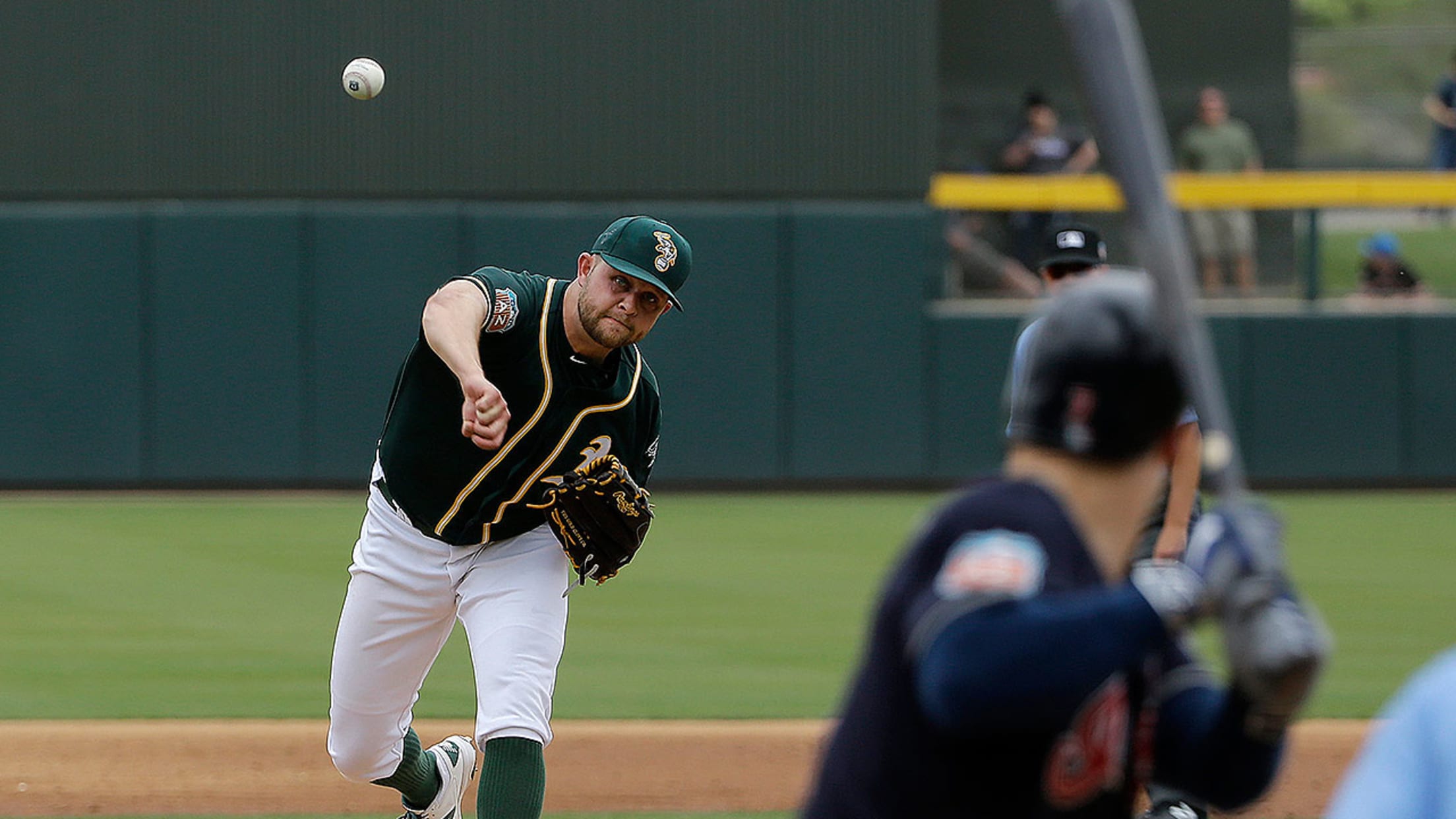 Jesse Hahn allowed six runs on 10 hits in 4 2/3 innings vs. the Indians on Monday. (AP)
MESA, Ariz. -- A's right-hander Jesse Hahn is suddenly staring down a start that could make or break his Opening Day roster chances.Hahn was roughed up again in Monday's 6-4 loss to the Indians, bringing his spring ERA to 11.15, and a repeat performance in his final exhibition start Saturday
MESA, Ariz. -- A's right-hander Jesse Hahn is suddenly staring down a start that could make or break his Opening Day roster chances.
Hahn was roughed up again in Monday's 6-4 loss to the Indians, bringing his spring ERA to 11.15, and a repeat performance in his final exhibition start Saturday against the Giants could convince the club to begin the regular season without him, making room for Felix Doubront instead.
"Where we are right now, everybody knows that we're looking for results, and to this point for him, I know he's probably disappointed at the results he's getting," A's manager Bob Melvin said.
Those results are less than ideal: Hahn yielded six runs and 10 hits in 4 2/3 innings against the Indians on Monday, five days after he surrendered seven runs and eight hits in 1 2/3 innings in a matchup with the Mariners.
Hahn is "absolutely" aware of the sense of urgency surrounding his next outing, saying, "I have to prove that I can get guys out."
"I don't want to carry these outings into the season, so this next start for me, it's a priority to have a good one and come out of the gates and attack hitters like I'm used to doing," he said.
Too often Monday, Hahn's pitches were up in the zone, and Cleveland pounced on them. He's yet to throw a consistently effective sinker, and "whether the conditions here have something to do with it, I don't know," Melvin said, "but we're not used to seeing him pitch at the belt."
"It was better today," Hahn said of his sinker. "It had good action, but it's still not where it needs to be. Whether it's the climate out here or a feel pitch for me, I need to figure out. I'm just getting hit right now.
"Sometimes last year, I could get away with that sinker down in the middle and they would just pound it into the ground, so I want to get back to that."
There is one positive to Hahn's mostly discouraging spring. He's healthy after missing the second half of 2015 with a right forearm strain.
"I'd rather be making pitching adjustments than working on being healthy," he said.
But he needs more than health Saturday to keep hold of a rotation spot.
"I know I'm a better pitcher than what I'm showing right now," Hahn said, "and I gotta figure a way to get some batters out."
Chapman to join A's for Bay Bridge series
The A's will return to Oakland on Wednesday with a packed charter.
Melvin announced Monday that each of the remaining players in camp, minus an injured Sean Manaea, will be brought along when the club heads home in preparation for this weekend's Bay Bridge series against the Giants.
That group of 36 players includes third-base prospect Matt Chapman, who has wowed coaches and teammates with his impressive play on both sides of the ball this spring.
The 22-year-old Chapman, ranked by MLBPipeline.com as the club's No. 6 prospect, has yet to play above the Double-A level, and he was expected to be among the early rounds of cuts this spring with several of the organization's other young prospects, but he kept earning at-bats.
By the end of Monday, he had totaled 34 of them, compiling four home runs and nine RBIs in that span with a .235 average. Chapman has also routinely turned highlight-reel plays.
"I didn't know what to think coming into camp," Melvin said. "You looked at his numbers, the amount of his at-bats and the homers, you knew that the power was there. I just wasn't aware of how good an athlete he was."
Manaea (groin) threw a bullpen session on Monday with no issues, so he's expected to resume pitching in a Minor League game on Thursday, Melvin said.
Worth noting
Melvin offered high praise for outfielder Jake Smolinski, who was optioned to Triple-A Nashville after Sunday's game.
"I think he has the potential to be an everyday player in the big leagues, and I told him that," Melvin said. "We're just a little full right now. But if you're a hitting instructor and you're teaching a swing, it's about as simple as you get. He's got power. He's a good athlete. He can play both corners in the outfield. It's just all about him finding that confidence every day and getting through the tough times mentally, because he can have some ups and downs.
"One of these days he's going to figure it out, and I think he's going to be an everyday player."