Tuesday's top prospect performers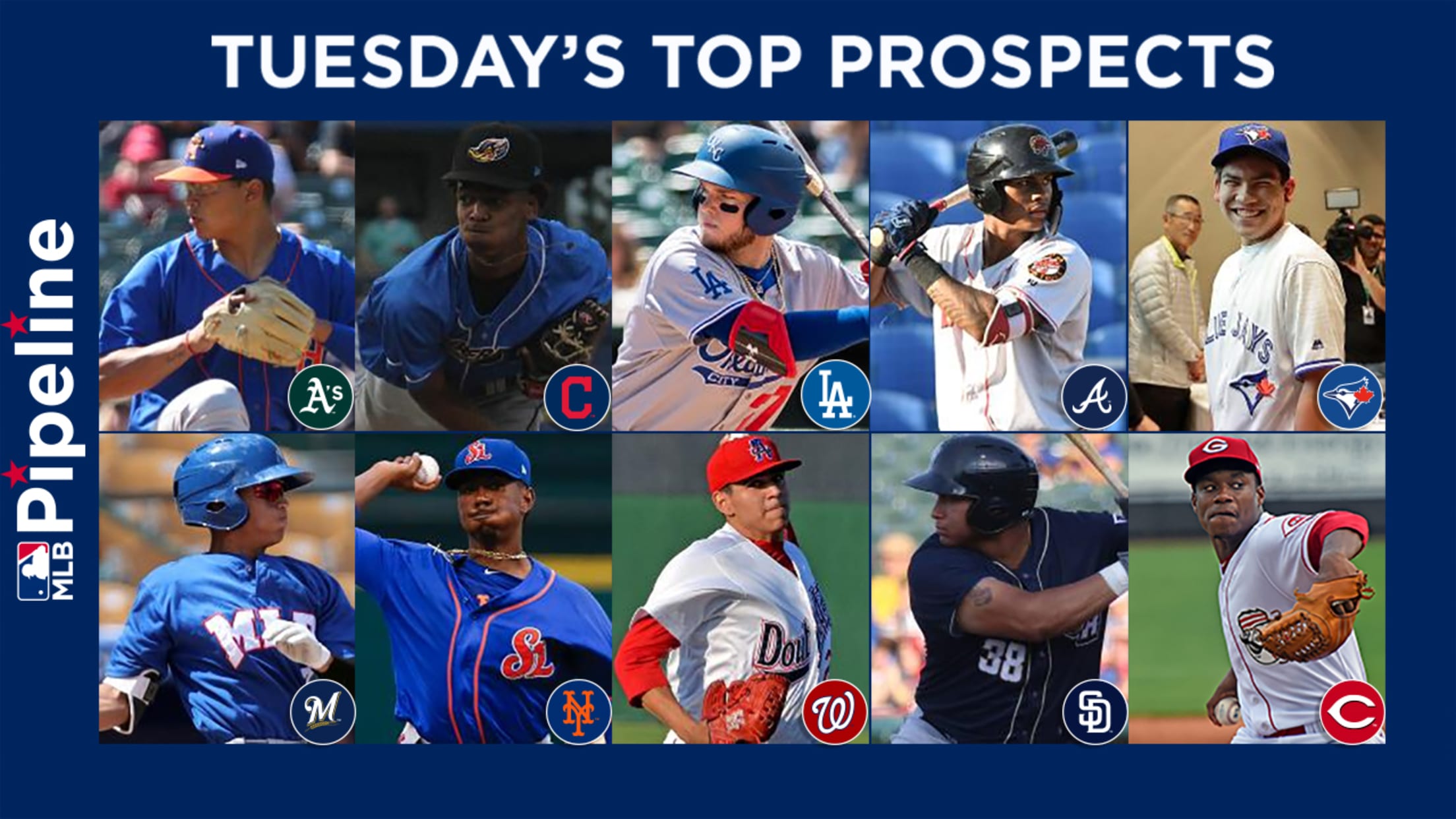 Here's MLB Pipeline's roundup of the top prospect performances in the Minor Leagues on Tuesday.:: Complete prospect coverage ::Many pitching prospects have improved their stocks so far this season, but perhaps none quite as much as 20-year-old Jesus Luzardo.The A's No. 1 prospect (No. 20 overall) posted his third straight
Here's MLB Pipeline's roundup of the top prospect performances in the Minor Leagues on Tuesday.
:: Complete prospect coverage ::
Many pitching prospects have improved their stocks so far this season, but perhaps none quite as much as 20-year-old Jesus Luzardo.
The A's No. 1 prospect (No. 20 overall) posted his third straight scoreless start on Tuesday, tossing five innings of one-hit ball in Double-A Midland's 9-3 win over Springfield. He struck out four and retired the final 11 batters, ultimately facing one over the minimum in the outing.
Luzardo's scoreless streak sits at 15 1/3 innings after Tuesday's performance, and he's now logged four consecutive starts without permitting an earned run. Even more impressive is that the precocious left-hander has given up just one earned run in his last five turns. He owns a 0.36 ERA in that span, with 26 strikeouts and three walks in 25 innings.
Promoted to Midland on April 24, Luzardo has registered a 2.81 ERA in 12 starts en route to All-Star honors in the Texas League. He's totaled 64 strikeouts and 14 walks in 57 2/3 innings for the RockHounds, all while limiting hitters to a .215 average and four home runs.
For the season, Luzardo is 7-4 with a 2.49 ERA, 0.98 WHIP and 89-to-19 strikeout-to-walk ratio over 72 1/3 innings (15 starts) between Class A Advanced Stockton and the RockHounds.
MILB Video - Title: Luzardo's fourth strikeout - Url: http://www.milb.com/r/video?content_id=2229348483
The rest of the best performances from top prospects Tuesday
• No. 21 overall prospect Triston McKenzie (Indians' No. 2) returned to form in earnest as he carried a no-hit bid into the seventh inning in best start of the year for Double-A Akron. He ultimately allowed just one hit -- a leadoff triple in the seventh inning -- over 6 1/3 scoreless frames, issuing one walk and striking out four, while throwing 59 of his 91 pitches for strikes and facing two above the minimum. Right forearm tightness postponed McKenzie's season (and Double-A) debut until June 7, but the 20-year-old right-hander has quickly made up for the lost time by posting a 3.34 ERA and 0.93 WHIP over his first five starts.
MILB Video - Title: McKenzie finishes with a strikeout - Url: http://www.milb.com/r/video?content_id=2228736583
• No. 27 overall prospect Alex Verdugo (Dodgers' No. 1) collected multiple hits for a third time in four games and finished a triple short of the cycle in Triple-A Oklahoma City's 4-0 win over New Orleans. The 22-year-old outfielder was perfect at the plate in the victory, going 3-for-3 with a homer, double and two RBIs while also reaching once via a walk. He's hitting .346/.391/.516 for the season, with seven homers, 16 doubles and 32 RBIs.
MILB Video - Title: Verdugo goes yard - Url: http://www.milb.com/r/video?content_id=2229024983
• No. 99 overall prospect Cristian Pache (Braves' No. 8) hit a leadoff homer in the third four-hit game of his career, backing another strong pitching performance from Joey Wentz (No. 9) as Class A Advanced Florida defeated Jupiter, 6-1. Pache fell a triple short of the cycle from the leadoff spot, finishing 4-for-5 with two RBIs, two runs scored and a stolen base to go along with his sixth homer and 16th double. In 73 games this season, the 19-year-old center fielder is hitting .279/.301/.422 with 26 extra-base hits.
Wentz, meanwhile, set a season high with seven strikeouts over 5 2/3 innings in his third straight scoreless start. The 20-year-old left-hander yielded three hits, walked one and threw 56 of his 82 pitches for strikes. He sports a 0.50 ERA across his last four starts and a 2.51 ERA in 11 turns this season.
• Blue Jays No. 7 prospect Eric Pardinho picked up his first professional win behind a dominant performance for Rookie-level Bluefield. Making just the third start of his career, Pardinho -- a 17-year-old right-hander whom Toronto signed out of Brazil last July -- carried a no-hit bid for four-plus innings before completing five scoreless innings of one-hit ball in which he struck out nine, a career high. The highly touted teenager has been as good as advertised to begin his career, posting a 1.38 ERA with 19 strikeouts and two walks in 13 innings.
• Brewers No. 24 prospect Carlos Rodriguez went 4-for-5 with two doubles and scored four runs in his second straight four-hit game in the Dominican Summer League. Signed by Milwaukee for $1.355 million at the outset of last year's international signing period, the 17-year-old Venezuelan outfielder is slashing .452/.480/.559 with 42 hits through 21 games in his professional debut.
• Indians No. 19 prospect Luis Oviedo furthered his dominant start to the season by tossing seven scoreless innings of four-hit ball with seven strikeouts as Class A Short Season Mahoning Valley blanked State College, 2-0. Oviedo also recorded eight ground-ball outs and threw 50 of his 75 pitches for strikes. The 19-year-old right-hander is 3-0 with a 0.39 ERA and 0.52 WHIP through four starts, during which he's posted 34 strikeouts against three walks while permitting just nine hits (.117 BAA) in 23 innings.
• Mets No. 4 prospect Justin Dunn surrendered a first-inning run but settled in quickly and retired 21 of the final 24 batters en route to completing a career-high 7 2/3 innings in Double-A Binghamton's 2-1 win over Portland. He ultimately allowed two hits, walked two and struck out nine before departing after 104 pitches (69 strikes). Promoted to Binghamton on June 10, Dunn owns a 2.41 ERA with 38 strikeouts and a .188 BAA across 33 2/3 innings (five starts) in the Eastern League. Overall, the 22-year-old righty owns a 2.38 ERA with 89 strikeouts and 28 walks in 79 1/3 innings (14 starts) this season.
• Nationals No. 4 prospect Seth Romero set a pair of season highs by racking up eight strikeouts over five innings in a no-decision for Class A Hagerstown. The 22-year-old lefty allowed one earned run on one hit with three walks while throwing 51 of his 79 pitches for strikes. After getting a late start to the season following a team-imposed suspension levied during Spring Training, Romero has pitched to a 4.24 ERA with 31 strikeouts in six starts.
• Padres No. 14 prospectJosh Naylor's third two-homer game of the season was the difference in Double-A San Antonio's 7-6 win over Arkansas. After putting his team on the board with a first-inning solo shot, Naylor blasted a two-run shot in the ninth that provided San Antonio with key insurance runs. The 21-year-old first baseman is hitting .313/.390/.478 with 12 home runs this season, though he's gone deep just a handful of times since the start of May.
• Reds Competitive Balance Round B pick (No. 72 overall) Josiah Gray was unhittable for a second time in three turns for Rookie-level Greeneville. The 20-year-old righty struck out five and issued one walk while throwing 42 of his 61 pitches for strikes. Gray's previous hitless outing was his pro debut, a three-inning outing in which he struck out five while facing the minimum.