Benoit's return adds welcome depth to bullpen
Right-hander made first appearance Thursday since April 19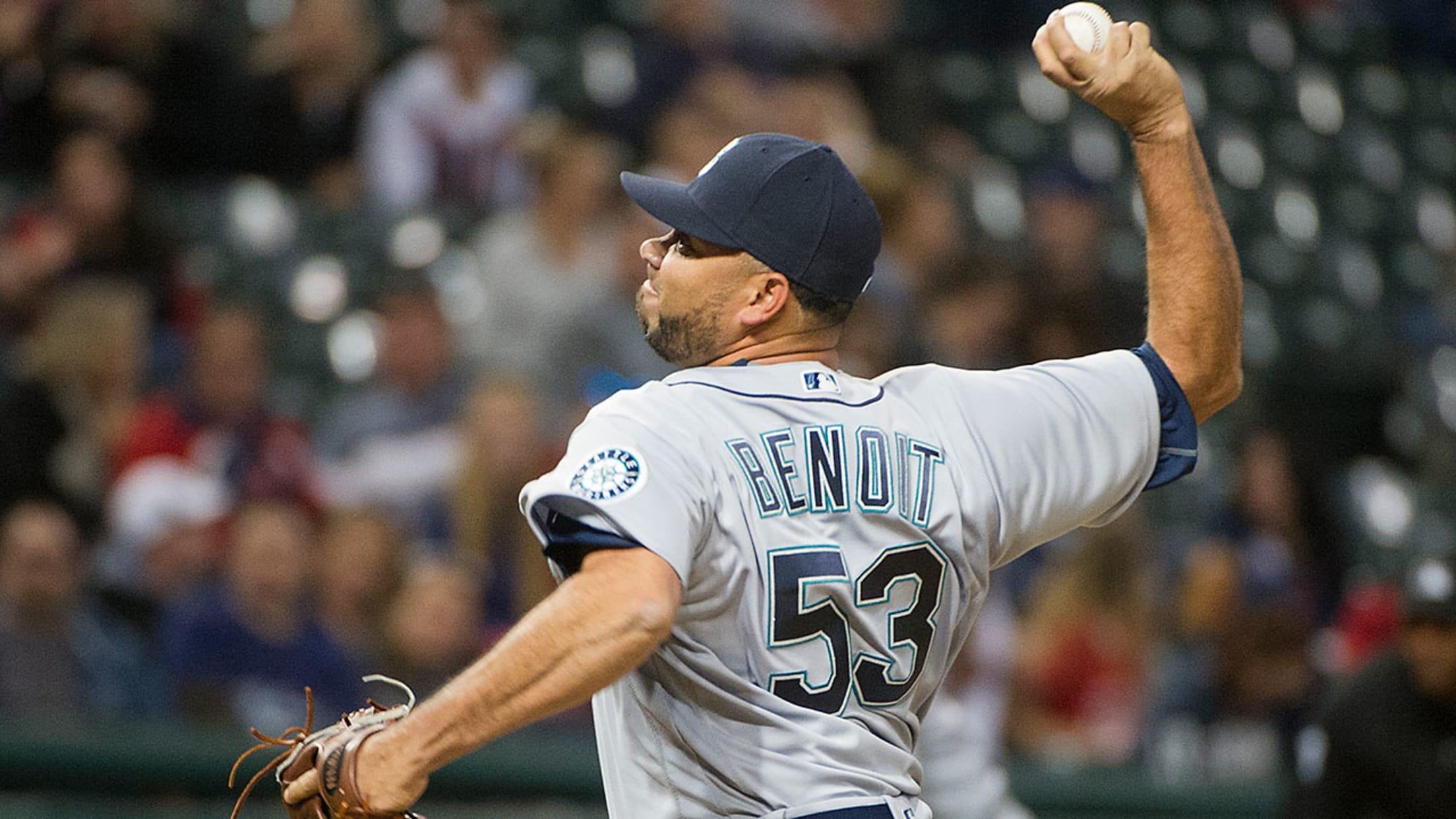 Joaquin Benoit made his first appearance for the Mariners since April 21 during Thursday night's win over the Orioles. (AP)
CINCINNATI -- Right-handed reliever Joaquin Benoit made his first appearance since April 21 in Thursday's 7-2 win at Baltimore, giving Mariners manager Scott Servais an added positive to go along with taking two of three games from the Orioles.Benoit, who was activated from the 15-day disabled list on Tuesday, allowed
CINCINNATI -- Right-handed reliever Joaquin Benoit made his first appearance since April 21 in Thursday's 7-2 win at Baltimore, giving Mariners manager Scott Servais an added positive to go along with taking two of three games from the Orioles.
Benoit, who was activated from the 15-day disabled list on Tuesday, allowed one run on one hit and walked two in the eighth inning. He needed 29 pitches to get through the inning, but more important from Servais' perspective is that the day after, Benoit didn't report any issue with the right shoulder inflammation that sent him to the DL.
"I think he felt the normal soreness today, and hopefully we wouldn't have to go with him today," Servais said. "I would like to kind of slow play him into it, but it was good to see him out there. I thought the situation was perfect. We had a nice little cushion, so if he wasn't exactly sharp that he could find a way to work through it, and he did."
The Mariners had a 5-1 lead when Benoit entered the game. He struck out Caleb Joseph swinging on a changeup to begin the inning, but then loaded the bases with a pair of walks sandwiched around a single. Pitching coach Mel Stottlemyre made a trip to the mound, and Benoit limited the potential damage to one run on a groundout by Adam Jones. Benoit got Chris Davis to fly out to center fielder Leonys Martin to end the threat.
"I thought his stuff was good. I thought there was life on the fastball," Servais said. "He walked a couple, which is not really him, but it's understandable because he hadn't been out there for a long time. It was good to see him out there. It lines everything else for us up in our bullpen."
SANTIAGO SUSPENDED: The Office of the Commissioner announced on Friday the suspensions of four players from Minor League Baseball, including Mariners RHP Jose Luis Santiago, for violating the Minor League Drug Prevention and Treatment Program.
Santiago, a 22-year-old who started the season with Class A Everett, has been given a 76-game suspension that will be effective when the short-season league begins play. Santiago tested positive for Stanozolol, a synthetic steroid. His suspension is without pay.
Santiago has been in the Seattle organization the past three seasons, including playing for Everett last year where he started 11 of his 13 appearances. He went 2-3 with a 5.74 ERA in 47 innings.
There is no official statement from the Mariners on the suspension.
Kevin Goheen is a contributor for MLB.com based in Cincinnati.