Maddon invites Zimmer's widow to opener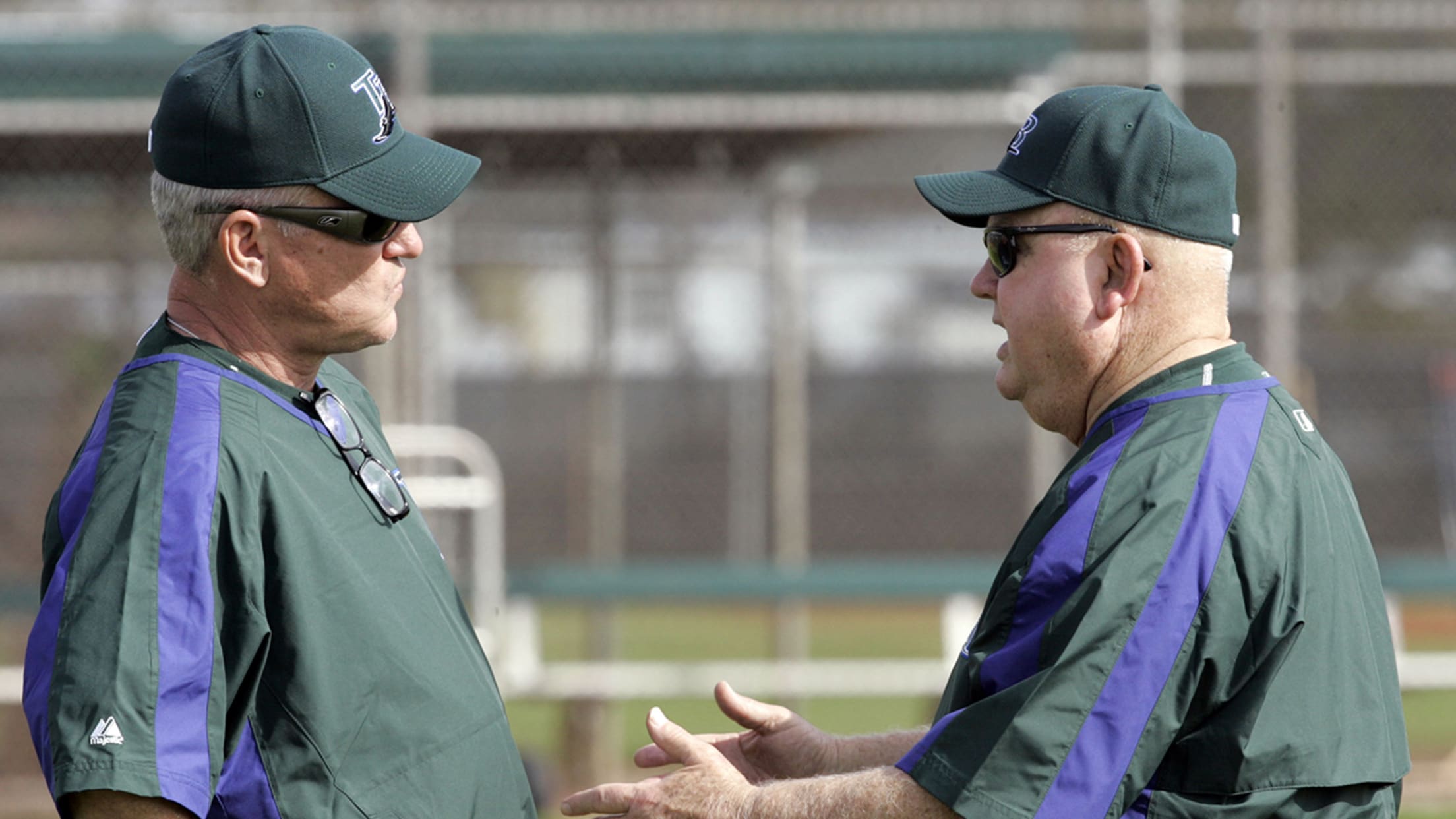 Joe Maddon and Don Zimmer were colleagues with the Rays from 2006-14. (AP) (AL BEHRMAN/AP)
MILWAUKEE -- In a sentimental tip of the cap to a mentor, manager Joe Maddon invited the widow of former Cubs manager Don Zimmer to Monday's home opener against the Dodgers at 7:05 p.m. CT.Maddon, who managed the Rays from 2006-14, got to know "Soot" Zimmer when her husband was
MILWAUKEE -- In a sentimental tip of the cap to a mentor, manager Joe Maddon invited the widow of former Cubs manager Don Zimmer to Monday's home opener against the Dodgers at 7:05 p.m. CT.
Maddon, who managed the Rays from 2006-14, got to know "Soot" Zimmer when her husband was a consultant with Tampa Bay from '04-14.
"I don't think 'Soot' has missed an Opening Day, and I did not want it to happen this year," Maddon said.
The Cubs will raise their championship banners on Monday at Wrigley Field.
Information:Wrigley Field | Schedule | Tickets
Don, who managed the Cubs from 1988-91, inspired Maddon. Zimmer would bring some Coney Island hot dogs, and the two would talk in Maddon's office.
"He liked the way I did things, his advice to me was spectacular," Maddon said in a March 2015 interview. "'Zim' wasn't young at that time, but guys in his position normally are there to give advice regarding evaluation of players. Zim was still able to give you strategy for the game and really was outstanding with all that."
Zimmer passed away in June 2014 at the age of 83.
"I said [to Soot], 'Zim's going to be there, so you might as well be there, too,'" Maddon said. "She's really a fun lady, infectious laugh. Obviously, I got to know her well because of 'Coach Zimmerman.' It's appropriate she'll be at another Opening Day, and to be at this one. I thought it was necessary, not only because of her affiliation with the Cubs, but with me."
Worth noting
• The Cubs employed a five-man infield in the 11th inning on Friday, and although it didn't come into play, it's something that they will likely try again. Kyle Schwarber moved from left field to first base, and first baseman Anthony Rizzo slid to second.
"It's like anything else on defense," Maddon said. "When a hitter's not used to seeing it, it bothers him."
• Reliever Hector Rondon has been tweaking his mechanics, and on Friday threw a scoreless inning against the Brewers. What adjustment did the Cubs make?
"Subtle," Maddon said with a smile. "I honestly can't say. We made an adjustment."
• Rizzo wrote "Dom" on his cap for Saturday's game in honor of his cousin, Domenick, who found out Saturday he needs a heart transplant.
Thinking about my cousin Domenick who found out today he needs a heart transplant. Stay Strong Dom, you got this! We r all rooting for you pic.twitter.com/Q9vXEjtRBD

— Anthony Rizzo (@ARizzo44) April 8, 2017