Umpire West hit by ball thrown from crowd
Veteran stopped game for seven minutes to ensure safety of those on field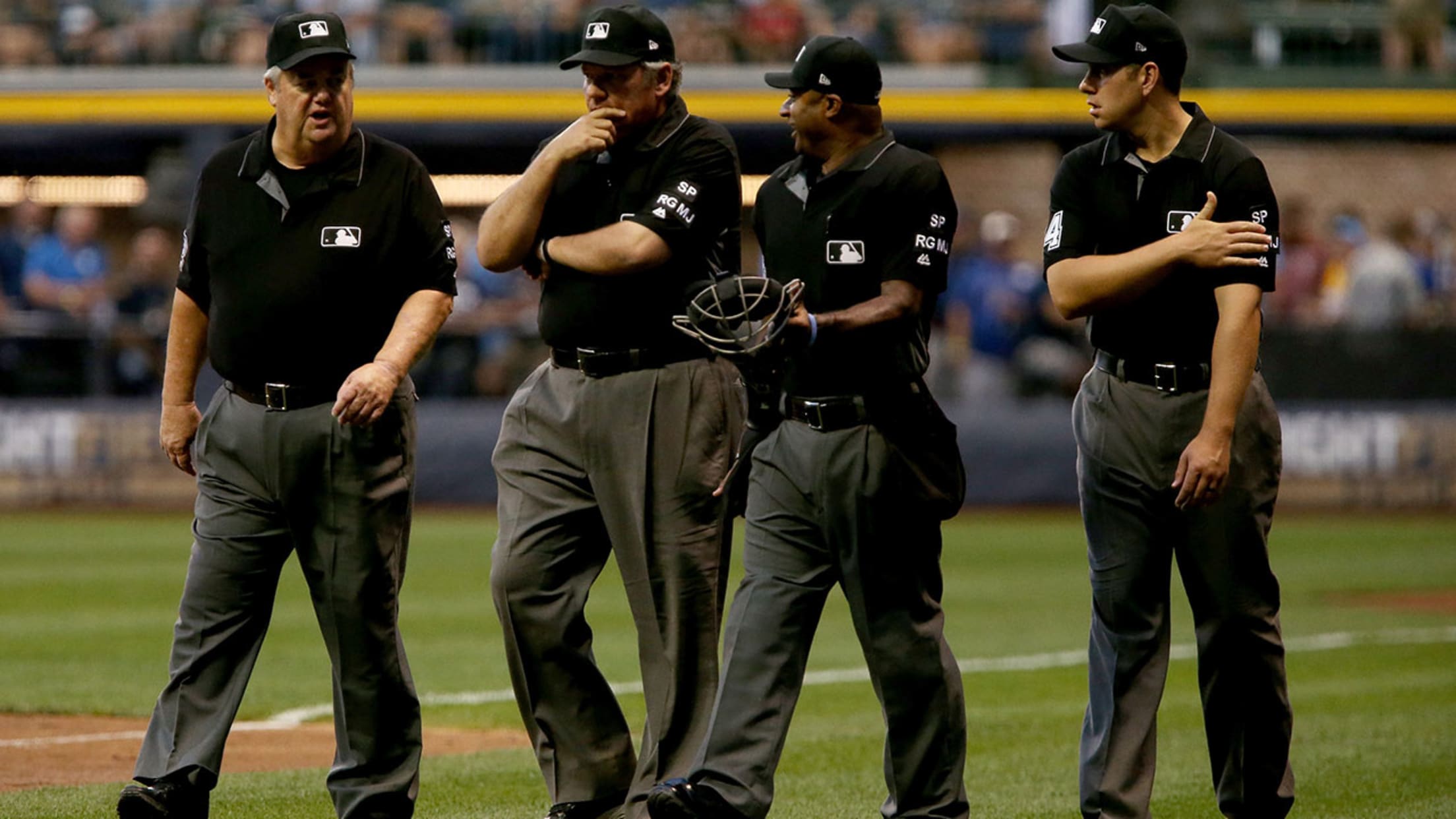 Veteran umpire Joe West, left, recently worked his 5,000th Major League game. (Getty)
MILWAUKEE -- Longtime Major League umpire Joe West was struck in the back of the head by a baseball thrown from somewhere in the stands along the right-field line during the bottom of the fourth inning of Friday's Marlins-Brewers game at Miller Park.West, as crew chief, halted the game for
MILWAUKEE -- Longtime Major League umpire Joe West was struck in the back of the head by a baseball thrown from somewhere in the stands along the right-field line during the bottom of the fourth inning of Friday's Marlins-Brewers game at Miller Park.
West, as crew chief, halted the game for seven minutes in order to ensure the safety of his crew and the players on the field. Security officials searched video footage from the area and interviewed staff and fans in an effort to find the culprit, a team spokesperson said. The team did not release any further information after the Brewers' 3-2 win.
West, who just last week in Denver became the third man in Major League history to umpire 5,000 big league games, appeared to be fine and continued his duties at first base. After the game, he declined to comment.
"I had no idea. I was like, 'What happened?'" said Marlins pitcher Edinson Volquez, who was in the middle of his fourth scoreless inning when the incident occurred. "He told me to go off the field. I've never seen that before. I've never seen somebody hit an umpire from the stands. I don't know what happened."
West, who umpired at first base on Friday, was standing not too far from the Brewers dugout when he was hit, but Brewers manager Craig Counsell did not see it happen, either.
"That can't happen and that shouldn't happen," Counsell said. "He was right to stop the game in my opinion."
Like Volquez, Counsell had never seen anything like it.
"Everybody was a little puzzled at first -- what was going on? And then a guy said he got hit by a ball," Counsell said. "Then you're kind of taken back a little bit. [West] was very calm. I give him a lot of credit. He was very calm and was almost downplaying it. He said he wasn't going to start the game until something was addressed. At that point, he didn't even mention what happened."