Votto misses pair of bases-loaded chances
First baseman's struggles continue with average down to .204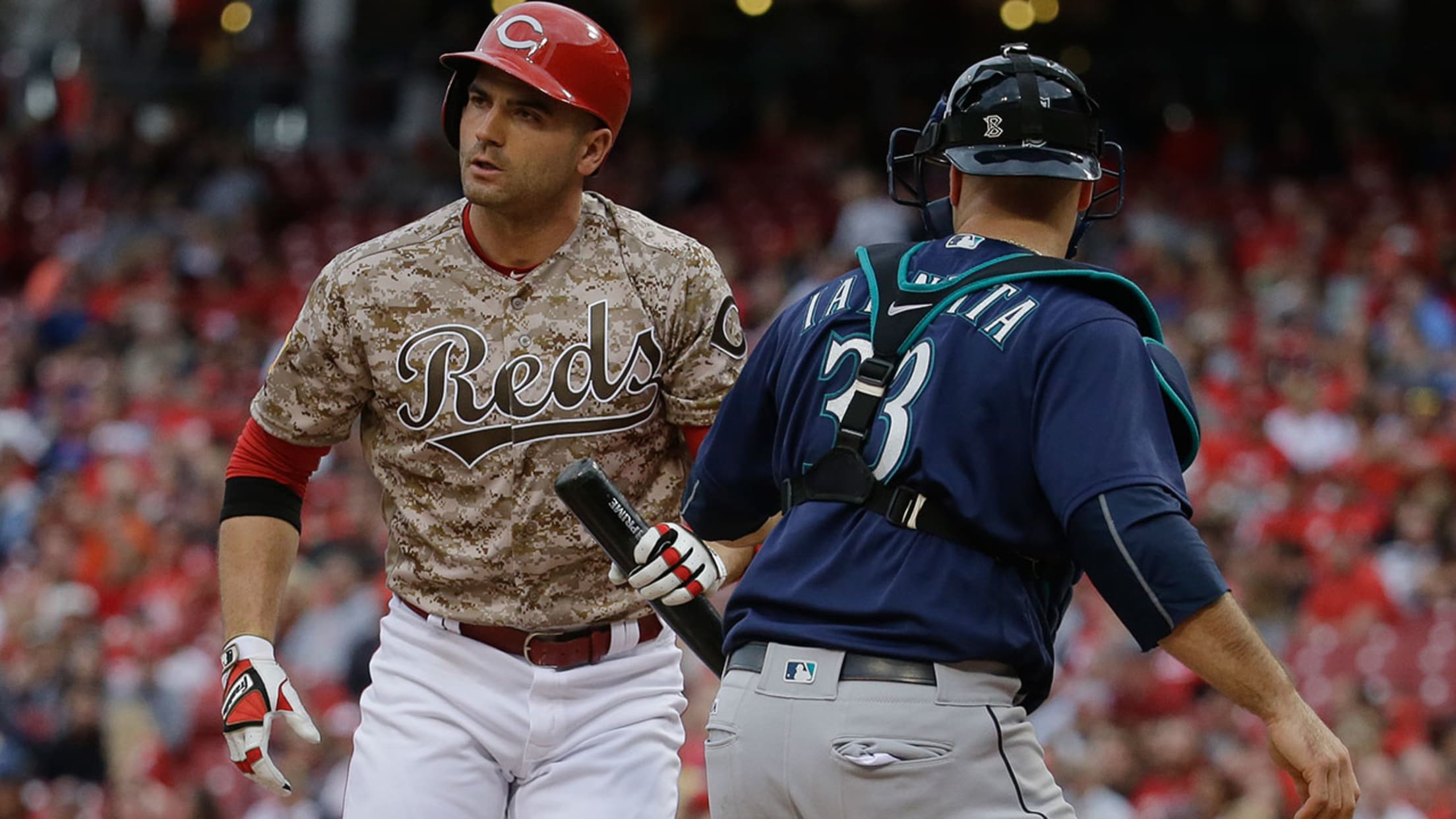 Joey Votto was 0-for-4 against the Mariners on Saturday and didn't drive in a run when presented with two bases-loaded chances. (AP)
CINCINNATI - The Reds put together two rallies on Saturday against Felix Hernandez and the Mariners during a 4-0 loss. It's rarely a good sign when both were started by starting pitcher John Lamb with two outs.Both proved to be fortuitous catalysts for Cincinnati to load the bases, each time for the
CINCINNATI - The Reds put together two rallies on Saturday against Felix Hernandez and the Mariners during a 4-0 loss. It's rarely a good sign when both were started by starting pitcher John Lamb with two outs.
Both proved to be fortuitous catalysts for Cincinnati to load the bases, each time for the struggling Joey Votto.
"When I'm standing on third base, I definitely knew we had something going there," Lamb said. "As a pitcher, like anyone in our dugout wearing red, we're hopeful that something happens good for ourselves."
Neither panned out, though, as Votto came up empty both times vs. Hernandez during his 0-for-4 afternoon. Every other inning, the Reds went down in order.
"It wasn't planned, but after the bases were loaded, I was just trying to make good pitches and calm myself and get out of it," said Hernandez, the Seattle ace who completed six innings for the victory.
In the third inning with two outs, Lamb notched the Reds' first hit of the game with a high chopper that Hernandez and catcher Chris Ianetta could not field for an infield single. Following a single by Billy Hamilton and a walk by Tyler Holt, Votto came to the plate with the bases loaded for the first time.
With a 2-1 count, Votto fouled off four straight pitches before he hit an 89-mph changeup for a broken-bat lineout back to Hernandez for the third out.
Lamb drew a walk in the fifth, and in what seemed like déjà vu, Hamilton singled and Holt walked. Originally down, 0-2, Votto worked the count to 2-2, but he hit a fastball to first base for an inning-ending groundout.
"I think it makes a lot of difference, from an offensive standpoint, to be able to have multiple runners on with less than two outs, be able to have a couple of different guys go up there and take a shot," Reds manager Bryan Price said. "That didn't work out today. We didn't put a ton of pressure on them from an offensive standpoint."
Certainly it wasn't an easy spot for Votto, but there is no denying his career-worst hitting funk. Through 43 games, he's batting .204/.343/.359 with six home runs -- over 100 points below his career average. He's batting .169 in the month of May.
With the bases loaded and two outs over his career entering the day, Votto was batting .267/.371/.600. Throughout the season, Votto has been on the field early most days taking extra batting practice.
"I think the accountable ones, the ones that really want to be great, are the ones that are working the hardest and putting the most on their shoulders to try to do what we need them to do as far as performance goes," Price said. "I think he's human. I think he really wants to do something and be a difference maker. He obviously knows we're in a huge lull right now as far as playing winning baseball, and I know he wants to be a big part of helping that get turned around.
"Collectively, sometimes, when you've got your No. 3 hitter is struggling a little bit, we have to collectively be better and not throw so much on his shoulders to carry the load."