Votto visits fire department to sign No. 19 truck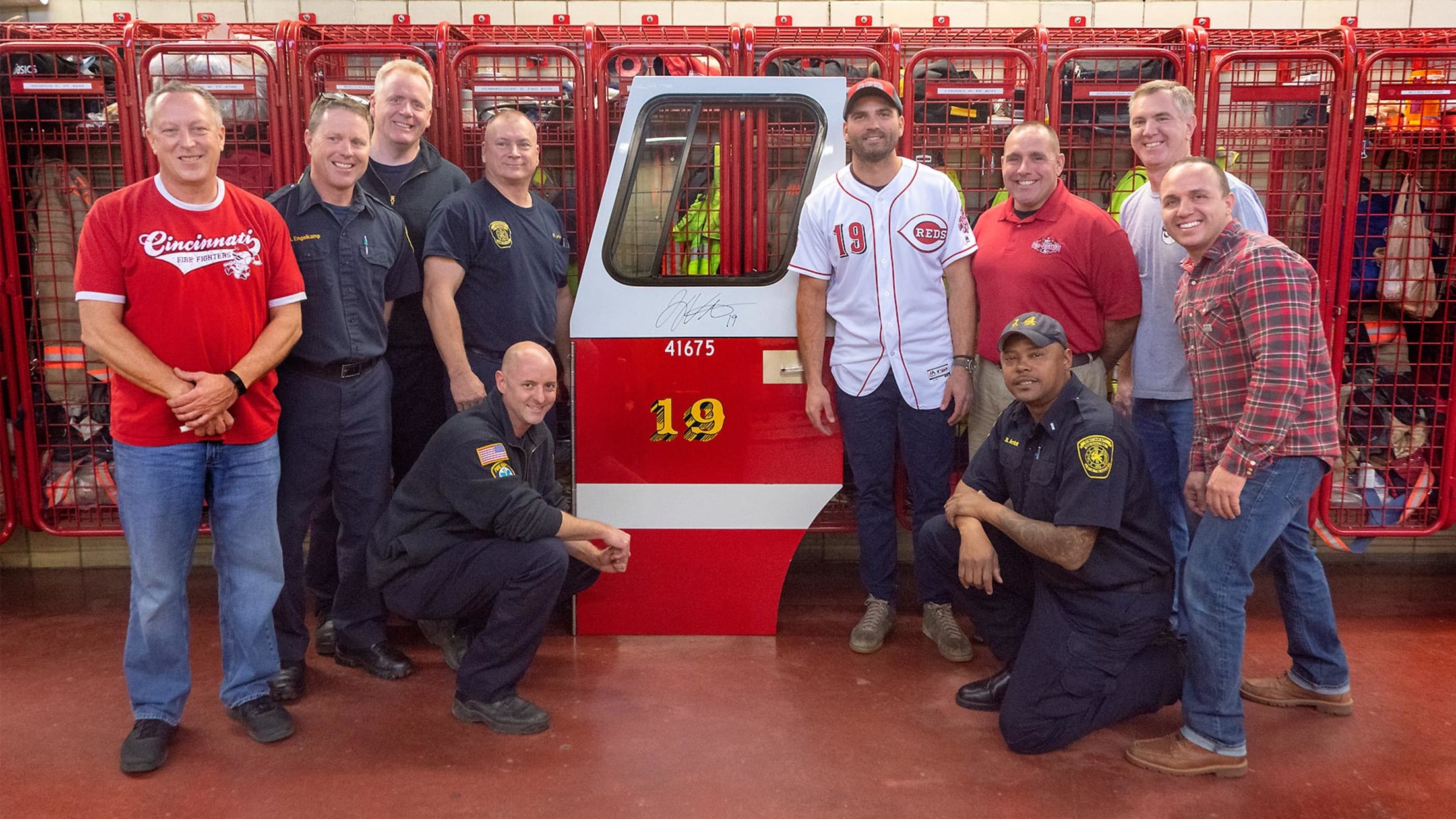 CINCINNATI -- For Cincinnati Fire Department Station 19, a typical day is usually rather exciting considering it's one of the city's busiest firehouses.But when Joey Votto walked into the firehouse last Friday, it's safe to say the firefighters were thrilled to finally meet the Reds first baseman who wears their
CINCINNATI -- For Cincinnati Fire Department Station 19, a typical day is usually rather exciting considering it's one of the city's busiest firehouses.
But when Joey Votto walked into the firehouse last Friday, it's safe to say the firefighters were thrilled to finally meet the Reds first baseman who wears their station number on his jersey.
Votto was invited to the fire station to sign the door of the No. 19 firetruck that was recently retired.
"In July of 2017, we got a new pumper truck and they were going to take the old truck and basically scrap it," said firefighter Eric Monahan. "We asked if we could keep the door and hopefully get Joey to sign it."
Votto agreed to visit and meet with the firefighters while he was in Cincinnati for Redsfest. He spent about 30 minutes at the firehouse meeting the firefighters, taking photos and signing the No. 19 firetruck.
"It means the world to us to have Joey want to stop here to meet us and sign our truck," said Monahan. "To actually want to spend time with us and connect with us is an awesome sign of respect. It was such an honor to meet him and see first-hand how nice and humble of a guy he is."
Before leaving the firehouse, Votto was given a Cincinnati Fire Department hat, shirt and sweatshirt. He wore the CFD hat at Redsfest on Friday night.
Votto is not the first Reds player to add his signature to a Cincinnati firetruck.
Johnny Bench signed the door of the Engine 5 firetruck when he was the Grand Marshal of the 2010 Findlay Market Opening Day Parade. That door now hangs on the wall at Station 5.
In 2014, Joe Morgan continued the tradition and signed the Engine 8 firetruck at the parade.
There is a strong history between the Reds and the Cincinnati Fire Department, which was established in 1853 as the first professional and fully paid fire department in the United States.
"We've had a great partnership with the Reds considering that they're the first professional baseball team and we're the first professional fire department," said Matt Alter, president of the Cincinnati Fire Fighters Union Local 48. "Going back 100 years, Engine 5 has been the leader of the Opening Day Parade every year, even when it was horse and buggy and a steam pumper. The history with the Cincinnati Fire Department and the Reds is as old as both of our organizations."
Station 19 is located in Corryville on Short Vine, Station 5 is in Over-the-Rhine at Vine and McMicken and Station 8 is in Pleasant Ridge on Montgomery Road.