Vine Line: The king of swing
Since hitting coach John Mallee was hired in 2014, he has helped a young corps of talented hitters grow into one of MLB's deepest and most feared lineups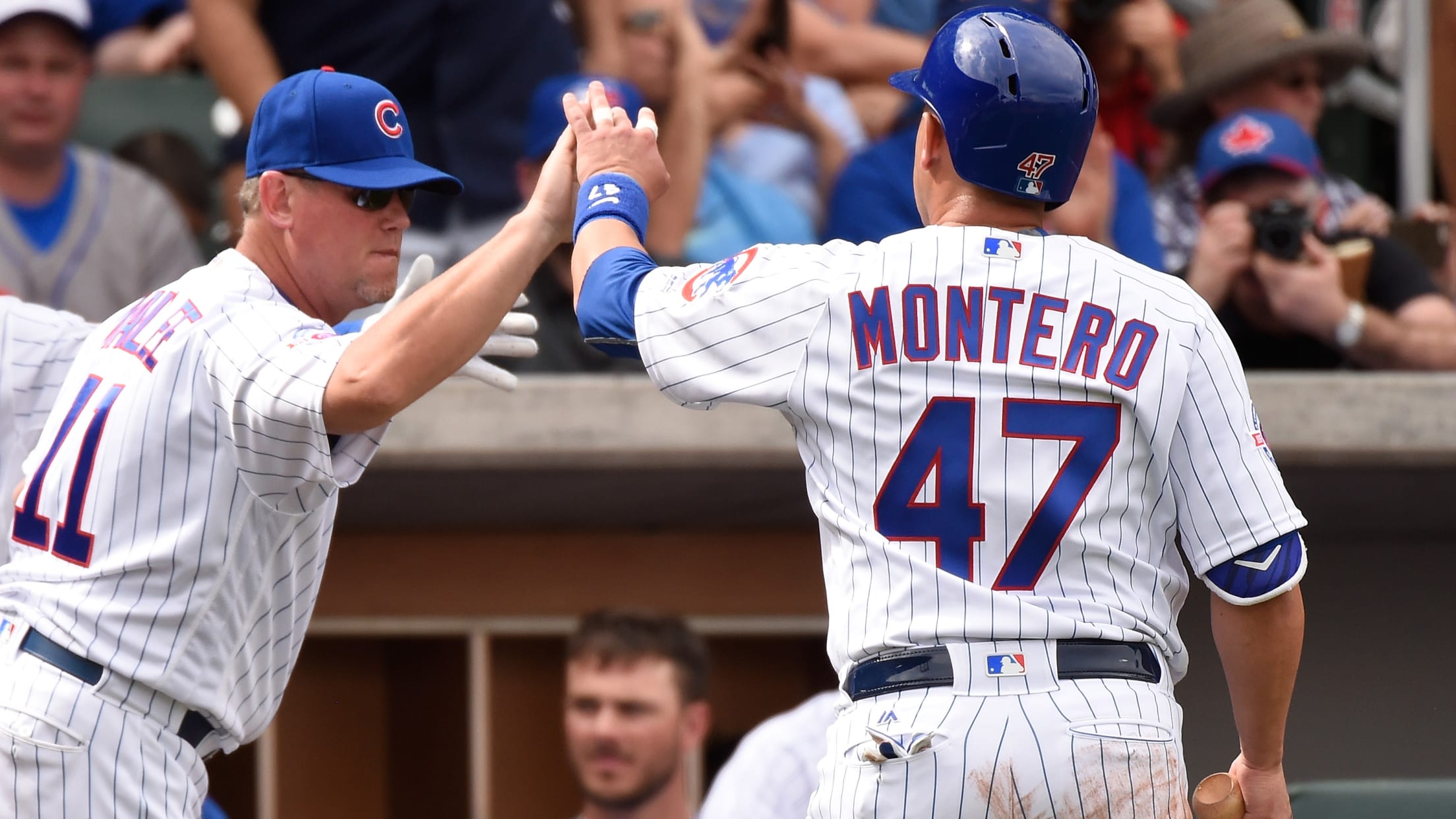 Hitting coach John Mallee is eager to help the Cubs' lineup, including veterans like Miguel Montero, succeed at the plate. (Getty Images) (Lisa Blumenfeld/Getty Images)
On a torrid March morning in Mesa, Ariz., John Mallee was mingling with the coaching staff in front of the home dugout at Sloan Park. The second-year hitting coach had just watched two of the organization's young talents, Addison Russell and Jorge Soler, step into the batter's box for live
On a torrid March morning in Mesa, Ariz., John Mallee was mingling with the coaching staff in front of the home dugout at Sloan Park. The second-year hitting coach had just watched two of the organization's young talents, Addison Russell and Jorge Soler, step into the batter's box for live BP against two of baseball's premier veteran arms, John Lackey and Jon Lester.
Judging by the smiles adorning the offensive crew's faces as they moved toward the dugout, everybody seemed pleased with the results -- which is a relative oddity in the early days of the preseason. For the first few weeks, live BP generally entails a procession of lazy grounders, jam shots and weakly hit foul balls, as hitters re-acclimate themselves to 95 mph heaters and nasty, tailing sliders.
Of course, given the current state of the Cubs' offense, Mallee has spent a good portion of the 2016 campaign smiling. As of late June, the team boasted six active position players who had put up an OPS+ of 100 or better (100 being league average) in 2015 -- and that doesn't even include Kyle Schwarber or Soler, both of whom were on the DL at that point -- and five with an All-Star appearance on their résumé. Throw in a group of the most talented young hitters in the game, and it's no surprise Mallee, 47, couldn't wait to work with the most talked-about aspect of the most talked-about team in the Majors.


"No question, I'm very excited about what we did this offseason," said Mallee, whose previous experience includes serving as the hitting coach for the Marlins from 2010-11 and the Astros from 2012-14. "And the younger players have a year of experience under their belt. It's exciting to see."
During Spring Training, Vine Line spent some time with the veteran Big League batting coach to get his insights into preparation, adjustments, the sheer quantity of talent on the Cubs roster and much more.
When Manager Joe Maddon started with the organization in 2014, he said the first thing he needed to do was build relationships with the players. Given the pride hitters take in their individual swings, was that also your first order of business?
Players don't care how much you know until they know how much you care. And then also building that rapport with them and building that trust. The key is the trust, and I try not to guess on anything. I try to have the video to back things up. I'll also use the analytics to show me if they can handle certain pitches. So when I'm talking to them, I have some facts behind it.
As a hitting coach, sometimes you have to leave them alone, and you don't want to overcoach them or make things complicated. We're always trying to make things very simple. Each guy has a couple of key checkpoints that they go to when they're starting to struggle. I have to know what those checkpoints are so that I can make suggestions according to the information they need.
This offseason, the Cubs acquired free-agent veterans Jason Heyward and Ben Zobrist. As a hitting coach, how do you quickly familiarize yourself with new additions?
When we first signed both the guys, I went to our analytics people and found out where these guys' strengths and weaknesses were. When I got a chance to come in early and work with them, I got to find out what they're comfortable with, what they like -- from a routine, from an approach, from the scouting reports they like and the way they want me to talk to them in the dugout when a reliever comes in. It's about me getting to learn them and understanding what they think they need to work on and what they feel they have success with. If they tell me that there are some deficiencies they want to address, then that's where I come in as a coach and give them my experience and feed off the information they want.
How surprising was it to have four rookies be so productive last season?
I've been fortunate enough in my career that I've always had young teams. When I got to the Marlins, then when I [was with] Houston, they were all young guys. So I had a lot of experience working with young guys. The biggest thing is the makeup of those four rookies. The Cubs do a great job of not just signing talented players but players with aptitude, with plate discipline. They're made right, and they're very competitive people. They understand how to control themselves.
Some of them went through some struggles last year, and the help from the veterans -- David Ross, Miguel Montero and even Anthony Rizzo, calling him a veteran as young as he is -- [is] really what helped them through a lot of things. And the environment Joe Maddon and Davey Martinez create, it's amazing. There's no stress. Nothing is put on them: "You'll get 'em next time. You'll learn from it. Just keep moving forward." All of that combined is a good formula to help young players get through the struggles, and it helps them make adjustments.
Opposing teams now have plenty of film on the Cubs' young hitters. How do you see that affecting their offensive production this season?
This game is all about adjustments. The good players are able to make adjustments according to how this guy is trying to get them out, with the aptitude they have and their willingness to [adjust]. The league is going to adjust back to them, which it did. To a man, each one of them went through a little thing last year, as each hitter does. These guys were willing to make those adjustments, basically on their own, and figure out, "OK, this guy is doing this. Let me try this. Let me do that." And, again, the help of the veterans was great.
Where do you begin when you need to make an adjustment to a player's swing?
A couple of guys made mechanical adjustments last year, whether it was swing planes or adding some type of physical move to help them stay in motion or to time things better. It basically comes down to the approach. If you have good plate discipline, which these guys have, a lot of times you're only as good as the pitch you swing at. And these guys have the ability to control the strike zone. Selective-aggressive hitting is truly attacking a pitch in your strength early in the count [or] taking [a pitch that isn't in your strength], even if it's in the strike zone. That's what these guys do. They're able to look for what their strengths are early. Even if the pitcher is not going to that [strength], they're patient enough to wait for it.
Russell's swing changed quite a bit last year. How did adding a leg kick help him?
It was right around the break, and Addison was having trouble being on time with the fastball. You think, "Well, you've got to get your foot down sooner," but he was getting his foot down early. When he was getting his foot down early and getting ready to swing, he took another step. So it was just trying to find a way to keep him in motion. Then when he was ready to hit and his eyes were telling him it's time to go, he would swing. By adding that little knee tuck, it was just a way to get him to stay in motion and moving, as opposed to being stopped and having to restart again.
It's finding out what's natural for him. You go back and look at his high school film, and he had a bit of a leg kick. So it was a natural move for him anyway because he had a history of it. When I was able to see that from before [he was] signed and right when he signed, I knew that was already going to be a simple transition for him.
What does your daily routine look like before a game?
We have a run production analytics team [that includes] our advanced scouts and our scouts in the field. I have [Coordinator of Advanced Scouting] Nate Halm, who is absolutely amazing, put together a template to help me give the information to the guys. We'll go in and talk about each pitcher and see if we can find some tendencies the guys have. And now we have the batter-pitcher matchup, meaning our guys have faced these guys, so they have some history.
My job is to help these guys try to figure out how this guy pitches them -- in general and in situations when there are runners in scoring position. I just try to give them that information. Then we have an advance meeting once a series. We'll go over the starters and then all the guys in the bullpen and their roles, so that the guys on the bench know that they're probably going to face this guy in this situation. They can start to study those guys and who they're going to face that night.
The Cubs' roster depth likely means some of the younger players will see fewer at-bats throughout the season. Could this be a hindrance to their long-term development?
Joe puts players in a position to be successful, so I don't think it would hurt them as much as one would think, [despite not] getting everyday at-bats, because he's putting them against the good matchups. … I don't see a regression. From a team dynamic and the way Joe puts them in a situation to be successful, I don't think it's going to hinder their development.
There's so much information out there now. Which of your hitters spend the most time in the video room, and do you think that's a good thing for them?
Well, the young guys: Kris Bryant, Russell. The older guys, they have a lot of history of doing this, so they don't need as much information -- or don't rely on it as much because they know how that guy is trying to get them out. Those [veteran] guys, they get themselves ready and try to show the younger guys how to get ready. They're in there figuring out how to approach the guy that night.
With experience, [the younger hitters] will learn to keep it simple. We don't want to fill their minds with too much information. A lot of these guys go up and look for what they want to hit until the count says they have to hit what the guy is going to throw.
How important is assistant hitting coach Eric Hinske to your operation?
Eric is the backbone of this offense, in my opinion. His relationship with the players [is excellent]. He just got done playing. He stood in the box. He was able to help Rizzo handle left-handed pitching. He does a lot of approach stuff with the guys. He'll watch the opposing pitchers, and for the advance meeting, he'll chime in. Guys come to the cage, and he'll give them any advice he has on how to approach [a certain] guy. He understands his swing, he's a very positive guy, and the players love him.
Phil Barnes is the associate editor of the Cubs' official publication, Vine Line magazine, and has covered the team since 2012. He contributes to the Cubs Vine Line Blog. This article appears in Vine Line magazine. Follow Vine Line @cubsvineline, and get this article and more delivered to your doorstep by purchasing a subscription at cubs.com/vineline.